Three years ago, scientists have built myself a little house for 500 thousand near Rostov-on-Don. Experts gave the house the most disappointing forecasts: house collapse, sewage clogged with sewage, and the first snow will bring down the roof. However, this did not happen. The author has prepared a detailed report on the state of his house and told him how to live. We welcome all who are interested for any reasons, the fate of our home. Yes, yes, we are alive and well, we even had to manage more than one person over time - we have a son. He is now a little more than two years, he is a serious man and not huhry-muhry. This woman wrote to you the guy that built the house. We were not even divorced and did not kill each other.
So, we have lived in this house for three winters. We are not buried under the rubble of our home, and we did not wound up bearded lichen and moss, though, removing cat hair, I'm not so sure. We did not even vspuchilis and cracked foundations as experienced in the comments. In the spring, during the continuation of repair, we raised linoleum and fully convinced of this. In our house is not damp, not cold, there is no draft, however, in the summer heat, he warmed up quite strongly, so almost immediately was acquired air conditioning.
Also recognize the truth of the majority of the audience over, to put it mildly, unpretentious kind of home. And though we are in the last three years are used to - because you get used to everything, it was decided this year to impose a brick house with a view to upgrading the species. Therefore, with a heavy heart, sacrificing the completion of interior decoration, we threw all forces on the outside. For a long time there is a need to complete the box, well, those things at the edge of the roof, you understand, right?
Anticipating the numerous comments towards this action, all we can assure you that this is not done for the purpose of insulation, strengthen, or God knows what else, with only one - to bring home the human species itself is nice to look. The very clutch attached to the fairest zelёnenkomu metal sheets, which we did not take off because it was no use, and a lot of hassle. Load no brick can not be held, from the damp and cold does not help, if anything.
The first thing that pleased removed - a terrible concrete ribbon around the house, which they themselves have created not otherwise be able to frenzy. For additional foundation for the masonry, based on the most controversial plate that keeps the whole house, and that's the area took five cubic meters of concrete and 32 thousand. Rubles, together with payment of the work.
Further hired workers, which built a wall. They did it for a long time, with many smoke breaks and holidays, but eventually did. Sam Brick us has managed in 54 thousand, we have requested all our hard workers for 10 rubles. for stacking one piece - a total of 45 thousand. the whole work. It is very cheap.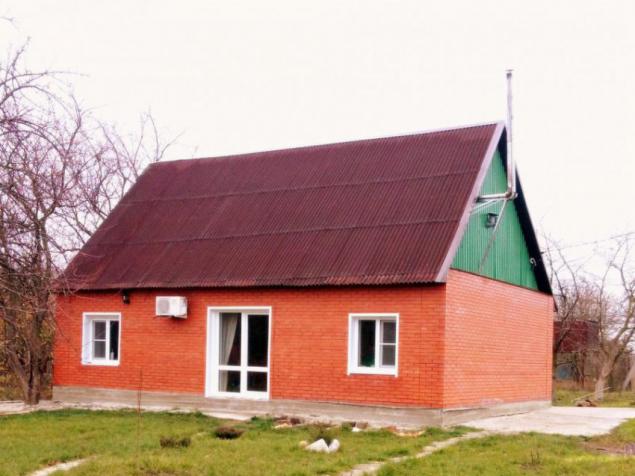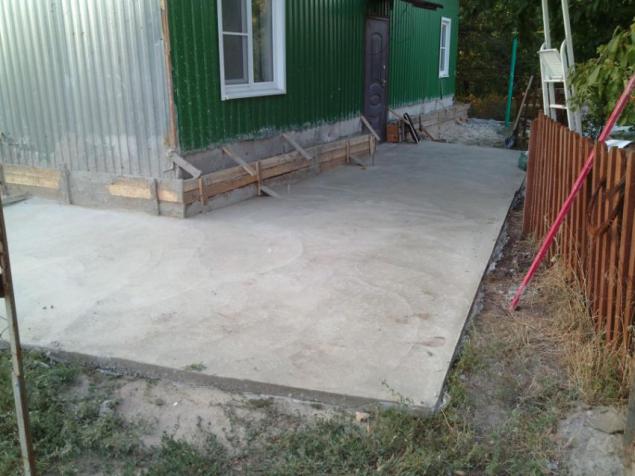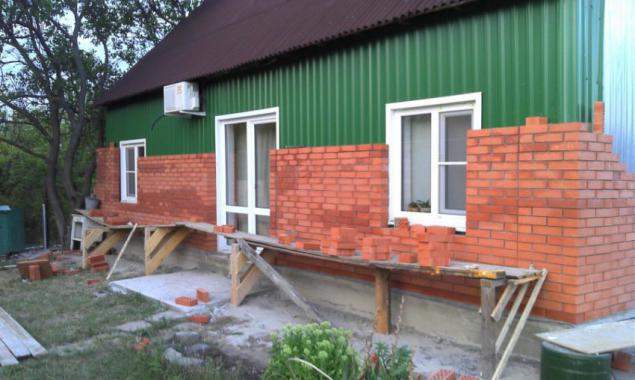 Then he had to re-do the slopes of the windows, here, too, we hired lads. Sills - or whatever they are called - the husband found himself in order to save. I do not argue, because it can not be stopped, if he then decided, as you already understood. It turned out, it is quite simple. Especially by watching.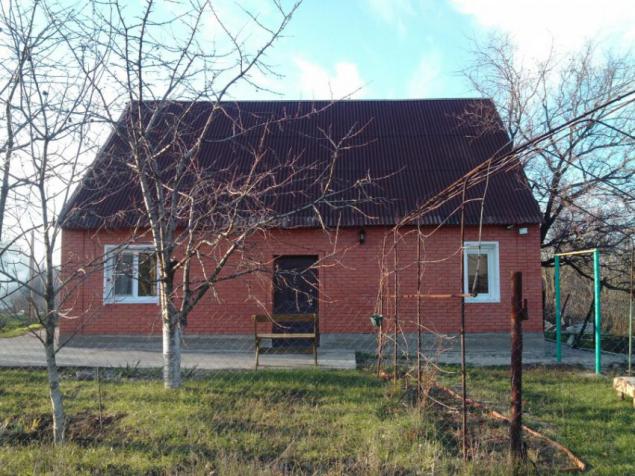 The roof was lengthened intervals Mezhuyev rafters laid defective brickwork.
The long-awaited moment - from dark brown laminated waterproof plywood made boxes. The surface of the plywood virtually mirrored, so it is hardly noticeable.
From the brick gables closed tides.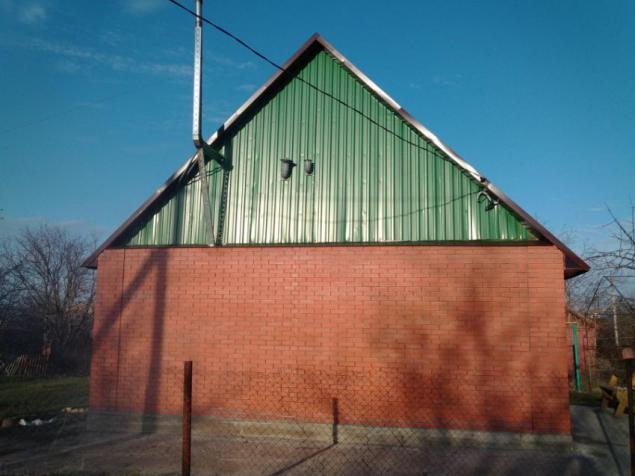 This is the only attractive, that there is in our fence - two evenings of her husband did.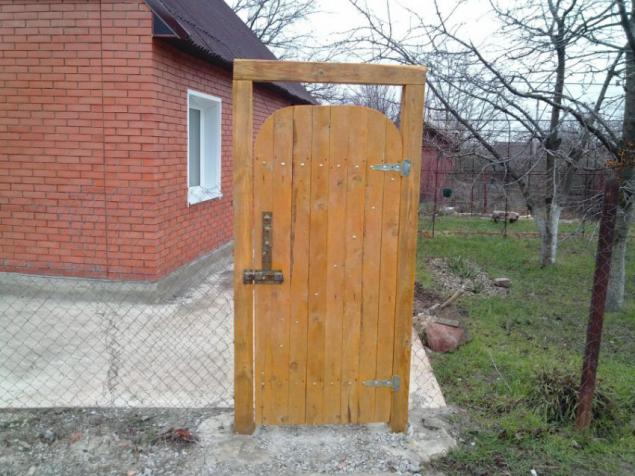 Interior layout actually changed little since live together on two salaries, and three of one, as they say, two big differences. Our place in the garden is only suitable in the following year, so that the already very long ago, my so-called vacation completely free.
Bathroom, toilet, it is not photographed, nothing has changed, but the mold does not appear, see for yourself. Ordinary drywall steadfastly maintains raptures our son while swimming. On the floor just put linoleum mats, not cold to walk barefoot. Dangle design - ikeevskaya dryer to the ceiling, in my opinion, an excellent invention, space-saving. Generally, IKEA we have around the house, you see further. Yes, we - the rogue, but it's obvious.
And comrades, clarify once and for all - we have a toilet, hot water from the water heater 80 liters and sanitation, bringing it all outside the home, in a hole in the yard. Cold water our garden supplies Azovvodokanal. By the way, the water quality in recent years quite disgusting.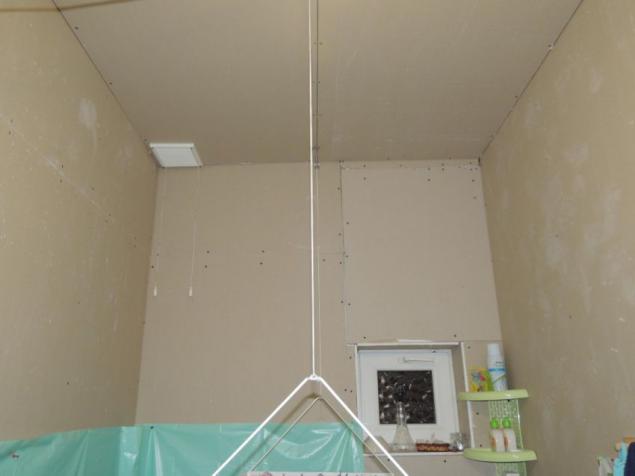 In the bedroom, everything was still.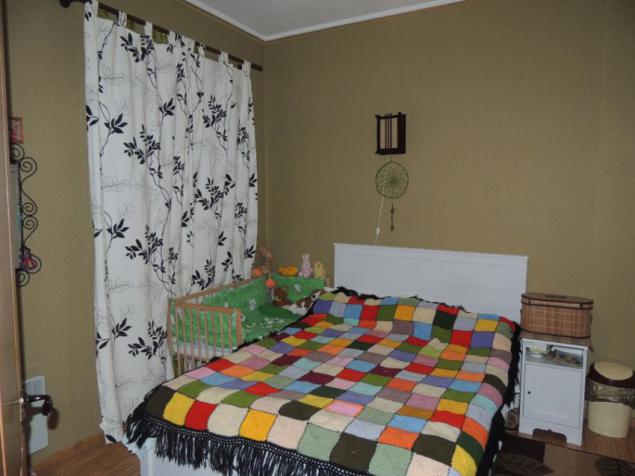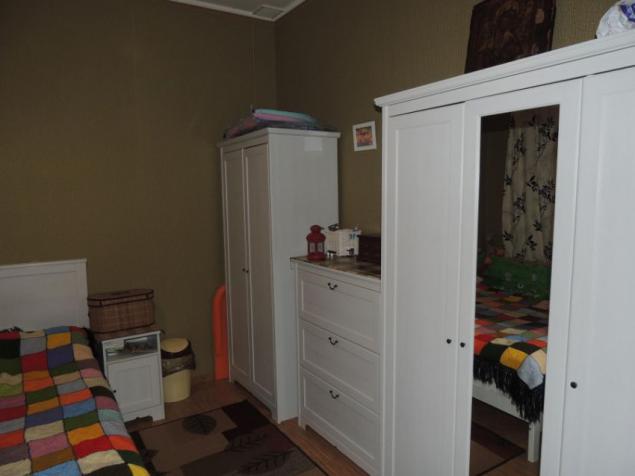 There was a hallway with closet, hangers and a chest to sit and comfortable shoe child.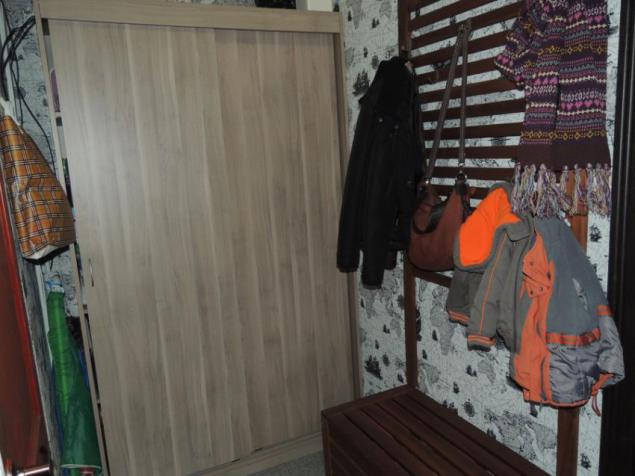 The so-called Cabinet decided in the future to turn into a nursery. So far, this is the place to store any nonsense. The door was removed, when the son of the second time severely pinched fingers. For some reason this jamb he kindled especially tender feelings.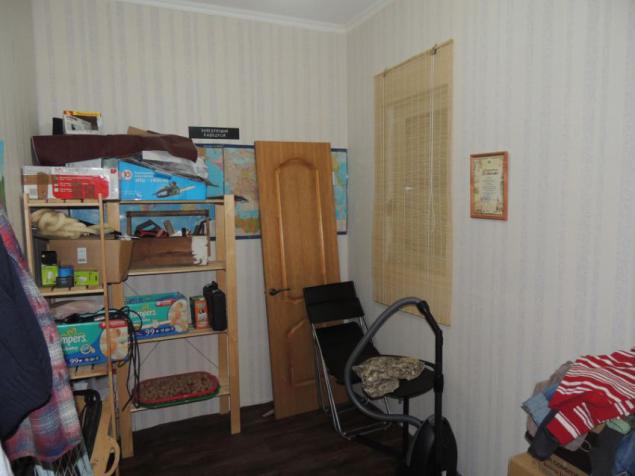 In the kitchen there was a hood. Small chёrnenkoe in the corner to the right - it is an electric mini-oven, we lack completely. The hob is running on all of the same gas cylinder. On the cabinet sticks juicer - the most useless machine, as it turned out. By the way, this year we collected quite a record harvest of all. Pears and apples are still eating from your own garden.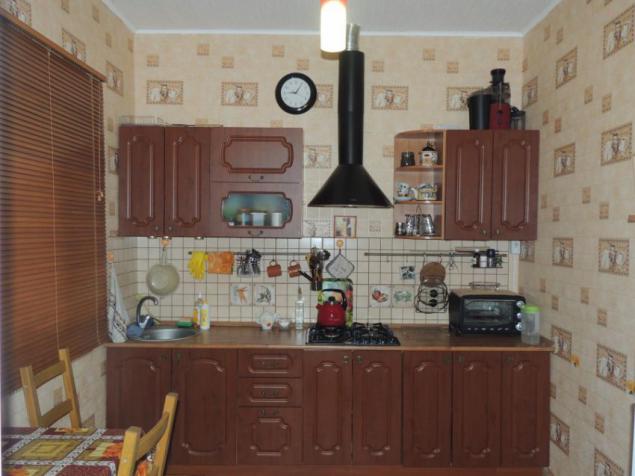 The table on the other side of the rearranged, convenient to stare out the window.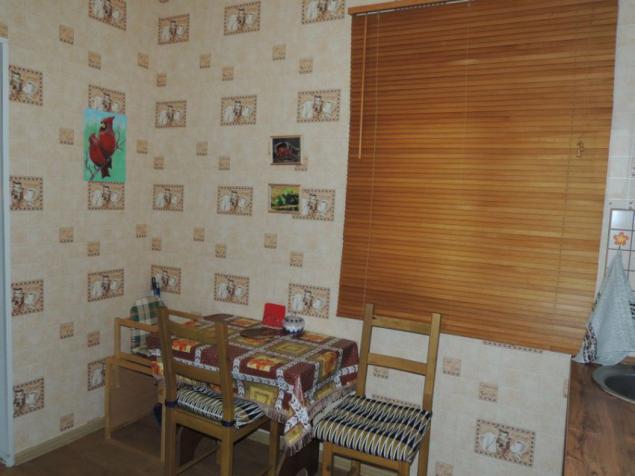 Entrance to the hall issued arch.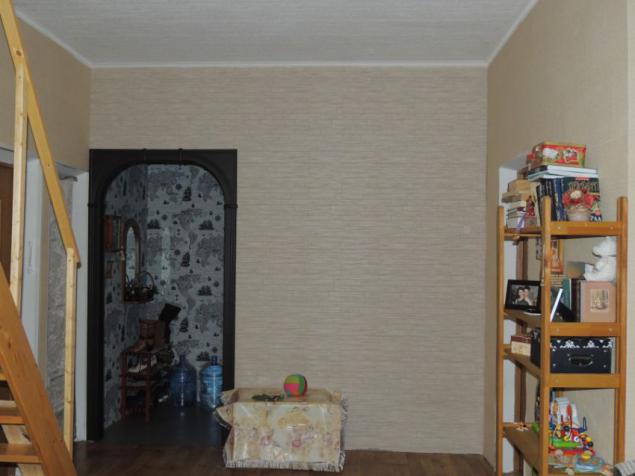 There was a staircase to the attic floor. How do you arrange the entrance, we have not decided yet. Residential premises will not be there, probably. But as much storage space terribly useful things! Where they are placed at the bottom, we did not understand.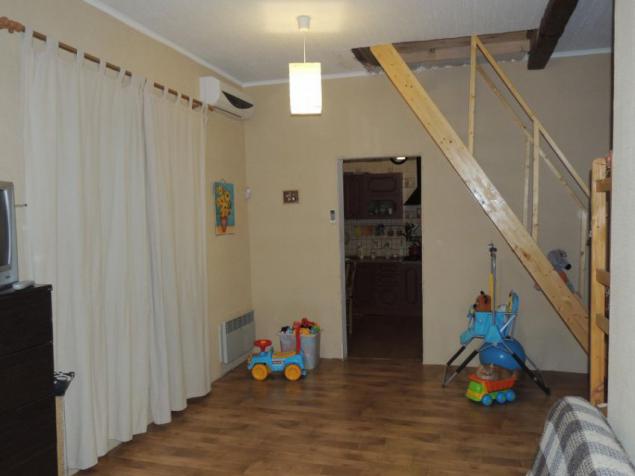 For a large window-door sooner or later, it will open veranda on which we are likely to have gray by the time become to drink tea with jam.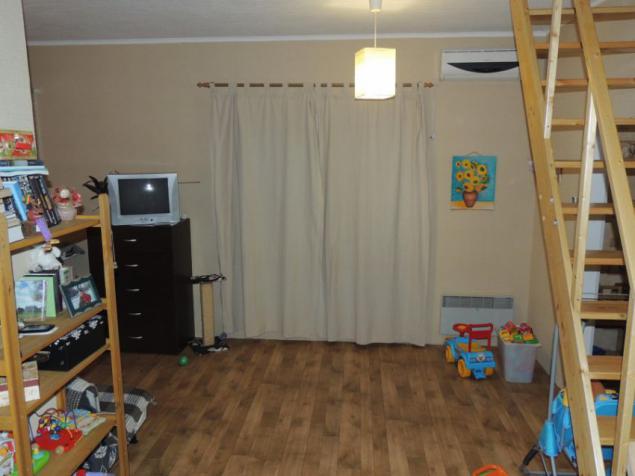 The size of our kotyara exclude the possibility of purchasing a standard scratching posts, so it built themselves out of scrap materials (broken stool and bar).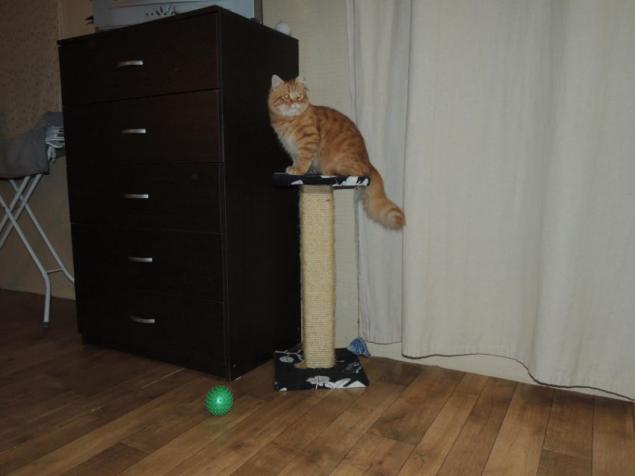 Côte usurper. Son asleep just do not see the ugliness of what is happening.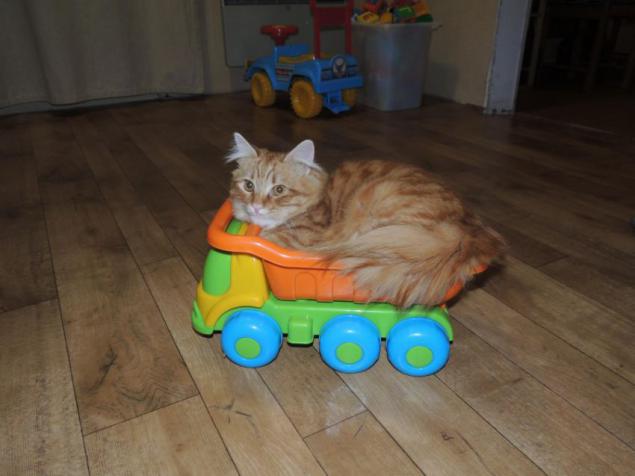 Creepy monsters, such as the furnace, purchased on arrival, gave his brother's garage. Fireplace I personally like a lot more. Warms no worse, the house warms up very quickly if necessary. Now we still relatively warm, so almost do not use it. Two electrical convector is maintained in the building 22 ° C. This is interesting, in the winter, in the cold, the electricity goes out we have an average of 5 thousand.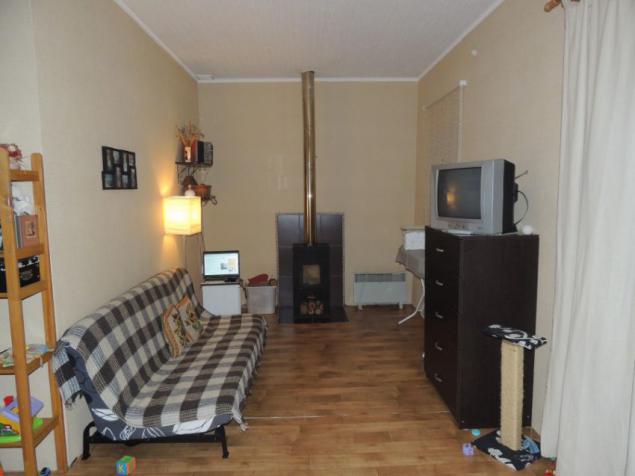 This is our second floor, and our diverse stuff. Seiling get 2, 5 meters. What there will be, we have not yet invented.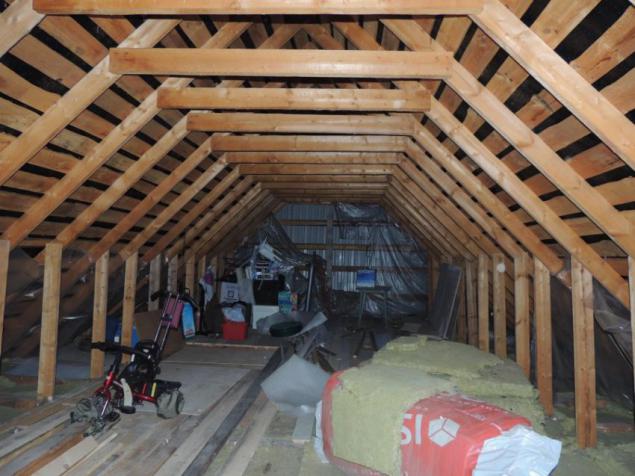 This year, finally, the cost of enormous efforts made mainly for persuasion neighbors to participate in an event, we fill up the road to our house (if anyone remembers how it was here in 2010). While her husband was chairman of the madhouse, I managed to make a carriageway at any time of the year and a half kilometers of the main roads. This public money was ordered to live long. Now everyone, and we are including their own money to make up the rest.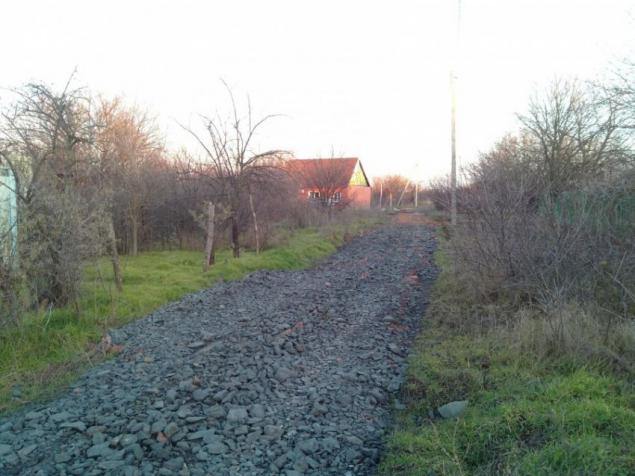 The technology is simple: Loaders leveled broken bricks at the rate of one "Kamaz" 50 meters. Next crumbles big rubble in the same proportion. Somewhere it turned out better, somewhere worse, but you can drive now everywhere. Our street - miser, so we saved on the road as they could, even some of the bricks laid manually.
Understand our happiness may be the only one who went to a lot of rubber boots on the road. More spring we often had to retrieve his "Niva" poor fellows on a variety of machines from this mess.
Also, we had neighbors at their own expense to change the old wires with new vultures, now we do not have problems with stress. Actually, the main problem we are not expensive and stupid, and how to deal with it is unclear. Board in our partnership is changing almost every week, you will not believe it, here are the weave! I would like to come to a forester, and cast out all them to hell out of the woods, and white, and red. Husband and a half years as the chairman of the left post, amen. Everything that happens is not the best way affects the general state of the economy.
More important, perhaps. The house is fully furnished as a living room by BTI and areas architecture, the three of us it is prescribed therein. He has disadvantages, it is not the most beautiful, again, but it is our own. Having lived for many years in a removable housing know what I mean.
Every year in our holiday village is moving more and more young families with children. We plan together with your neighbors to build a children's playground and soccer field. Earth we've got enough. That's how we live.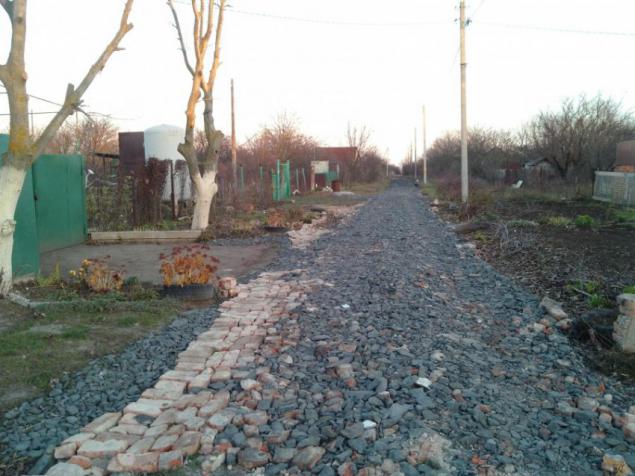 Source: fritzmorgen.livejournal.com