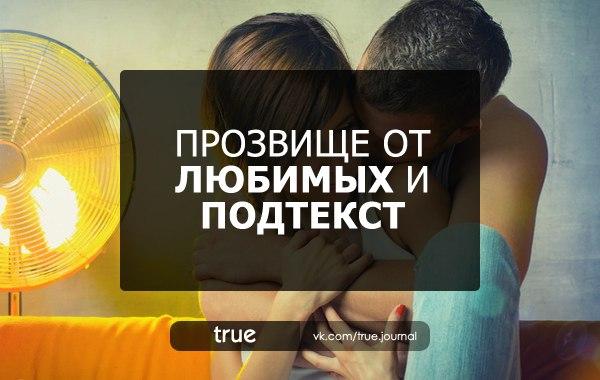 Joint research scientists from different countries have revealed a funny relationship nicknames from a loved one, and the subtext. Article scientists was published in the journal «Psychological Science».  
Baby - care, but your true feelings to him hardly interesting.
Hippo - obsessed with you, I respect your independence, but does not mind playing.
Baby - in their desires specific and does not want to complicate.
Dear, dear - values ​​in a relationship confidence, certainty. Feelings are in second place.
Durynda - ready to forgive you every mistake and bring the situation under control.
Hedgehog ezhonok - attaches particular importance to your relationship. Often short-tempered, as afraid to lose you.
Zhabko - energetic and playful pushy, but very much values ​​your relationship.
My life - the pathos gives a tendency to overkill. Check to see whether he still has a "life" on the side.
Hare, hare, Zaya, baby - inclined to gamble and do not mind playing with you. At heart, jealous and closely watching you.
Gold Zolotko, honey - emphasizes the importance of your relationship, although the reason he prevails over feelings.
Pussycat, pussy cat, we kysik - set to close contact and did not want to complicate the situation.
Goat, Goat, Little girl trying - you feel full closeness. Thank you for a very dear person, although he is not averse to tease you.
Sweetie - Beware: You seem to think their property.
Kitten, cat, Kotya, kotyatina - you feel the intimacy and the inextricable link wants to convince you of his loyalty.
Crocodiles - emphasized vigorous, is not set to go around the bush for a long time to restrain emotions.
Doll, doll - fascinated you, but does not give your relationship too much importance.
Lapa, lapulya, lapusik - very active and willing to work and live for you.
Swallow - very attentive and absolutely confident in you.
Fox, fox, lisena - absorbed all the attention that you and he wants you to do.
My favorite, favorite, love - is prone to sensual and brute-force ready to act decisively and energetically.
Lala, Lyalikov - very emotional, can not control the outburst of feelings - both good and bad.
Little, little, Masik, Masya - very deep feelings, ready to take care of you.
Baby, baby - you absorb all the attention on you and expect the same.
Bear - a very sensual person, but is not set up in a hurry. He is cautious and does not want to lose you.
Dear, dear - promises you a strong relationship. His feelings are in balance with the mind. Mulia, Moussya musipusechka - feelings are very strong. He tends to get carried away and often knows no measure.
Mouse, mouse - very attached to you, is short-tempered, but his love is deep.
Donuts - expects to complete intimacy and interaction.
Doughnut - by all means wants to get your attention and to protect themselves from potential rivals.
Bobblehead, Pupsik, pusechka, pusya - seeking full contact with you, but behind it is not so much a sense of how much practical interest.
Fish - your relationship looks more businesslike. In the first place puts no romance, and practical interest.
Sweet, sweet - consciously emphasizes his emotions. But in his heart he is balanced and calm.
Elephant, Elephant - attaches great importance to your relationship and expects full reciprocity.
The sun, the sun - you feel genuine affection and keen interest.
Tiger cub - respects your independence. Not averse to make fun of you, but in fact offers an equal union.
Hamster - is prone to impulsive actions and can easily succumb to momentary impulses.
Little chick - offers active contact, but maybe deep down something feared.
Miracle - literally requires your attention, emphasizing the importance of your relationship.