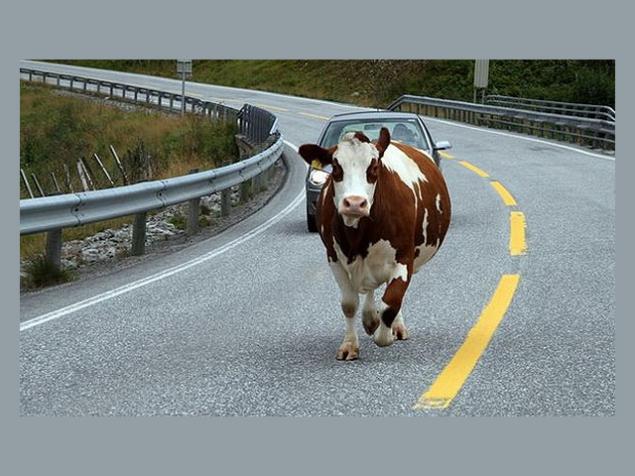 In the court case came to an accident involving a car Land Rover (running
some Moverlik Natalia Yulyevna) and cows. This lady has written claim
pecuniary damage to the external manager poultry farm,
which is the owner of the herd.
Answer lady worthy of the highest praise and legal literary prize !!!
 -
Peter of New Poultry
External control
The village of Novo-Petrovsky, Istra district. Moscow region
Mailing address: 129281, Moscow, Starovatutinsky travel, d. 17,
office 6
Phone: 472-18-44, 472-24-92, 472-73-18, 472-81-58
Ex. Number 257 of 26 June 2001.
Land Rover owner
Mrs. Moverlik NY
Dear Natalia Yulevna!
Read with interest your statement and the attached documents.
Would be willing to apologize for an accident that happened was my fault,
but refrain from doing so, because no cause for a do not feel.
Moreover, it is possible that you own the vehicle,
which is a source of danger, as you used
the murder weapon innocent cows (glad that it was not in
India, where the cow is a sacred animal).
Of materials that you sent, it does not follow that the fault was mine,
ie cow, acting on my direct instructions, suffered a martyr
death to inflict major property damage to you.
I was not even familiar with the untimely deceased, therefore, guidance
she could not give.
In my opinion, the most logical explanation seems different: the driver,
not observing the speed limit and not guided by any common sense,
no driving experience, no rules of the road, did not take
proper precautions and did everything in his power to
avoid traffic accident. Usually drivers reduce
speed, distance, seeing cattle grazing by the roadside (especially if
He is a big and horny).
As an explanation of the driver and the cow in the materials are not available, I
hard to believe that a cow disguised in a roadside bush,
coolly waited in ambush approaching you own a car,
and ran out into the road at the last moment.
Ready to submit to the court documents proving that the deceased did not
are trained and generally described as good-natured,
slow and gentle creature. Suicidal or terrorism
not mentioned, personal hostility to cars Land Rover
yet no. At home behaved correctly.
In performance-martyr were some shortcomings,
But you see the dead or well, or not at all.
Thus, by its freely undertaken without fault and
compensation caused you (driver?) damage, as you know,
I will refrain.
Please do not consider this as a rejection of the voluntary fulfillment of obligations
in this period, since the presence of obligations and ten
Timing is tricked by your lawyers, further costs
which does not seem appropriate. Recourse to external control
speaks to any competent lawyer that property claims
the debtor is not imposed under civil or other proceedings,
and in accordance with the Federal Law on Insolvency (Bankruptcy).
Once you make a claim in accordance with the Act, they
will be discussed in the statutory (not you) time.
Further informs that since neither my nor cow guilt
proved me study the question of liability (civil,
administrative) of the true culprit accident, which killed the favorite
all poultry farms. And for damages and moral damage caused
staff of the dairy farm of our poultry farms, as well as native
and friends of the deceased.
Your suggestions for voluntary compensation or on compensation
will be considered with the understanding (even after day period).
With respect and gratitude for
Delivered reading your letter
and respond fun,
external manager
NG Taimanov