After a fiery victory against Slovakia on the current world champions Italians, many hoped that with the Trust Bert van Marwijk Slovaks will fight on equal terms.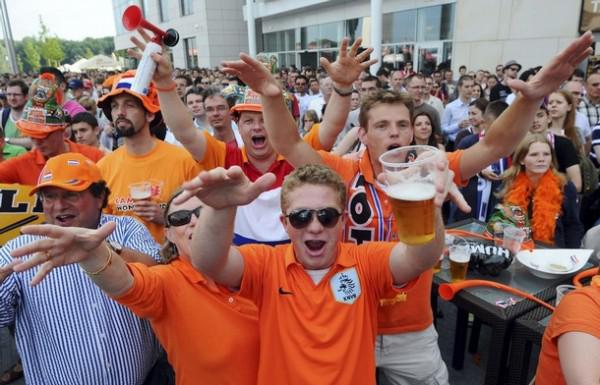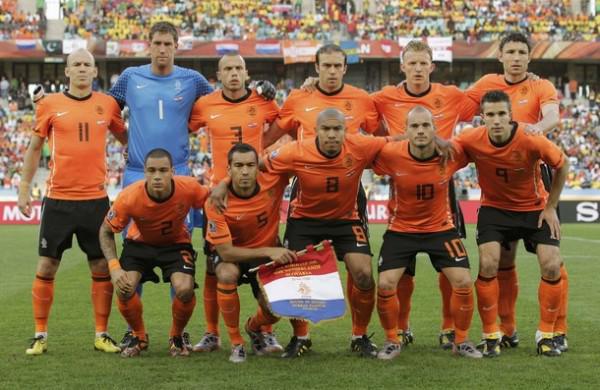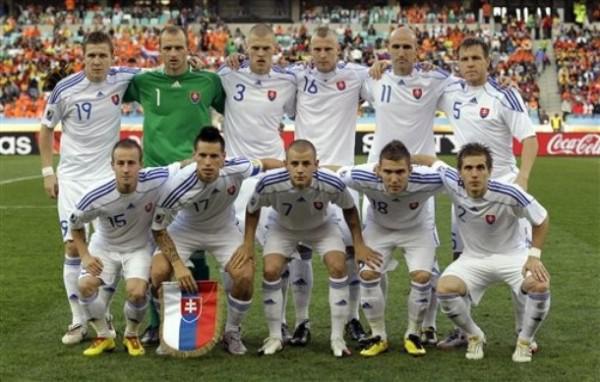 But there was all a bit wrong. Kick-off showed that the Dutch defense to go not so easy. Moreover, these representatives of the "country of tulips" is clearly not eager to rush headlong into the attack. The Netherlands played a very mobile, and players constantly change their position.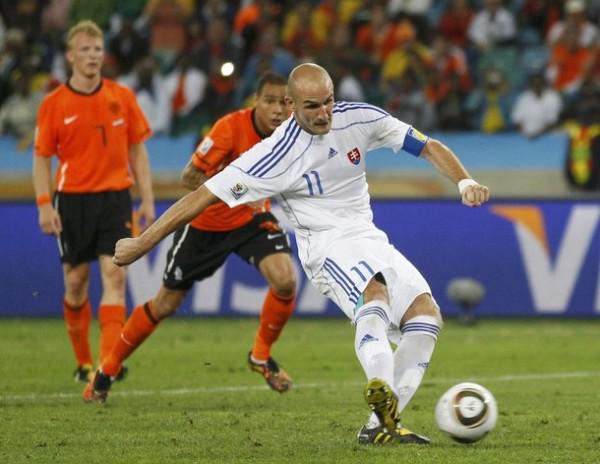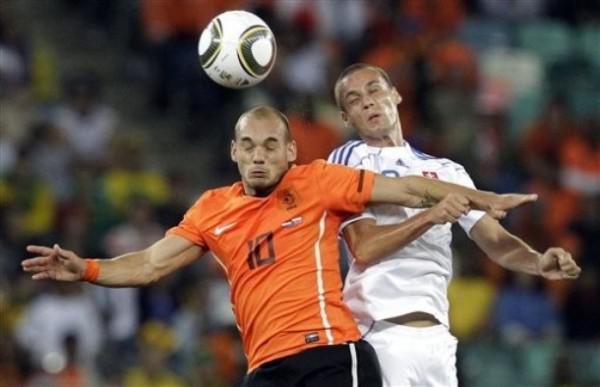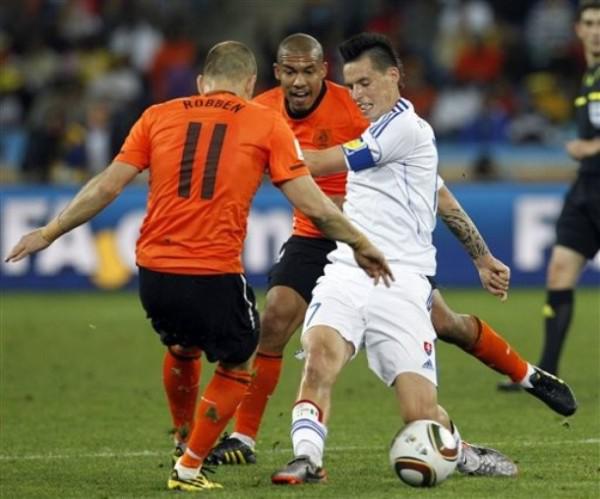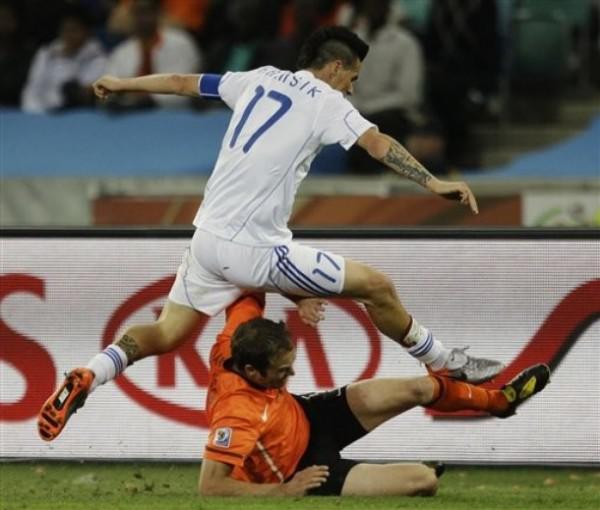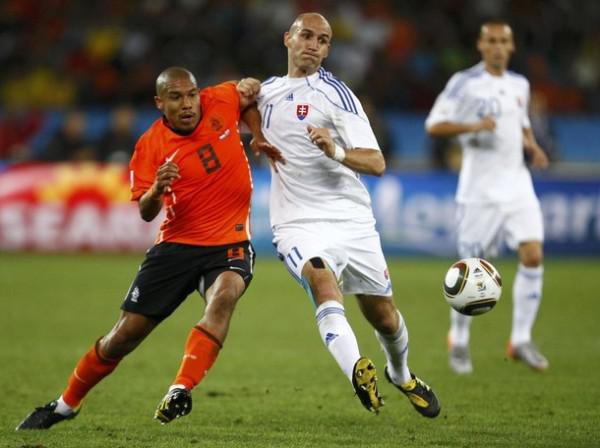 The game was sluggish before the first error. And this error is allowed Weiss team. During a trip to the Stekelenburga goal, the ball was intercepted and found Wesley Sneijder, who parachute luxury sixty meters on a counterattack sent Arjen Robben (Arjen Robben). "Bavarian", receiving the ball on the right flank to the penalty area, moved to the center and from the defender's billiard accurately struck the ball into the near corner. Fly could not save the team. In order to indicate who's in the game, the Dutch had the 18 minutes.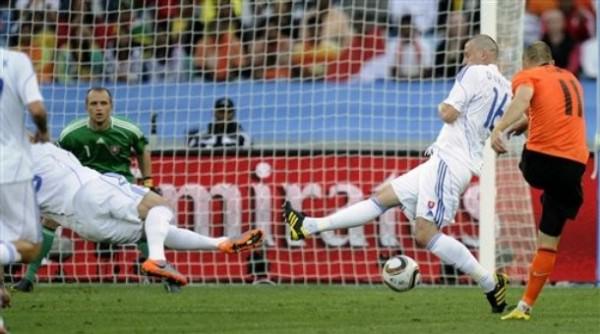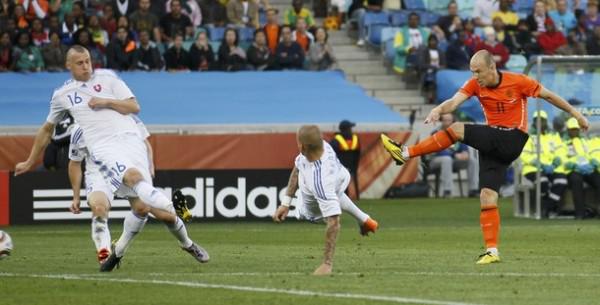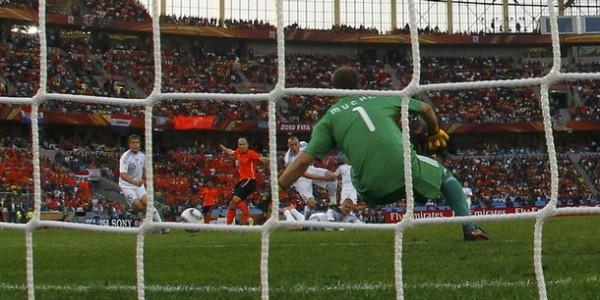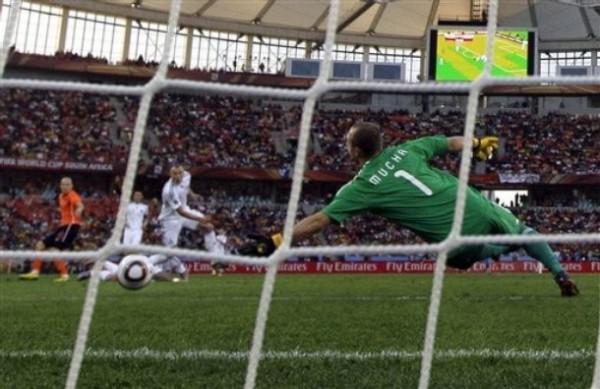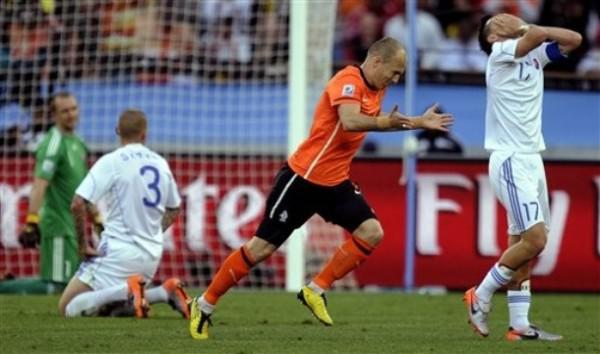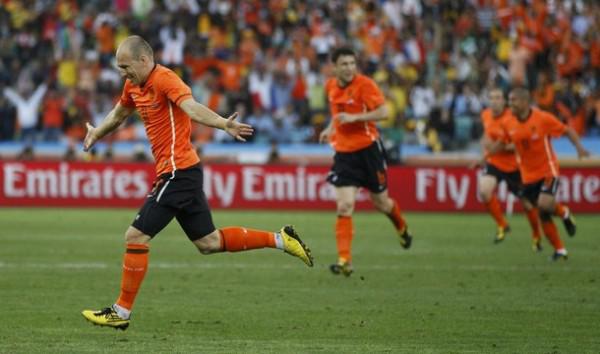 Slovaks tried to immediately respond, but the Dutch retreated quickly and without problems calmed the game, beating the pace of a planned by rolling a ball. So ended the first half of Slovaks sluggish vain attempts to organize something in attack and sharp attacks against the Netherlands, which, frankly, too, did not bring any dividends but retain the account.
Second half Slovaks began to more actively and even created a couple of dangerous moments. Stoch and Vittek but struck almost Stekelenburga, which only required not to make sudden movements, to fend off the blows.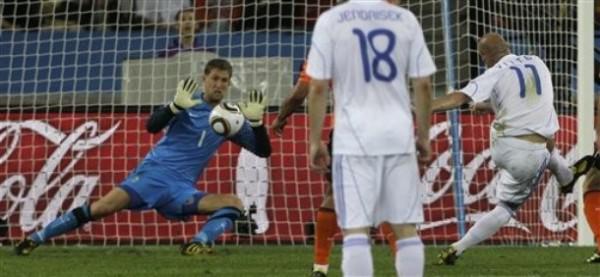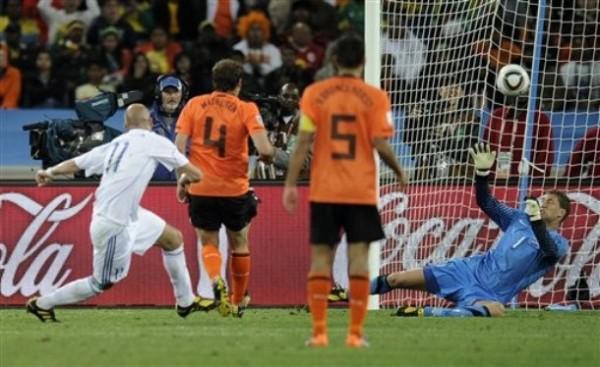 And then Giovanni van Bronckhorst started from the left flank by Dirk Kuyt, who thought his best years in the "Liverpool". "Mersisaydets" went to the area, close to the distance from which to beat and gave a perfect pass to oncoming Wesley Sneijder (Wesley Snejder). The latter had only to substitute the leg gently. 84 minutes into the match, 2-0, all questions about the winner lifted.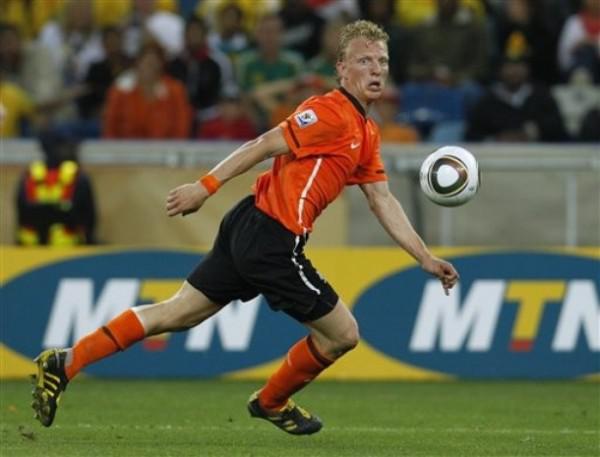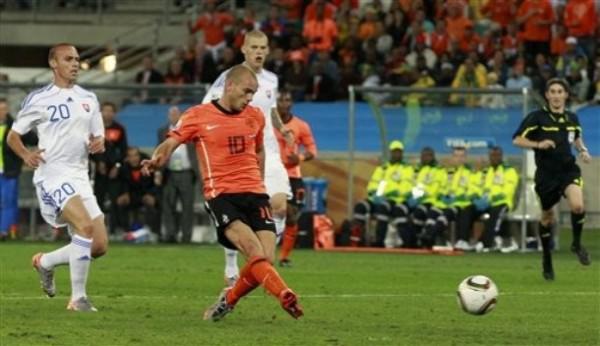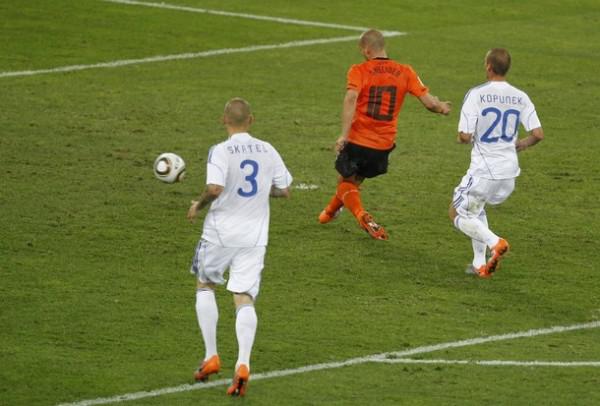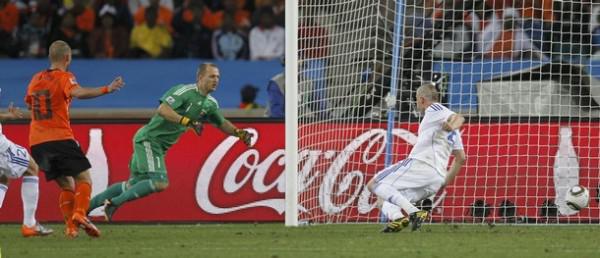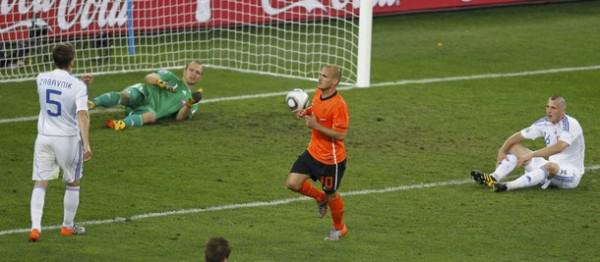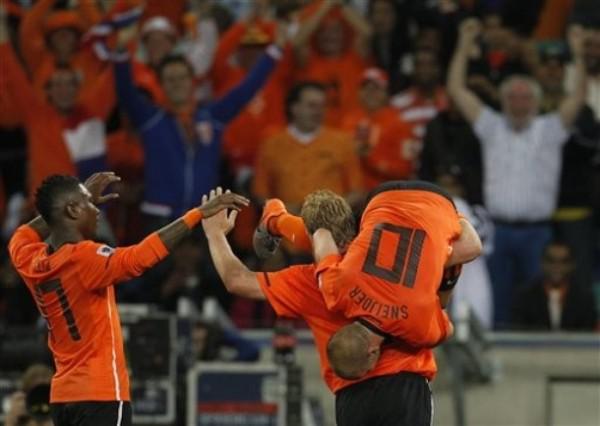 In just a few seconds before the end of the match, the referee ordered a penalty kick in the gates Stekelenburga. Frankly, his appointment can be entered again in the "great book of blunders arbitrators of the World Cup." When the replay clearly shows that the Yakubko caught the goalkeeper on his own initiative. Penalty accurately realized Vittek, after which the referee gave the final whistle.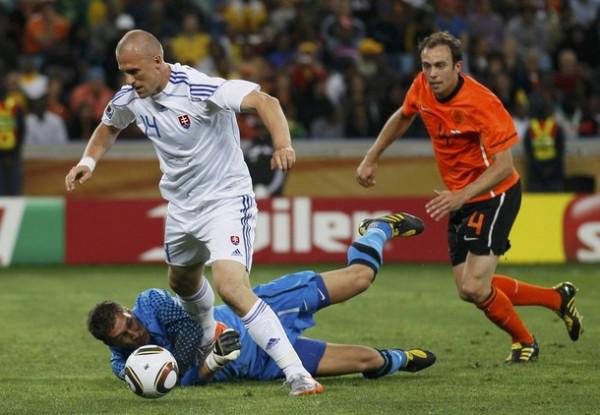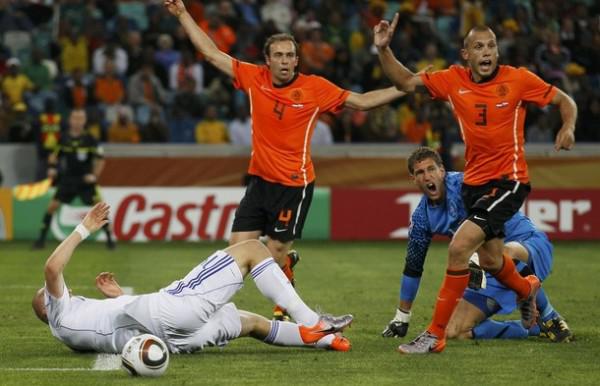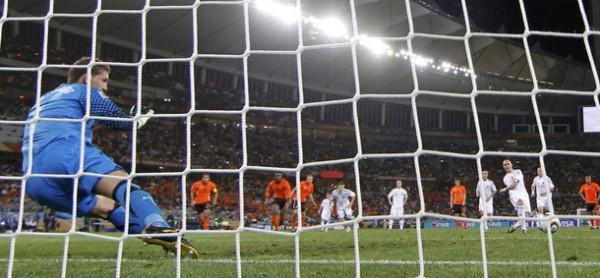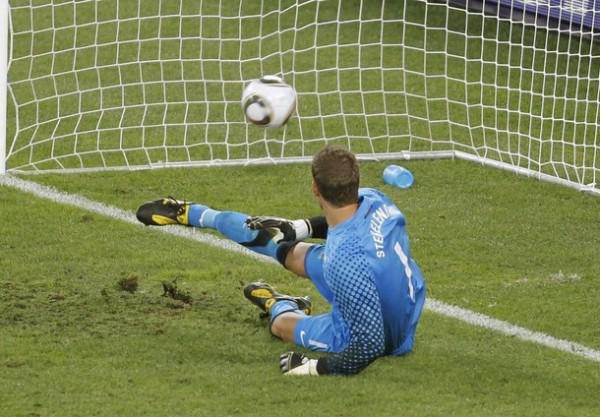 The Dutch continue to play pragmatic football and prove its viability.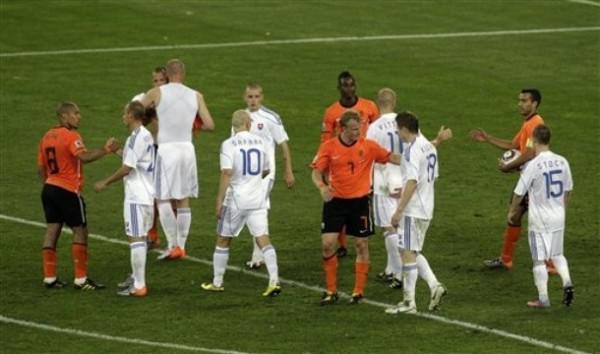 Photo: AP, Reuters
Netherlands - Slovakia 2: 1
Goals: Robben, 18, Snyder, 84 - Vittek, 90 + 4 (with a penalty)
Netherlands: Stekelenburg - Van der Wiel, Heitinga, Mathijsen, Van Bronckhorst - Van Bommel, De Jong, Snyder (Afellay, 92) - Kuyt, Van Persie (Huntelaar 80), Robben (Elia, 71)
Slovakia: Mucha - Pekarik, Skrtel, Dyuritsa, amusing (Yakubko, 87) - Weiss, Stoch, Hamshik (Sapara 87), Kucka - Yendrishek (Kopunek 71), Vittek
Warning: Robben, Stekelenburg - Kucka, Kopunek, Skrtel