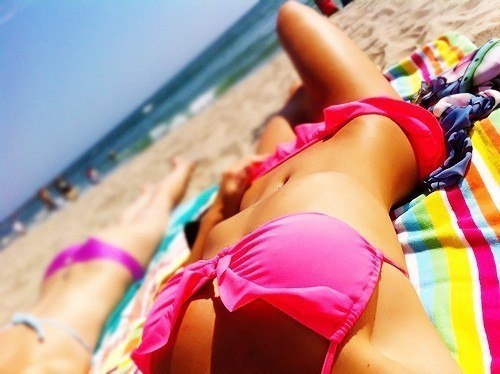 Use these simple tips to look perfect, even while on vacation.  
1. Drink plenty of water. For your skin to be healthy every day to drink about 2 liters of water at room temperature. It's a great way to keep the water balance of your skin and give it a healthy glow.
2. Use a cream with SPF. Do not forget that the sun's rays harmful effect on your skin, so regularly applied to the face and body sunscreen.
3. Do full-body exfoliation. Do not forget to use a body scrub to get rid of dead skin cells. So you can buy even tan.
4. Use tanning activator. Apply the product after sunbathing to give the skin a nice golden color and a long time to moisten it.
5. Make a beach laying. Apply to damp hair mousse and wrap each strand in the ring. Consolidate invisible rings, zakalyvaya them crosswise. Through time, let down your hair and comb it with your fingers.
6. covers the lip gloss. Choose shine pink color with gold particles. It will give the lips a beautiful shade and add them volume.