Believe me, that's all you need!
Any woman who has at least once in their life journey to the mall, he knows that each of them has a store that offers more than a dozen varieties of soap and its variants in a solid, gel and even a jelly-like form.
In which "soap stores" can order your favorite product "on weight" and you cut off a piece of any size (even 50 grams), and in some you can assemble a collection of figurines with original forms (tree leaf, fruit of olives, a spindle, a bee, almond nut orange fruit, rosebud and a lot of - a lot of others).
Someone will smile and think, it's fun for the kids, or just a bourgeois whim. However, modern dermatologists create a soap that not only looks very tempting, this cleanser can also diligently take care of your skin: cleansing, moisturize, tone, massage, exfoliate and flavored. Not to mention that after a bath or shower markedly improved mood.
So, if you go for the soap and not to the supermarket and specialty shop, prepare for the fact that the modern soap may be not only solid, but also liquid, cream, soap, gel and soap with the addition of sand, massage elements and essential oils aromatherapy effect.
Liquid soap perfectly perform the function of bubble bath and replace butter and cream, which we usually applied after water treatment. For example, a gel with rose extract will give the body the subtle aroma and velvety. And can act as an aphrodisiac., Other otdushka- lavender flower, on the contrary, will help to fall asleep quickly and remove redness on sensitive skin areas. Also, from plant varieties are very popular supplements chamomile (disinfection), vervain (deep cleaning), cloves (tonic effect), wormwood (good not only for the men's fragrances!), Sage (antifungal activity), bergamot (relieves stress), jasmine (improves blood circulation), ginger (excellent warms), mint (in the morning works better than any alarm clock) and sandalwood (deodorizes and controls the sebaceous glands).
This solid soap should contain the abstract, in which the manufacturer guarantees the naturalness of its production. Women around the world love the soap with fruit essences. The family of citrus (lemon, lime, orange, grapefruit, tangerine) - will help you freshen up and tune in to a positive wave. It's just provokers of laughter and joy. Cereals (oats and wheat) to quickly regenerate the cells of the epidermis. Berry and nut extracts (cherry, kiwi, mango, avocado, grapes, almonds, coconut) give perfect soft and silky.
Just a few minutes into the suds, and the skin turns to velvet.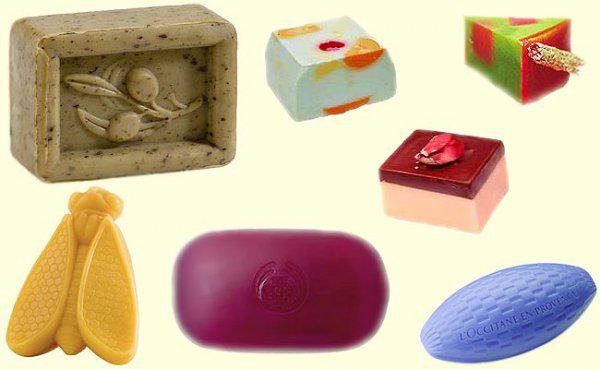 To entice buyers, pharmacists come up with "a combination of confectionery" - chocolate, honey, caramel soap already quite familiar phenomenon. However, you must know that honey - an excellent antiseptic and quickly heals scratches. Therefore, these varieties are not just doing a decorative role, they can be treated.
Cream soap boasts rich soy milk and cream fillings. Long ago beauties took milk baths, is now a quick shower with cream - soap has the same effect.
The structure includes a massage soap several oils. Most cosmetologists are turning to olive oil, which moisturizes the body with care. But there are many other kinds of oils: palm, pine, patchouli, jojoba nut. All of them are struggling with dry and add elasticity of the skin. Podsmotrena secret Brazilians, Britons released soap with sand spraying and now European women have the opportunity to enjoy all the delights of the Latin American beauty secrets. Also massage soaps are often used seaweed and sea salt - one touch and you get vaccinated guinea vitamins.
Jelly shower many seem absurd. However, the method of its application is fairly simple, and the action just magical. Just add a small amount on a sponge, foam and put on a body, then rinse with warm water. Due to the high content of glycerin soap jelly keeps the moisture in the body and prevents peeling. Shower Jelly should be stored in the refrigerator. By the way, its members often include alcoholic additives - champagne, cognac and wine. But you can only get drunk with pleasure, so feel free to sit behind the wheel!
Treat yourself going to the "soap boutique" and notice how much brighter the morning work and how quickly passes the evening fatigue. This is a wonderful opportunity to improve the health of the skin, to preserve the beauty and conquer depression autumn!