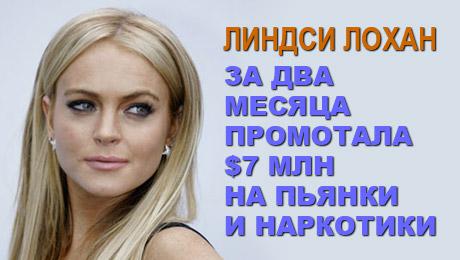 Infamous Hollywood actress Lindsay Lohan went bankrupt, having spent all his money on booze and drugs. Over the past two months unruly actress squandered 7, 75 million dollars, reports The Courier Mail.
Exorbitant costs forced squander sell all his property - a villa in Los Angeles, $ 3, $ 15 million and an apartment in New York for $ 1, $ 1 million. Becoming homeless, Lindsay had to move to a millionaire Tom Gore, executive producer of her latest movie "I Know Who Killed Me," failed miserably in the US box office.
Spending actress include:
 - One million dollars to pay for hotel bills
 - 137 thousand dollars to pay the bills of drug treatment clinics (30 thousand, 45 thousand and 62 thousand dollars for each of the visits, respectively)
 - 350 thousand dollars on luxury cars - Mercedes and BMW
 - One million dollars on clothes
 - 70 thousand dollars on the sun deck, tanning and hair salon
 - 500 thousand dollars for the party
Source close to the star told the newspaper News of the World: «The only reason forcing her to return to Los Angeles - an urgent need to earn money. For it still costs nothing to throw hundreds of thousands of dollars for a single party. It is shocking that such a huge amount of money she spent on cocaine. She just lost track of the money. "