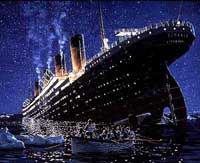 In England, at the age of 96 years died, Barbara West Deynton, the penultimate of those who in April 1912 survived the catastrophe of "Titanic».
Born in Bournemouth English in 1911, during the first and last voyage of "Titanic" in which the family traveled to America West, Barbara was just a child. And yet, although for all passengers seats in the lifeboats was not enough, she managed to survive. Just like her sister and mother, Constance Ada. But Edwin West, Barbara's father died. He sat down in the boat and drowned in the ocean, so that even his body has never been found.
Barbara West returned to England, where he lived a quiet life long. She avoided giving interviews, generally shunned any publicity, so that even on her death became known only after the funeral.
After the death of Barbara West Deynton in live there was only one person survived the catastrophe of "Titanic" - who lives in Southampton, from which it once and went into the fatal flight miracle liner, Elizabeth Gladys Dean. At the time of her accident, as reported by the Associated Press, it was only two months old.