It's not just Lapland hotel, and a great local attraction, where you can buy or rent, "tepee" with a view to the North Pole - the so-called needle - building with a roof and walls of glass, resembling a tent ... Inside there are all the amenities, including heating . In the center stands a large bed, and poured over the head of the northern lights with colored lights and twinkling stars ...
Open from December to April Hotel Kakslauttanen - the perfect place for a romantic holiday and fantastic experience ...
Above the Arctic Circle is especially nice to forget about paving dust and meditate about life ...
Thirty-one elegant needle, traditional Finnish home - for those who want to feel like a polar bear ...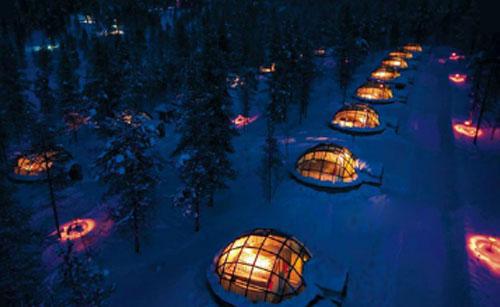 The most correct and, of course, an interesting exercise when you are in one of these funny apartments - lying in a luxurious bed, to bask under the warm quilt, sipping steaming lingonberry jelly and watch the northern lights now.
Simple and minimalist furnishings rooms - a bedside table, bed and absolutely transparent walls - eloquently about what other activities are not held in high esteem. However, they are completely useless.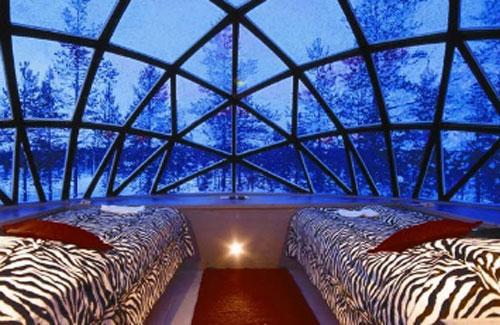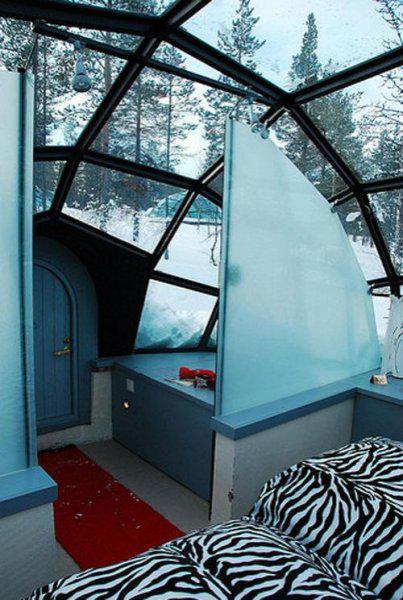 For the hungry - cute and the world's largest snow restaurant for 150 people with a truly Finnish food - Karelian pies with rice and stuffed with crazy roots and leaves of parsley.
Happy well go to the many hours of journey by dog ​​sled, and after - to bask in the Finnish sauna ...
... Or just enjoy the measured and often psychedelic snowflakes fall from the bottom of the night sky.