In October this year at the Paris Motor Show Ferrari the company is going to present the latest model of class GT, the first images that will appear in a few days. But until that happens, we present you with the best spy shots of the Italian sports car, which will be the main rival of "British» Aston Martin DB9.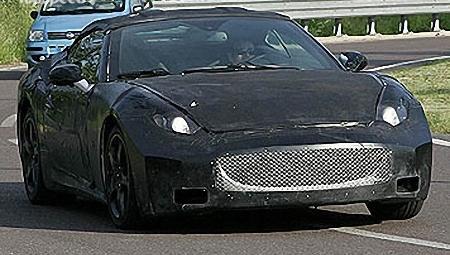 For the first time in the history of Ferrari, a sports coupe of the brand will have a metal folding roof. This should increase the weight of the car, although it is reported that the roof structure of the cult experts have thought the Italian design studio Pinifarina. And these guys are famous for their ability to apply the latest technologies, including those that can reduce the weight of the structure.
Under the hood, rear-wheel drive perednemotornogo GT will be located 4 3 L V-shaped 8-cylinder engine, which, despite its similarity to the engine model F430, developed by engineers Ferrari recently and will receive a number of innovative developments.
The power unit is endowed with direct fuel injection system, a modified air intake system, new cylinder head and valve actuators, as well as get more stable traction control system. This engine will also be interesting because it would apply a new mechanism for the throttle, which has never before been used in the automotive industry.