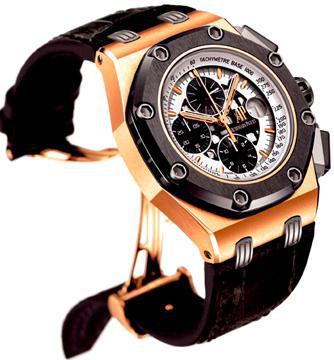 If you speak aloud the words of Audemars Piguet Offshore, and some, by chance, will any avid watch collector, his face immediately changed, and his eyes shine. Do not be surprised such a reaction - watch that line the dream of every collector. The line includes sports watches Royal Oak Offshore T3, Royal Oak Offshore Juan Pablo Montoya, and Royal Oak Offshore Rubens Barrichello. All these models are limited edition has long been sold out and ended up in collections. Only occasionally take out them out and sell at an even higher price than the original.
Brand Audemars Piguet has created a limited edition watch made of gold, titanium and ceramics
Royal Oak Offshore Limited Edition Rubens Barrichello. You can not even hope to get them - they are created in a single ekzemplyare.Chasy not be offered for sale to find its owner, because the owner already has - Rubens himself. If all the same model, put up for auction, its price will be almost transcendental.