What would you feel if you had to call your boss and tell him: "Boss, you know, what happened to your $ 250 Ferrari 000 pounds? Well ... he's broke and caught fire ... »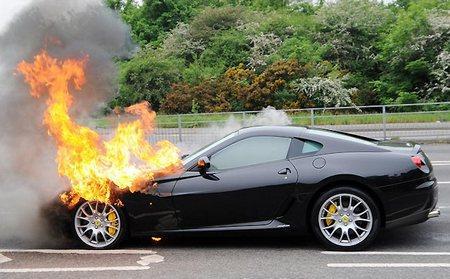 43-year-old Martin was driving a magnificent 599 GTB Fiorano, when he suddenly caught fire while standing in front of a traffic light. Firefighters, who were nearby, quickly put out the flames, but it did not help - the car was ruined.
Shocked Martin could do nothing as sad news to tell the owner of the car Yakonelli Paul (Paul Jaconelli).
Paul Martin asked shortly before the incident to drive away the car to a service center for repair, said:
"He called me and said," Your car just waxed ».
"At first I was hoping he was joking, but soon realized that he was serious».
"I asked him why this happened, and he said he did not have the slightest idea».
"Martin works in my company 15 years, he's really a great guy. Obviously, this is not his fault - I am not going to burden it at him ».
One of stunned passers-by took the incident on camera.
Paul, 58, added, "Martin said at a traffic light the car makes a noise, and then just puffed. Losses will be covered by the insurance company - but in any case, what happened to little pleasant ».