ELLE readers took part in the creation of exterior coupe-cabriolet Peugeot 207 CC ELLE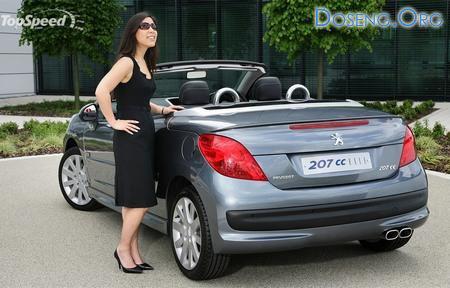 Coupe-cabriolet Peugeot 207 CC, are most in demand in the UK, is a benchmark of style, sets the trend in its class and has a perfect control. This summer, thanks to readers the women's magazine ELLE, he became even more urgent.
The unique interior of the issued limited edition vehicle, the designation 207 CC ELLE, was created by the magazine's readers, who participated in the competition for the design of their own cars. ELLE authors provide readers with several options for exterior and interior, and then the most popular options were considered by designers of Peugeot and are embodied in the finished cabriolets.
Modification of the 207 CC ELLE is equipped with 1, 6 liter VTi 120 engine, the power of which can make the rest of the movement to stand at a traffic light, looking at the receding car with 17-inch alloy wheels Hockenheim and curved aerodynamic design. Coupe-Cabriolet has received a number of stylish sports items, including dandy mesh grille, leather steering wheel, exterior moldings in body color, aluminum pedals and gearshift lever. For greater comfort of the driver and passengers in a standard vehicle includes dual-zone climate control.