Madonna has decided to end her seven-year marriage to director
Guy Ritchie, but it has publicly announced the break after their world tour
Sticky and Sweet, which ended in Mexico City on 29 November.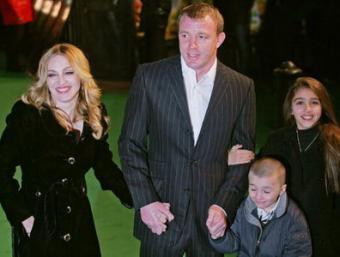 During the last years of their married life did not go well: the singer and the director constantly quarreled. How Madonna and Ritchie announced last month at the Cannes Film Festival, they tired to pose as a couple - at the joint celebrity photos look frustrated and confused.
It is worth noting that in the documentary Madonna has told MTV that "married by mistake." "My husband was not the person I imagined it myself - adds the star. - I wanted to quickly finish all ».
A source close to the couple said: "They live more like brother and sister than husband and wife, so the only question is when they will announce the rupture. They drifted apart and decided that it is better to remain friends. It's sad, but they are determined to maintain friendly relations ».
Recall that Madonna and Ritchie are raising 3 children, 7-year-old son Rocco and 3-year receiver David and 11-year-old Lourdes.
49-year-old star plans in the future to divide their time between her homes in London, New York and Los Angeles. New York apartment of the singer is already preparing for what will live there herself, her children and assistants.