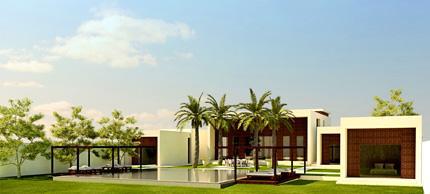 The Malkai project in Oman will include 101 villas and 92 suites, which are offered for sale with a starting price of $ 4 million, as well as a boutique hotel, which will include 41 villas. Design interior of the world famous villas will Jaya Ibrahim (Jaya Ibrahim). The opening of the hotel is planned for 2010.
Villas and apartments are sold fully furnished. Each object is accompanied by a specially designed landscaped gardens and large swimming pool.
Property owners can also take advantage of luxurious golf course 9 holes. This is the first in Oman Golf Course, designed by Gary Player Gold Design. There will be Wellness Centre, c full range of services and will be executed in the form of a landscaped pond and is surrounded by the main space of the complex.
On the territory there are Slub house, two restaurants, a boutique, gourmet shop, a children's club, and tennis courts. Those who can not wait to be closer to the sea, is within easy reach of the closed Beach Club, which is also managed by GHM.