Sept. 24 opening of Atlantis, The Palm, the first resort to sensational man-made island Palm Jumeirah (The Palm Jumeirah) off the coast of the UAE. Recall that his discovery was questioned after a fire in early September that engulfed part of the hotel Atlantis.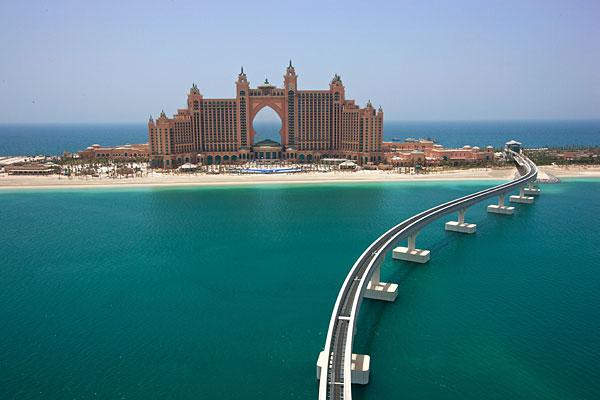 Atlantis Resort, The Palm Jumeirah.
Atlantis Resort holiday complex covers an area of ​​46 hectares, of which 17 are reserved for the themed water park AQUAVENTURE. Hotel Atlantis with 1539 numbers - the embodiment of a grandiose plan of Kerzner International Holdings Limited. The project is valued at 1, 5 billion dollars was built together with the company «Istithmar», owned by the Government of Dubai.
On the territory of Atlantis, The Palm has several restaurants open by leading chefs of the world, the owners of Michelin stars, Nobu Matsuhisa as, Giorgio Locatelli, Santi Santamaria and Michel Rostang. Also here is one of the world's largest artificial marine ecosystems inhabited by 65 thousands of marine animals. In addition, the complex built a unique underwater labyrinth The Lost Chambers, walking through which you can see the ruins of the sunken Atlantis.
Ambitious project inspired by the fascinating legends of Atlantis and recreates the magic atmosphere of ancient myths: the majestic palace with a giant arch and towers topped with domes bizarre twisted spiers, exquisite works of art, antique sculptures and wall paintings.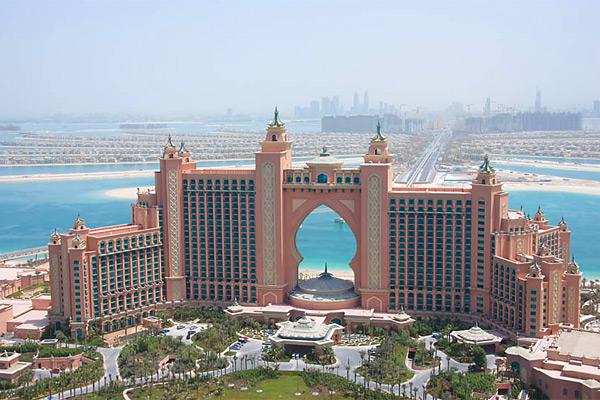 The resort complex "Atlantis» (Atlantis) on The Palm Jumeirah (Palm Jumeirah).