- And weather you watched? Snow, blizzard and night -20.
 - Yes, and on various Internet sites, it is different, and will have its own special Kaindy, and the snow is knee-deep and without clear forecasts.
 - And the way you've seen? There's also a solid ice.
 - Nothing, slowly doedem
Only one whole controversy to converge, we must go. Go to see ...
Lake Kaindy as it is there in the winter, the heat if he under the ice and snow, who disturbs him in the winter, whose footprints painted patterns between the Tien Shan spruces.
February 5 Almaty 6-30 am.
It's snowing outside -10, five "slightly ill" people started to head their way into Kolsai Reserve. The road, which was a lot of controversy, was really quite difficult, but not insurmountable. Ice, reel, as well as some clearings way present, rejoice and grieve, but we are overcoming them with every kilometer were closer to their goal.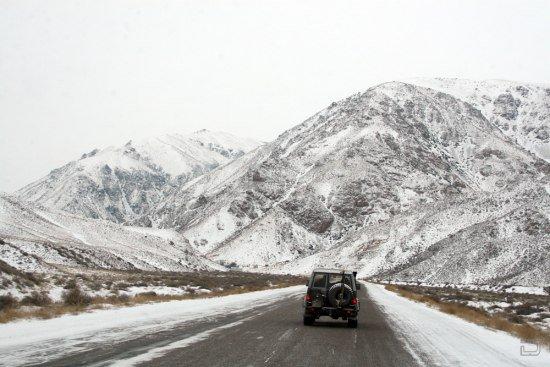 further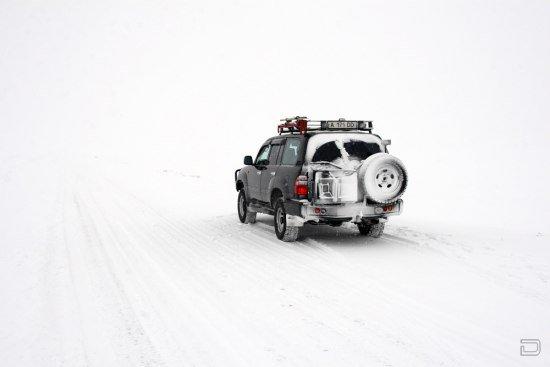 When they reached the village of Sata, who was chosen base camp before the assault on the lake with a stay and a little snack we moved to explore in order to understand how far the car can drive and how far we have to go on foot. From the road to the rangers we arrived minutes at 30. Then, for the barrier opens untouched snow-covered road going past the birch grove to the sleeping lake. There is no passage. Next, on foot and on horseback.
The distance from the house to the lake rangers five kilometers. The plan is simple: if tomorrow morning on the head does not roll in the snow, we start with the equipment and do something for which all this was started. Dive. Horses carry all that we need, and we ourselves have decided to go on foot, (I'll tell you honestly, I'm not a fig mountain tourist and this walk was heavy). If it is snowing, includes a plan "B", the lake Kolsay, dive there. Benefit to it is much easier to drive in almost any weather. What we have seen, there swept under the snow, the hour at 4 vechera.Vecher. Dinner, toasts to the successful enterprise for good weather for the fucked ... utyh that there is no peace. And surprisingly very early rebound in 10 have all slept. Before going to bed, leaving the street we saw the stars, which means that tomorrow everything will be just fine.
February 6 Sata village, 6-15 am.
Sky is covered, but the head did not roll in, then we go to the lake. The owner of the horses voiced this idea, and it extends to the house huntsman, where 9 am assigned loading gear and start. And the horses and the people were all in place at the time. Loading took 30-40 minutes.