Photos of everyday life of the most closed countries in the world - North Korea.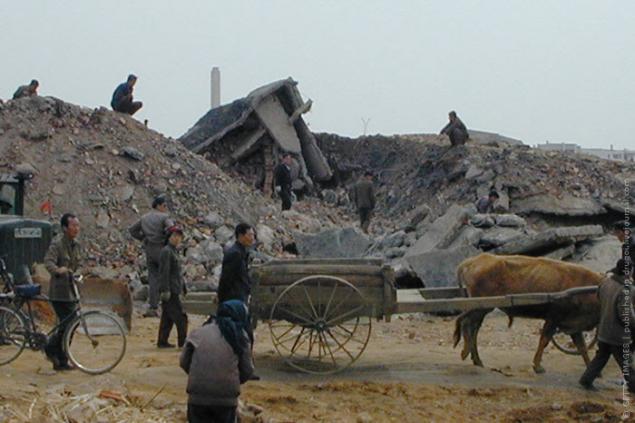 I'm not talking about those pictures that make tourists - they are always tight control accompanying specified route trips and there but sad monuments and celebration at the stadium, not look at that. I'm talking about those cases where the DPRK is happening something like that with which the local authorities, carefully guarding their territory against journalists who can not cope and are forced to accept help from abroad, as well as start to his staff of foreign missions, which appears a rare opportunity to photograph on North Korean territory.
The last time this happened when the first in April 2004 there was a terrible train accident, and then in 2005, when the country began again food shortages and the international community to take action to alleviate the plight of the population, living from hand to mouth for years.
April 22, 2004 50 km from the China-North Korea border station Yeongcheon (or Rёnchhon), two trains collided, one of whom was carrying gasoline, the other - LPG. Blast from the collision was so strong that the territory, as it was written then, "looked like a massive air bombardment undergone." The train station and the village next to it were completely destroyed. Cause of the explosion remained unclear until the end - there were different versions, to the extent that the explosion allegedly was a failed attempt to assassinate Kim Jong-il, who passed through this station from China a few hours earlier. More likely, the reason was much more banal - ordinary North Koreans to carelessness. Anyway, North Korea asked for help in the aftermath of the disaster and the call immediately responded fraternal China and South Korea. In the disaster area were allowed humanitarian workers, whose photos can be seen here:
Such was the area near the train station: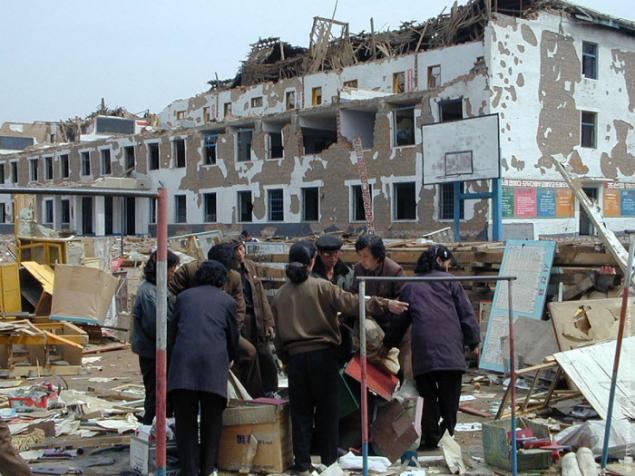 Baby portfolios next to the destroyed school building. Total according to different sources were killed between 130 and 170 people, several thousand were injured.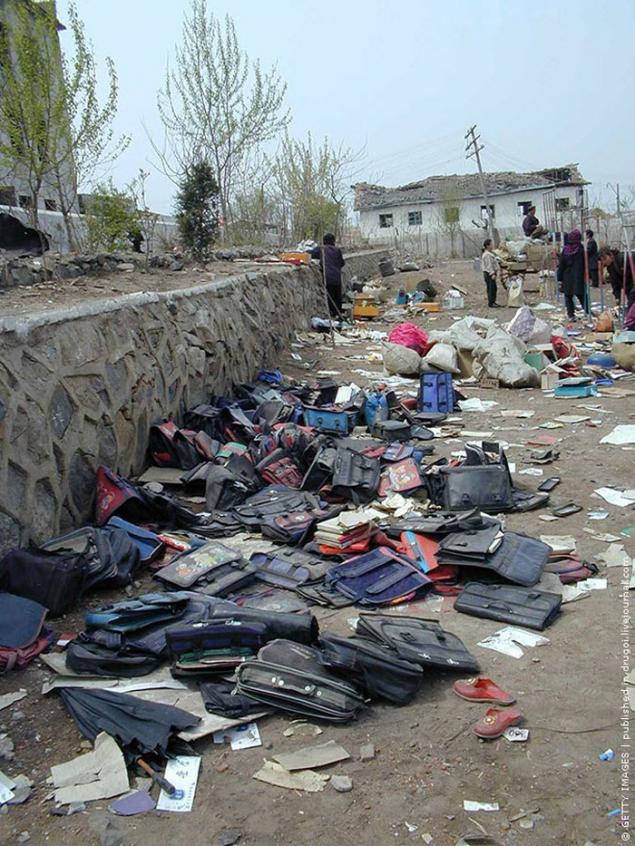 Wooden Arba with ox yoked to it - the main means of transportation in the North Province.