There is hardly a material as versatile! Learn
what you can make from old jeans
, closely examined every idea, it is impossible to force yourself to send to the dustbin of precious raw materials.
Maybe now you have enough strength to disagree with me. But after the tenth picture will change, predicting...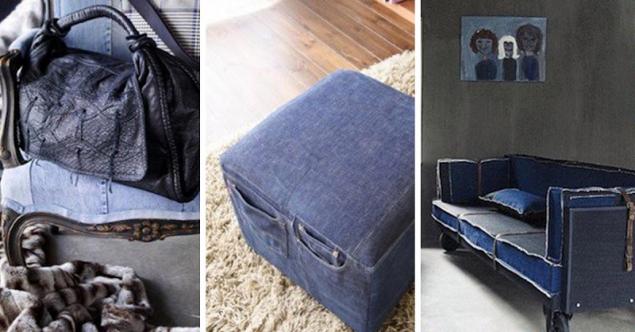 What can you make out of jeans
Organizer for a lot of other things.




Stylish pillow.




In this tissue box is more pleasant to bring a snack to work! Where to take the package.




A little crazy, but impressive ideas for flower pots.




New upholstery of the old chair!



Baskets-organizer! From plastic bottles and jeans is easy to make such facilitates the everyday life things.



Bib for baby!



Carpet in the hall.



The extraordinary furniture!



Skillfully made bags with lots of pockets.



Shorts! Below is the master class...



Say hand perfectly removes a stress!



Bright ideas! Fading can successfully beat...



Space! Only need paint for fabric.



Youth stuff!



The original footwear.



Pleasant home stuff...



A bear!



Area for a pet...



How he goes!



Gift packaging is pleased...



Kaleidoscope rugs!



A little ugly, but still cute...



Soft balls!



Art bag for shoes.



Even the watchband can be done!



The cupholder! Affairs: just glue a thin denim ribbon.



Braided cord for the camera!



Organizer for the artist!



And the cute cats...



Inspiring master class!
I guess now I won't throw away my old jeans...
This movie I liked!
Tell your friends that you can make jeans! Hand — one of the small joys that make us happy...
Now everyone can publish articles
Try this first! To WRITE an ARTICLE the Author

Alexander Klimchuk Since childhood, interested in medicine, grew up in a family of doctors. Knows how to make a fancy Breakfast out of nothing, is not afraid to experiment in the kitchen, making pies without flour, low-fat mayonnaise, healthy sweets. Never give up and believes that people are created to help each other! In all its domestic Affairs the assistant to the son Sasha. Alexandra's favorite book — "the Art of loving" by E. Fromm.