Environmentally safe steam was developed in anticipation of the most prestigious sailing race "America's Cup", scheduled to be held in San Francisco.
Such ideal ferry for ports and harbours, besides its characteristics of zero carbon dioxide emissions, which is important in connection with toughening requirements on the environmental performance of vehicles.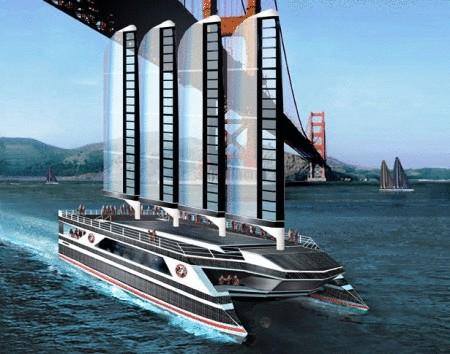 Richard Sauter, the head of Sauter Carbon Offset Design, environmental projects, said that the original "America's Cup" was established as a sailing regatta, i.e. the race of sailing ships do not pollute the environment with CO2 emissions. Therefore, the development of environmentally friendly ferry had to meet all the standard requirements of careful attitude to nature.
Used in the creation of environmentally friendly vehicle technologies, including solar panels and wind generators will reduce fuel consumption from 50% to 100%. According to developers, the savings from lower fuel consumption will be higher than the cost of construction of the vessel.
The energy obtained from the sailing of the exoskeleton or turbines can be used to recharge the batteries or to remain in the network. Even in calm weather continuous source current capacity of 0.5 MW and an automated wing sail can maintain the average speed of the ferry at 12 knots.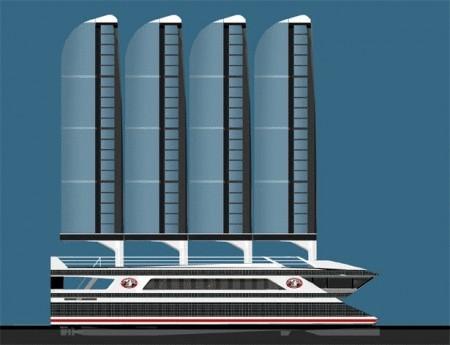 The technology needed to create a sustainable ferry available and are used in shipping, therefore at the moment the construction of this ship looks real. The design of this float not only allows you not to depend on fuel and equipped with a hybrid eco-friendly engines, which are the most environmentally friendly vessel engines today.
Source: /users/104