The white temple is unique among the other temples, because is built entirely in shining white with flashing mirror glass mosaics. The temple was the idea of Chalermchai Kositpipat, one of the most famous artists of Thailand, who decided to build a temple in white to show the purity of Buddha.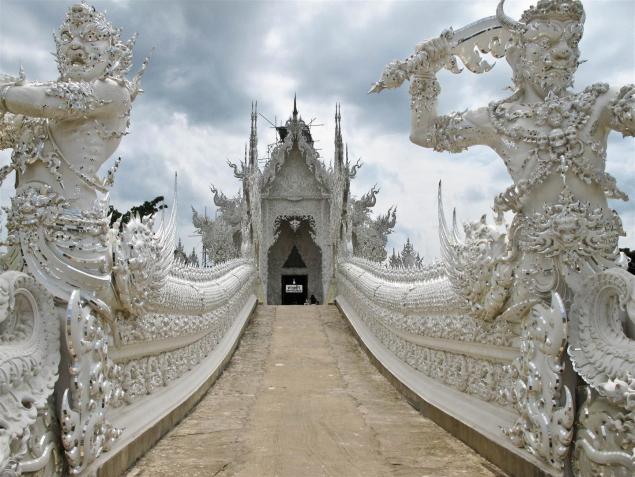 Construction began in 1997. Currently, Wat Rong Khun is still under construction. The temple is located in Chiang Rai province, 15 km South of the city on highway No. 1, in the place called Amphur. Its construction was conceived in 1998. It was planned to build 9 buildings with a construction period which may last 90 years, according to the architect. After his death, the plans will continue to implement young architects, which he teaches today. 9 buildings will consist of Phra ubosot, hall with relics of the Buddha halls with Buddha images, prayer halls, halls of contemplation, the house of the monks, the door facade of Budavari (enumeration of the 24 previous Buddhas), art galleries and toilets. The architect also States that he built the most beautiful toilet in the world.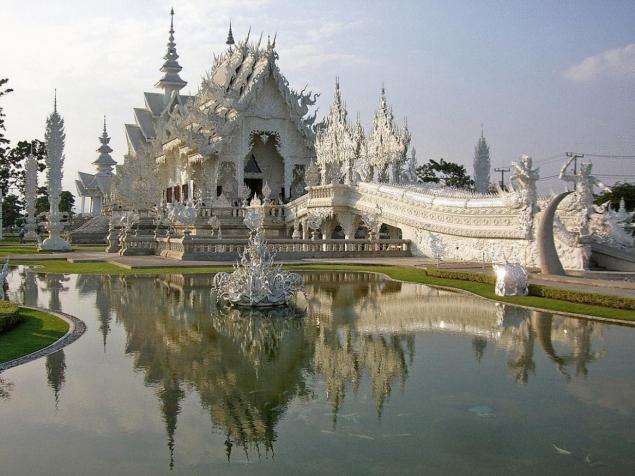 He says he wanted to convey the idea that the White Temple symbolizes the human mind, and the Golden toilet, which worked perfectly carpentry is a symbol of receptivity. The bridge leading to the ubosot, a transition from the endless cycle of rebirth to the abode of Buddha. The small semicircle before the bridge shows the earthly world. The big circle with fangs is the mouth of the demon Rahu, embodying the imperfection of the human mind and sinners suffering in hell. Inside the White Temple stood the figure of a meditating Buddha.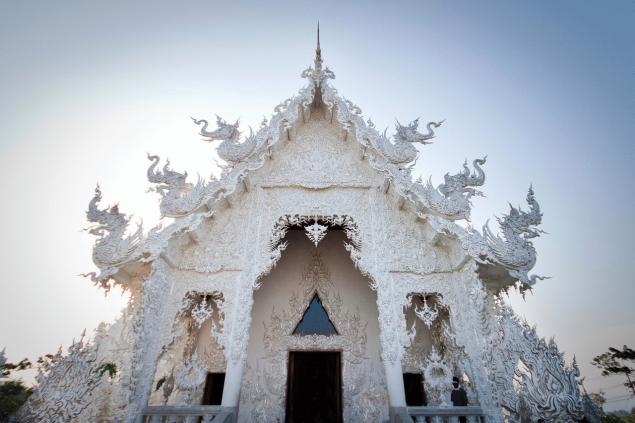 One wall, painted by the artist in over three years, tells about the struggle of Light and Darkness. Here you will see unusual characters from the films "the Matrix," "Star wars", picture of the events of September 11 in new York, all kinds of robots and monsters. Over all this chaos stands the Buddha and his disciples. So the artist wanted to convey to the younger generation, the eternal and immutable truth.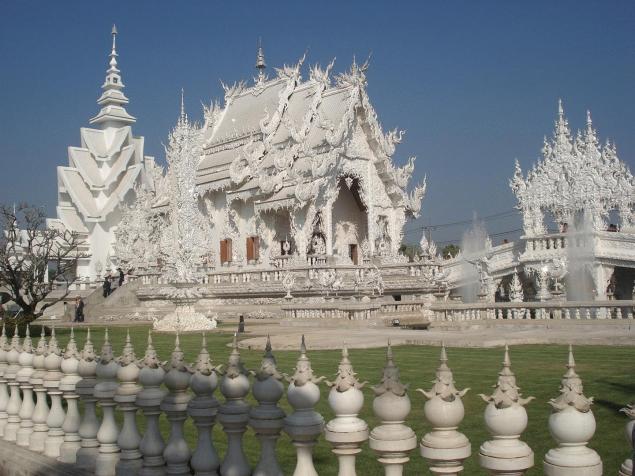 It is noteworthy that the architect and artist Chalermchai refused sponsorship, so no one could restrict his imagination and plans. The money goes from the sale of the artist's work and donations. It should be noted that here comes a lot of believers. However the temple is open for tourists.
Source: /users/117