Fruit and vegetable masks are mostly quite simple to prepare and very useful. The juice of fresh cucumbers and tomatoes alone can be applied. And nothing more and not to think. Fresh vegetables and fruits themselves are the secrets of beauty.
This article prompted several masks of sauerkraut. Use the sauerkraut juice to whiten the skin, and is made of cabbage leaf masks refresh and tone the skin.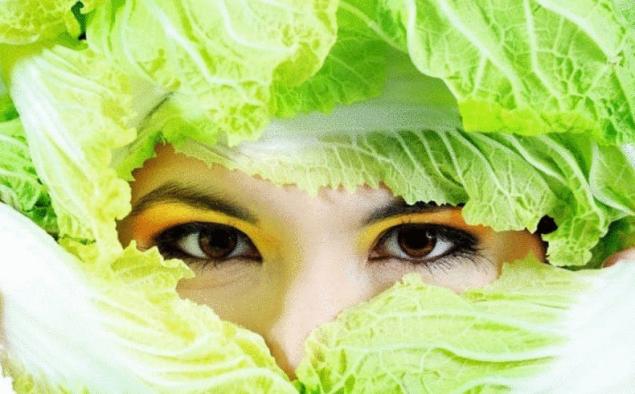 Mask from sauerkraut suitable for all skin types, but especially recommended cabbage juice for porous, oily skin. It cleanses the skin and tightens pores.
To use these masks you'll need 20 minutes of time, after which Mack can be removed.
Mask of sauerkraut — universal
Perfectly suited to care for normal and combination skin. And the recipe is extremely simple.
Chop and press a little sauerkraut. A thick layer apply the resulting mass on the face. When will the 15 minutes, the mask can be washed off.
A compress of cabbage juice may be analogous to this mask. To make it you need a piece of gauze wet in the cabbage juice. Cheesecloth establish on the face but the eye area is left open. Complete the procedure after washing or wiping with a damp face cloth.
Mask for any skin type sauerkraut
Need to press sauerkraut from the extra juice. 3 big spoons of cucumber juice (fresh) add in more cabbage dry weight. Cucumber this will need to peel, chop, and squeeze the juice.
This mixture should be laid between two layers of gauze and apply to face. After 20 minutes remove mask and rinse face with cold water.
Mask of sauerkraut for normal, combination and oily skin
4 tbsp sour cabbage grind in a meat grinder. Cabbage weight, it turned out, press from extra juice. A cold egg whites need to be whipped in a cool foam. Mix the cabbage with beaten egg whites and gradually add a large spoonful of flour.
Get a thick mask, which is applied to the face. Use this mask a couple times a week.
Mask for oily skin
Sauerkraut, take a tablespoon, take the same amount of sour cream and mix with a quarter of a small spoon of lemon juice. Apply on face for 10 minutes. To remove the mask swab or a cotton swab dipped in warm tea leaves of green tea.
Mask for normal and dry skin type
Whisk one egg yolk, and then mix it with 1 tbsp of sauerkraut. In their total mass, add a small spoon of vegetable oil (jojoba or olive). Mix the mask ingredients to homogeneity.
Vitamin mask from sauerkraut
Wrung sauerkraut take 2 tablespoons, and the same spoons take cucumber juice, 1 teaspoon tomato juice and 2 drops of lemon juice. All the juices are taken to mask the fresh, just squeezed. Cabbage weight with juice mix and apply to the face using gauze for 10 mine. Mask refreshes, brightens and tones.
Whitening mask
For its preparation is taken in 2 large tablespoons of sauerkraut and sour milk and small spoon of lemon juice. Apply this mask of sauerkraut for 10 minutes.    
Source: lubim-zhizn.ru