Lately if you have a large garden, more and more lovers of natural style choose a design element as a motley lawn.
Why they do it, what is a motley lawn how to arrange it, what plants to use? I will try in this article to answer all these questions.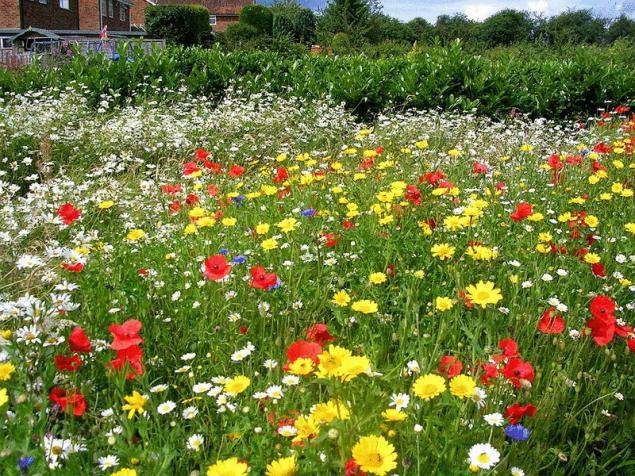 Many greens in the food use of young leaves and stems. Typically, they are repeatedly cut off at a young age, when plants reach a height of 10-20 cm since most of them are annuals or biennials and propagated by seeds only, in the absence of opportunities to buy seeds in special stores, some items need to grow to reproductive status (fruiting). During this period, the plant usually forms high in varying degrees foliated stem bearing the inflorescence, and thus, of low, compact, often female, is transformed into a tall, spreading, delicate or with a loose structure and is distracting from the original composition. How to place such crops to get seeds and at the same time that it was beautiful? The output can be very simple: plants intended for cut greenery to grow in the foreground of garden beds, curbs, etc., and for seeds – speckled lawn (of course, if it's self-pollinating plants or perekrestnolistnaja where the seed quality is not degraded from proximity to close relatives).
Motley lawn is one of the elements of landscape design of the plot, giving it a natural look. As a rule, it is a community of herbs contentment precipitation and poor soils, but to maintain decorative effect in hot, dry summers require irrigation (once a week). Don't confuse motley with Moorish lawn (describedby) lawn, which is based on the grasses that form a sod, supplemented with several species of annual or perennial flower crops. Special charm speckled the lawn give members of the family celery, or an umbrella. Among them: anise, common chervil, coriander seed, carrot, curly parsley, caraway, dill, fennel, celery, cultural, and other plants. They are able not only to decorate the garden, but also to create their own composition in a very natural variegated meadow. A kind of architectonics of the umbrella itself deserves attention. Their decorative effect often persists until the autumn and even winter. They successfully combined with other ornamental grasses because of their pale flowers, gathered in openwork, dome-shaped blossoms resembling an umbrella, ferns and foliage soften the brightly blooming and dekorativnolistvennye plants. In addition, important advantage of an umbrella is the fact that in adulthood they do not require additional watering and give self-seeding.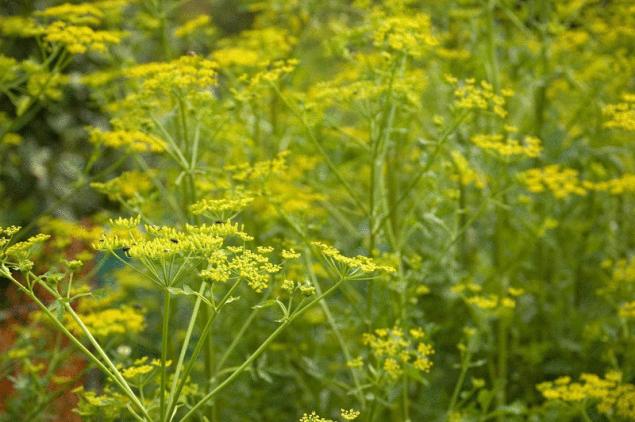 In order that such lawn to delight owners with their natural colors, umbrella grass, you should choose an interesting "partners", for example, plants with tall, slender (Veronica pigweed, mullein, chamaenerion angustifolia), and spherical (Luke) or rounded inflorescence (Echinacea purple, leucanthemum vulgare, Achillea millefolium, kanuper, poppy – rhoeas) a variety of colors.
Motley lawn should plan on a fairly open, lit area. If the cottage is bordered by forest, a forest or a meadow, variegated lawn it is better to arrange as a continuation of these natural communities. It will be a good landscape solution for long and narrow garden, as well as larger land holdings, where land remains unused. In addition, this is a godsend for gardeners who are not able often to visit their estates, and yet on every visit which this scenic area wildlife drowning in greenery and flowers from spring to autumn. The device is a motley lawn For the device motley lawn you must carefully prepare the soil (dig, preoborudvat, to level, if necessary add sand). Seeds mixed with sand or sawdust and sown, widely scattering them along, and then across the site, after which roll and pour of fine heads, in order not to wash out seeds. Young seedlings also need to be watered in dry weather. If necessary, in the first or subsequent years make additional seeding or planting of plants with similar environmental requirements. Mowing lawns, usually produce once a year. Not to trample the grass and flowers, it is possible to mow a narrow path (when the plants reach the marked height), which will allow you to take a romantic walk. Range of ornamental and vegetable plants for variegated lawn
Anise
Pimpernel saxifrage
Flowers tuber
Rue small
The goričnike Russian
Brassica juncea
St. John's wort
The Moldavian dragonhead
Kanuper balsamic
Chervil common
Coriander seed
Meadowsweet common
Poppy - rhoeas
Carrot
Leucanthemum vulgare
Fenugreek blue
Parsley curly
Celery
Sabuha crowned
Caraway
Yarrow
Dill
Fennel
Chamaenerion angustifolia
Chicory common
Spinach vegetable
Echinacea purpurea.
Source: www.7dach.ru