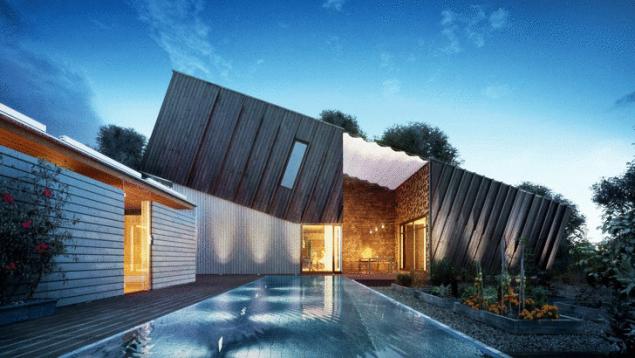 This experimental house in Norway, according to its developers – the design office of Snohetta (Snоhetta) and the Center for the study of houses with zero energy balance (Research Centeron Zero Emission Buildings) – generates twice as much energy than it consumes. His task is to demonstrate all the features of modern eco-sustainable technologies and prove that the home is able not to, and to supply electricity to the network without risk to the comfort and well-being of residents.
The roof is inclined at an angle that optimizes the coverage of photovoltaic panels throughout the year, as well as facilitate natural ventilation of the building, where focused designers instead of using electric fans and sensors. Sunlight comes into the house through a large atrium. The house will test various systems otopleniya DHW, and the results will be used to select the most effective solutions. It is expected that the heat generated in the house will be enough even for heating small pools, power enough even to charge the electric vehicle.
The house is located within the Norwegian concept "homes plus", which in recent years, growing in Norway as the mushrooms: in Bergen 700-800 built similar buildings. And Norway is already a discussion what to do with the additional energy they will produce.
Source: green-city.su/