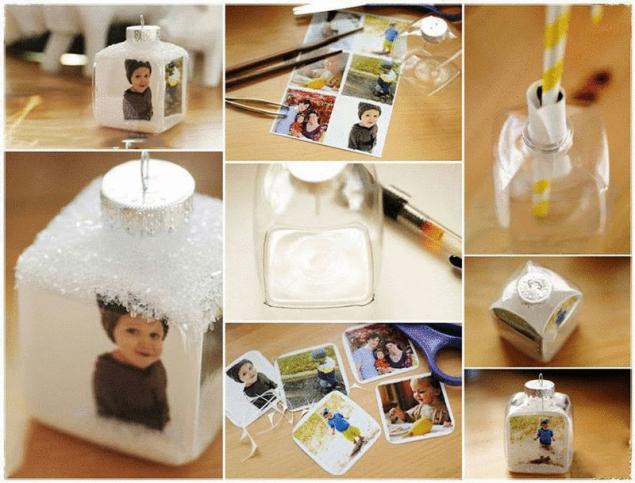 The original and most importantly very memorable gift for New year or Christmas — square photo bulb on the tree. With this gift You will remember every Christmas holiday.Square photo bulb on the Christmas tree certainly sounds not right, but captures the essence. Offer beautiful and original new idea for Christmas decorations.
Every new year we spend a lot of time on home decoration and manufacture of toys, instead of to dedicate to his family. Our colleagues thought, why not combine the two of course nice things?
You can even start a tradition for the family every year to add to the tree at the original square to the ball with family photos. So with another New Year will receive an additional toy on the Christmas tree – which gradually will resemble a family tree.
To make this square photo Christmas ball on a Christmas tree needs:
• photos of your and your loved ones;
• a small transparent square plastic bottle or flask. It can be specially bought (glass) or ahead of time to stock up on retaining the capacity from any facilities;
• paper;
• a pen or pencil;
• scissors;
• you might need tweezers;
• a pair of thin knitting needles or chopsticks (chopsticks);
• glue and glitter;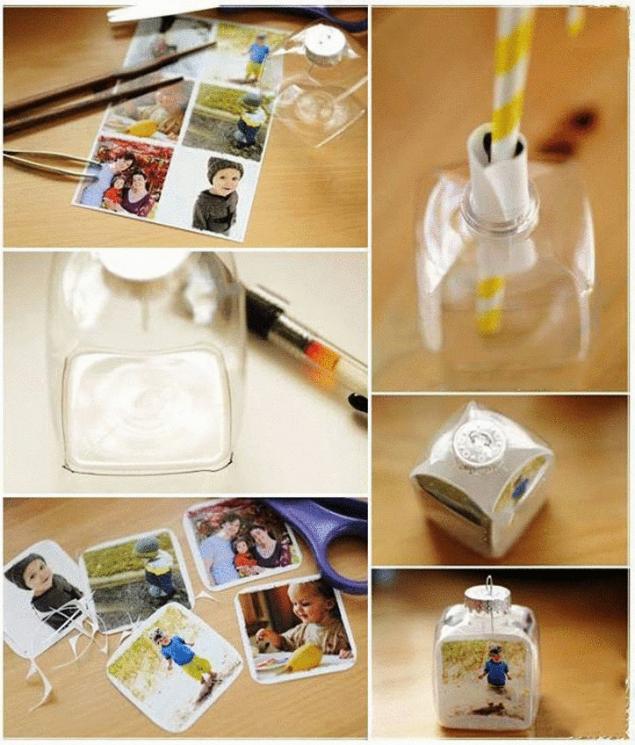 First measure and choose the size of the photo.
For this experiment with paper. Merim one wall of the square ball and cut a strip of paper slightly less. This will be the template. Now turn the template around a pencil and sticks inside of the flask. Using tweezers and chopsticks to straighten it there. She should stand on one side of the "very tightly". Looks nice the picture is a little curved inward. When pick the size of your flask, take out the paper and go to photos. They need to do with white frame or stick on the paper. Looks so much nicer. In General, four printable photo with frame. It pulls all photos into pencil and sticks inside at a time. There is already straighten after the four "Windows to Windows".
In principle, all the square ball with photo ready. But it would be better to decorate it top and bottom.
To close the photo below, just pour the sequins into the bottle to the bottom.
Top around the neck sticking sequins. Smear glue bottle and sprinkle with glitter, allow to dry.
Left to pass through the stopper of the thread and hang a square ball on the tree. Tip: if the cover is not beautiful, you can substitute the appropriate mount from the real Christmas tree ball or also glue sequins.
Source: samodelka.net/blog/krasota/1026.html#cut