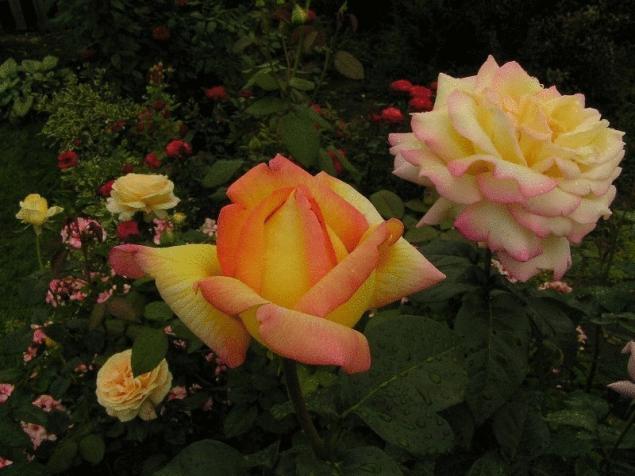 Hybrid tea roses derived from repeated crosses of remontant varieties of groups with tea groups.
Modern range of roses hybrid tea roses occupy a leading place thanks to the pronounced repetition and, often, continuity of flowering, unsurpassed decorative qualities and aroma of flowers, variety of colors and shapes.
For most varieties distinctive oblong-pointed buds; flowers usually single, of various sizes with a diameter of 9 - 12 cm, Terry — 20-80 petals and shape of goblet or ploscockletocny with beautifully folded outer petals. Bushes straight, sometimes slightly spreading, a height of 60-80 cm stems are thin but strong, straight or slightly geniculate, with large beautiful leaves consisting of 5-7 bright-green or greenish-bronze leaves.
Grade Gloria Dei
The most common in our country varieties Gloria Dei, Madame butterfly, etc. Received roses flowers new original coloring, some of them are bluish-purple and purple (Intermezzo, Mainzer Fastnacht, silver star), two-tone, "motley" (Piccadilly, Bazzo, Roses, Goear, Suspense), black and red (OK, Dad Maan), fiery red (Super star, Allegro, of Delbar orange), soft pink (Piano Haynes, in Memoriam). The main purpose of this group is growing for a cut in the closed and open soil, and mass planting.
Grade Super Star Gloria Dei Gloria Dei. The flowers are yellow with a pink tinge on the ends of the petals, solitary or in inflorescences 2-3 on a peduncle, goblet-shaped, double, fragrant, very large, with a diameter of 12-15 cm In a full blooming flower color changes and becomes yellowish-pale pink. Bush height of 0.8-1.1 m. Flowering begins in mid-June and continues until frost with short breaks. One of the most frost-resistant varieties of hybrid tea roses. Variety is extremely resistant to mildew. Recommended for cultivation shear, to group planting, shtambovoy culture, design of ridges.
Sort Of Madame Butterfly
Madame butterfly — M-me Buterfley. The flowers are shiny, pink, apricot shade, solitary or in inflorescences of 2-5 flowers per peduncle, goblet-shaped, fragrant, very large, with a diameter of 10-11 cm, Terry. In the sun fade to pale pink, sometimes white. Flowering begins in the second half of June and continues with few interruptions until frost. Recommended for cultivation shear or as a standard culture for group planting, distillation, processing of perennial borders and flower beds.
Super Star — Super Star. The flowers are double (up to 42 petals), unusually bright salmon-red colour, fragrant, straight long sturdy stalks. The Bush is of medium size (about 70 cm). The leaves are dark green.
The Sort Of Morning Moscow
Morning Moscow — porcelain flowers pink, petals edges Carmine, diameter up to 10 cm, double (30 petals), 3-10 flowers per inflorescence, with a weak aroma. The Bush is strong, spreading. Pedicel long, strong. The leaves are large, leathery, dark.
Yaroslavna — buds oblong-acuminate. The flowers are beautiful buildings with impressive up the center, pink, Carmine and orange tint, double (60 petals), long retain their shape. Flowering is very abundant. The leaves are large dark green, leathery. The Bush is lush, moderate size.
P. S. And remember, only by changing their consumption — together we change the world! ©
Source: www.sadovoda.ru