To get anything for free and inexpensively always nice and helpful, even if it is sour vinegar. Well, if it's free electricity, then it is quite good. One of the ways of energy conversion lights into electricity is the use of solar panels. The method is very good, but has some significant drawbacks. Firstly, the high cost of the panels and of course harmful for the environment emissions from the production. Secondly, the dependence on time of day and the weather, in cloudy weather and at night a lot of energy will not collect.
Third — lowest percentage conversion to get something worthwhile will have to plant a whole field of huge panels concealability. And finally — the service panels should be cleaned from dust and bird droppings..., otherwise the small transformation ratio will further decrease. Despite such a large number of all sorts of shortcomings, the system works pretty well.
Then the story will focus on an interesting boat, Turanor PlanetSolar, which uses as energy source the sun's light, converting it with the aid of solar panels. Well, such things should not surprise us, seen and car on solar energy, and the boats there were. But in this case the situation is slightly different. The vehicle driven by the motors is quite large in size. Its length is 30 meters, width 15 meters, height is 7.5 (this is a two-storey house with high ceilings). That's all the wonders do not end. The catamaran Turanor PlanetSolar, and it is to this class of vessels it applies, is the Autonomous navigation 525 days and at the end of the spring completes a trip around the world.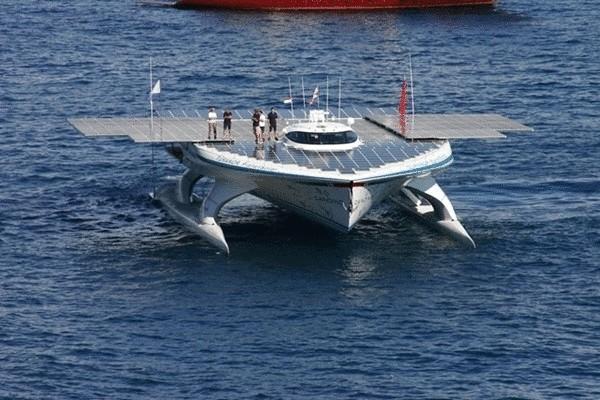 In order to provide energy to the motors are 537 square meters of solar panels which charge the lithium-ion batteries. The coefficient of energy conversion of photovoltaic cells is 18.8%. In cloudy weather the area of solar increases pull-out modules.
The ship designed by the Swiss engineer Raphaël Domjan. The catamaran idea was to show the possibility of using alternative energy sources and to call for a reduction in the combustion of hydrocarbons.
All the way the ship was managed by a team of 4 people, but can easily accommodate up to 40 people. With the passage of the Gulf of Aden team was reinforced by a military unit for protection against pirate attacks. The ship passed the Gulf of Aden at a minimum, maintaining a full battery charge in case of maneuver in the attack of pirates.
The Swiss musical group Yello was involved, not only financial, environmental project of the vessel.
It looks like the panels durable enough for pictures and videos on them often there are team members. It is not quite clear where hidden retractable solar panel? Perhaps in the assembled state they are recessed into the deck on the sides of the deckhouse or cover the deck in two layers. Nothing found about the speed and cruising range on a full battery charge. published  
P. S. And remember, only by changing their consumption — together we change the world! ©
Source: orehi.tv/group_57526182