Asters – lovely and pretty undemanding plants, which are grown as experienced growers and novice gardeners. In Europe, Aster appeared in the XVIII century, their seeds brought from China by a French monk. Astra liked botany A. Josie that he called her "callistephus" or "beautiful flower". The modern name of the plant received in the classification of Linnaeus, who identified as "Chinese Aster".
Before you plant asters in your garden, you must choose a Sunny, well protected from gusts of wind, the place with loose and moist soil. Not recommended to sow after this plant gladioli, tulips, daffodils, carnations. Ideally, under asters it is better to highlight the pure land with fresh soil or seed beds, in which it grew calendula or marigolds. It is not necessary to fertilize the land under asters manure, it can lead to infection of seedlings by Fusarium. In autumn you can make in the soil 40 g of superphosphate, 30 g of acidic ammonium or potassium salt.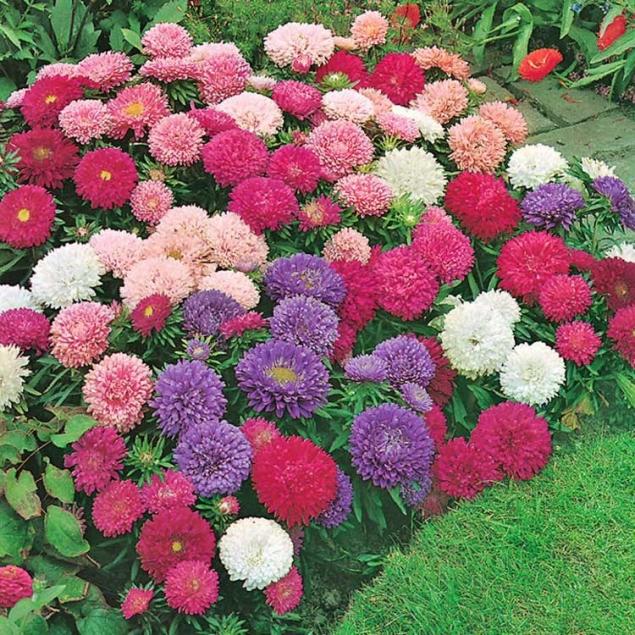 Asters-an incredibly romantic flowers
Perennials asters multiply spring or autumn by division of the Bush, and annual plant – seeds. The plant can be grown as seedlings and nonseedlings way. Aster seedlings sown in small boxes in a greenhouse or a greenhouse. This is best done in mid-March or early April. To maintain uniform humidity boxes of asters that you need to cover with plastic wrap. After germination (approximately 1-1,5 weeks) tape can be removed. When the seedling stretches, it should be thin and pour a solution of potassium permanganate to decontaminate the soil. Plant asters in mid-may when the shoots appear 5-7 leaves.  
A variety of garden asters amazing!
Asters can be sown in the open ground. It is believed that in this case, they will be more hardy and resistant to adverse climatic conditions. They can be sown in spring or late fall when the ground is already frozen by the frost. Seeds are placed in the prepared soil at distance at least 3 cm from each other. Spring crops need to be sure to cover with tape to avoid freezing of seedlings.
As soon as sprouts, polyethylene can be removed (it serves the plot only during the frost). Watering seedlings is not recommended because the spring the soil is moist enough. If flowering asters should be extended, it is recommended to repeat the sowing seedlings in late April or may.
In mid-may, asters can be planted in a permanent place. However to hurry up with change is not necessary, because the plant has a weak root system, which can easily be damaged. Ready the seedlings should have strong roots and the ground part height of 8-10 cm
Asters are planted in wet and loose furrows at a distance of 20-30 cm from each other. Also, seedlings need timely watering (on sandy soils more water is required) and weeding. If you fall on a bed was made fertilizers, asters can not be fed additionally. If the soil is not fertilized, make it a little urea or ammonium nitrate during the growth and development of plants. Asters require regular and abundant watering, and loosening the earth. Only under these conditions it is possible to obtain large and lush flowers. published  
P. S. And remember, only by changing their consumption — together we change the world! ©
Source: domashniy.ru/