Thyme or thyme, as it is called, is a very useful herb with healing properties. The composition contains organic acids, vitamins b and C, resin, gum, flavonoids, cymene and thymol. It is through these components, thyme is very rich and unusual flavor.
Tea with thyme has an incredible aroma and taste and is very beneficial for the body.
From Greek thyme translates as "soul force." Black tea with thyme relieves fatigue, relaxes and gives strength. It is also used as a remedy for colds and coughs, as the thyme has analgesic and anti-inflammatory effect. Tea with thyme strengthens the body, improves health, provides warmth in winter and refreshing in the summer.
However, tea with thyme has contraindications, it is undesirable to drink during pregnancy, and people suffering from thyroid disease, stomach, liver and kidneys.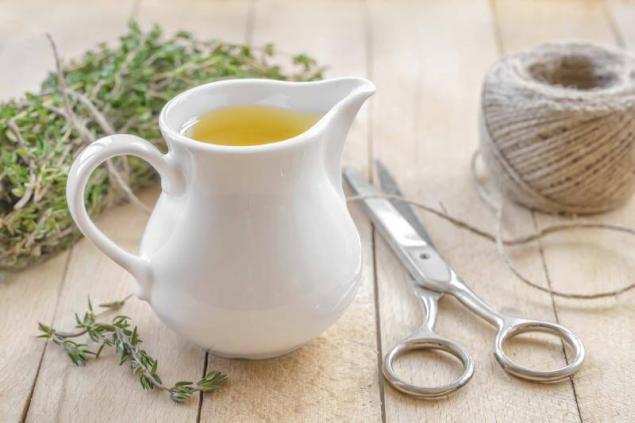 USEFUL PROPERTIES
Tea with thyme is a wonderful temperature regulator in the cold it will warm and heat it up. Who tried it once, to leave him ever. This herbal tea, with tonic properties, helpful for knowledge workers. Thyme, unlike most herbs, has no contraindications, which is a huge plus in the list of its advantages. Tea from this herb to drink within reasonable limits both children and adults.
Teas of thyme helps to dissolve blood clots, stimulate the immune system, protect against the occurrence of some types of allergies.
When dysbacteriosis in children and adults are very good at helping with thyme tea taken on an empty stomach. If ingestion inhibited the development of pathogenic microflora of the stomach and intestines and also increases the production of gastric juice. Many herbalists use thyme for the expulsion of Ascaris and pinworm from the child's body, babies, this herb can help relieve gas and colic. Effective drink of thyme and heartburn.
The thyme contains zinc, which stimulates the heart and genitourinary system.
COOKING
There are several ways of brewing tea with thyme. Of these, the easiest is the following: a few sprigs of thyme, pour boiling water, bring to boil, then remove from heat. Lovers useful and vitamin drinks prepare a tea with thyme with the addition of other herbs.
More recipes thyme tea:
20 g of dried leaves of thyme, 20 g herb St. John's wort, 4 g of dried leaves of bilberry;
5 g of dried leaves of thyme, 10 grams of dried rose hips. A glass of this drink is useful to add one teaspoon of honey;
10 pieces high quality luxury black tea, 2 parts herb St. John's wort 2 parts peppermint leaves, 1 part leaf thyme 1 part crushed Valerian root.
in equal proportions mix the dry herb of thyme, black loose leaf tea.
Any of these drinks are not only healthy, but very tasty.
Green tea with thyme softens the breath, soothes coughs, has anti-inflammatory action. For colds 2 tbsp chopped herbs thyme pour 200 ml of boiled water and boil on water bath for 15 minutes. The broth is cooled for 1 hour, brought to volume in a glass and drunk in three steps.
In addition, it has also analgesic, sedative and anticonvulsant properties. This tea is brewed in the following technology: boiling water to rinse the teapot, cover the flowers and grass of thyme, Chinese green leaf tea. 1/3 of the volume of the teapot is filled with boiling water and let stand 5 minutes and then pour boiling water and drain. The consumption of this drink is especially useful for men with prostatitis and impotence.
BLANK
Harvest thyme when the plant fully blooms. You can't pull the plant by the roots because it grows slowly and bad resumes. Dry on cloth or paper in the shade in the open air, spreading a layer of 5 cm must be frequently stirred. Harvested raw materials are stored for 2 years in a dry, well-ventilated area.published  
P. S. And remember, only by changing their consumption — together we change the world! © Join us at Facebook , Vkontakte, Odnoklassniki
Source: vk.com/slavkrasa_ru?w=wall-65606366_2950%2Fall..