1. ALTHAEA OFFICINALIS.
The wonderful healing properties of this beautiful perennial plant of the family Malvaceae known since the middle ages and is described in detail in the "Canon of medicine" of Avicenna. Due to the wide range of usage, soft, sparing influence of drugs based on the marshmallow he to this day is among the most popular in folk medicine, medicinal plants. As raw materials traditionally used the roots, at least — the leaves and flowers.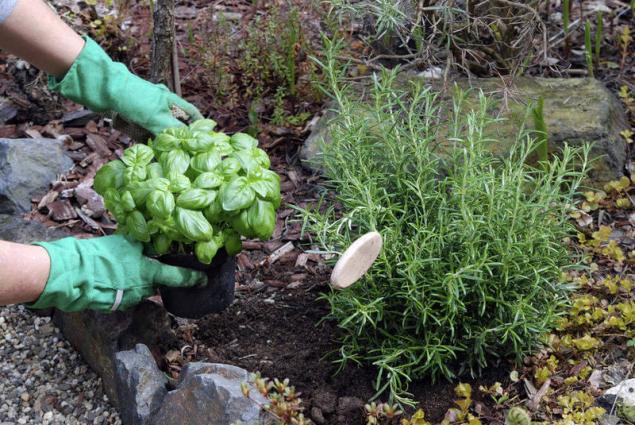 2. AMARAT VEGETABLE
The plant is a legend. In the language of Indian tribes means "sent by God".
Rational Japanese compare green amaranth with squid. Regular use of eating salads from the fresh leaves and young stems restores strength, promotes rejuvenation of the body. Very popular and useful Amartya teas. One or two of the dried leaf to a Cup of tea will relieve nervousness, headaches, strengthen immune system, help diabetics.
3. OREGANO
For a nice subtle peppery flavour it is sometimes called forest mint... the Closest relative of marjoram, a well-known representative of our national Forbs. Valued as a medicinal plant and panovskoe. Collect grass in the flowering period. This is a good sedative, analgesic and antiseptic. Use to make tea, prepare teas, tinctures as a spice added to pickles. Tea with oregano relieves fatigue, calms the nervous system.
4. HYSSOPUS OFFICINALIS
Good in all its manifestations. The name of the plant comes from the Greek "Holy fragrant grass". In one plant combines a spice, a medicine, a cleanser and sanitizer, excellent bee plant and a great cultural plant. In folk medicine used for angina, gastro-intestinal diseases, as a tonic.
5. LOFANT TIBETAN
Used by the peoples of the East as an analogue of ginseng is more soft and long-lasting action, often found under the name Korean mint. Strengthens the immune system, restores power after a nervous breakdown, is transferred heart attacks, strokes, hypertensive crises, raises vitality. Enough to sit near these relict plants, breathing the volatile essential pair, saturating the air a slight anise flavor, and in 20-30 minutes you will feel inflow of forces, and from fatigue and not a trace will remain.
6. MELISSA
This prude always find the smell. " The refreshing taste and citric flavor of the leaves and shoots of lemon balm perfectly complement and match well with game, meat, fish, mushroom dishes, stews and salads. As a fragrant spice Melissa added to sauces, pickles, marinades. Brewed teas, flavored boiled milk and curd. It soothes, relieves fatigue, strengthens the heart, improves immunity and treats "female" disease.
7. MINT ELEGANT
The elixir of health. Perennial medicinal herb with a refreshing aroma of menthol. Mint is considered a "female" herb. According to legend, a young nymph named Minta, which turned into a plant, the wife of the king of Hades, fell in love with delicate beauty. Leaves and shoots are used in cooking as a seasoning for meat and fish dishes, in pickles and marinades. Very popular infusions and teas with mint. They have strong antibacterial properties.
8. VELVETY MINT 
This spice with a pleasant bitter taste and a strong peculiar smell of the cat will go anywhere. A stressful situation, such as visiting a veterinary facility and change of place of residence, pass them safely. Mint contains essential oils, bitter, biologically active compounds. In folk medicine, decoctions and infusions of Catnip used to strengthen immunity, improve the cardiovascular system, headaches, diseases of the liver.
9. Milk THISTLE
Milk Thistle a Gift from the Holy virgin Mary. Exactly what people are saying about this amazing medicinal plant. Milk Thistle has the strongest healing power since ancient times used in many diseases, and, notably, no contraindications and no side-effects is not installed. As a medicinal raw material used the seeds and roots. Milk Thistle is useful not only to patients but also healthy people, as it protects the liver from congestion and helps cleanse the body of toxins.
10. CHAMOMILE medicinal
A heart of gold. Friendly and welcoming Daisy always pleases and surprises with its vitality. Modest flowers with a characteristic strong bitter aroma have disinfectant and diaphoretic action, ease inflammation, relieve stress and agitation, soften allergic irritation of the skin and mucous membranes. In folk medicine has long used and is considered a female plant. Reliable and faithful friend chamomile not only will improve health but will also help to look: smooth wrinkles, refresh parched by wind and sun rays the skin, giving Shine and gorgeous chamomile shades of hair.
11. FENNEL
"Drops of the Danish king's drink, gentlemen!". Contains essential oil with a strong aroma of anise, sugar, essential amino acids, vitamin C (more than in tomatoes, cabbage and cucumbers together), carotene, mineral salts. For salads and other delicacies used by the young sweet-spicy "heads", which are formed at the base of the rosette of leaves. For medicinal purposes the seeds are used. Drugs based on them — a great "nanny" for babies and nursing mothers. Mothers increases lactation, and carminative famous "dill water" and a favorite children's cough medicine — pektusin — also prepared on the basis of the fennel.
12. SALVIA officinalis
The flower of the Roman goddess of health, success and prosperity... It is a traditional medicinal and panovskoe plant and is still widely used in folk medicine as anti-inflammatory, disinfectant and antiseptic. As a medicinal raw materials used leaves and flowering tops of the shoots.
13. SAGE BLUE HANDKERCHIEF
In translation from Latin means "salvation." Considered: the one, in whose garden grows sage, never get sick and will live very happily ever after. The plant is used as anti-inflammatory, disinfectant, styptic. For medicinal purposes in the flowering period harvest and dry the leaves and stems. Aromatic with a pleasant bitter young leaves are used as a spicy additive to salads, meat and fish delicacies. published
P. S. And remember, only by changing their consumption — together we change the world! ©
Join us in Facebook , Vkontakte, Odnoklassniki
Source: vk.com/public55911986?w=wall-55911986_4213