Sell using vending machine can be anything. This time will tell you how to sell drinking water with the help of such a device.
We all know that the quality of water in our homes the better wishes to leave, many of us have long been buying bottled water because it is much cleaner and tastier water.
So in this case,
the business idea is to sell the same drinking water, but with the help of vending machine, final price for consumers will be lower than you buy in bottles at the store.
The water in the machine is cleaned with a special device, and taste properties similar to the melt water of the glaciers. Don't forget that these machines operate 24 hours a day, seven days a week, does not require the presence of the seller. Machines have a nice design. And for 10-15 devices requires only one engineer to service them.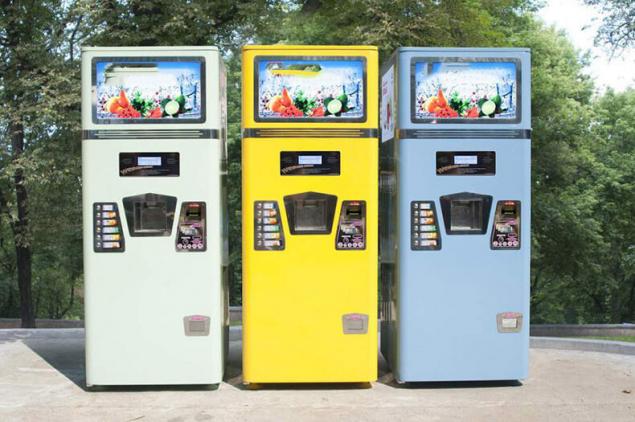 Where to start?
For starters, choose the right vending machine. Machine price average of 80-120 thousand rubles. Then choose a place to install it. For example, such machines can be installed both indoors and outdoors.
The machine takes no more than 1 square meter, it turns out the rental place cheap. You do not need raw materials like in the case of other vending machines.
Next, you need to connect the machine to the city water supply, electricity and sanitation. Your buyer comes with his bottle, drops it into the machine the quantity of coins and water fills the vessel. It's pretty simple.
What else should I know about this business idea?
Sales volume of water in the average yield 200-500 gallons per day. Price of 1 liter of water – 3-4 rubles. The cost of 1 liter of water = 10-15 cents. The payback period of the machine from 6 to 12 months.
Drinking water is always needed regardless of the season of the year. This type of business requires no licenses. All equipment has the necessary certificates and are allowed throughout the whole territory of Russia.
The income from this business is significant and can reach up to 200% per annum. It is better to install a network of machines, for example, in a quantity of 10 pieces. A year later they will bring you $ 3,500 a month.
As you can see the business idea is quite simple! We wish you success!
You can also watch a video about what living water, its effect on the body and health, how to make water alive how to get the most benefit from drinking water:
SUBSCRIBE to OUR youtube channel that allows you to watch online, download from YouTube free video about the recovery, the rejuvenation of man. Love for others and ourselves, as the feeling of high vibrations — an important factor for improvement .  
Put LIKES and share with your FRIENDS!
www.youtube.com/channel/UCXd71u0w04qcwk32c8kY2BA/videos
Subscribe -https://www.facebook.com//  
P. S. And remember, only by changing their consumption — together we change the world! ©
Join us in Facebook , Vkontakte, Odnoklassniki
Source: 1bizz.ru/2014/04/23/water-vending/