There are people for whom travel on your own car is a real passion. They do not care about the price of air tickets, they do not depend on the weather Flight and do not worry about whether there will be a hotel. It is for this category of people and a dozen of the best designed homes on wheels. However, given the level of comfort in these machines, we can assume that the ranks of fans of caravanning rise significantly.
1. Lotus Caravans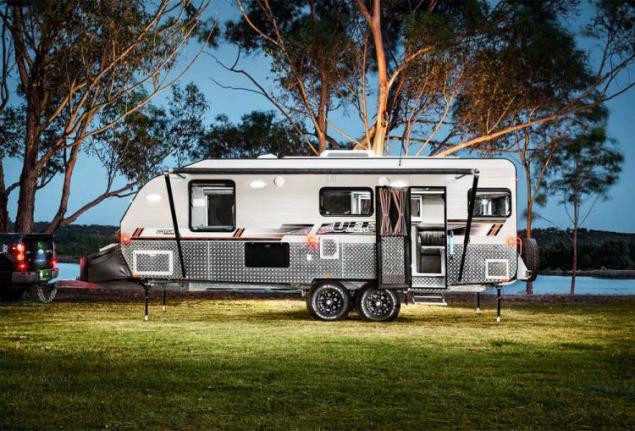 Homes Lotus Caravans are the result of creative work of Japanese designers. Body house almost completely made of stainless steel, and inside there is everything you need for a comfortable stay in a civilized and wild. Despite its size, the house is quite easy and it can pull any car.
2. eleMMent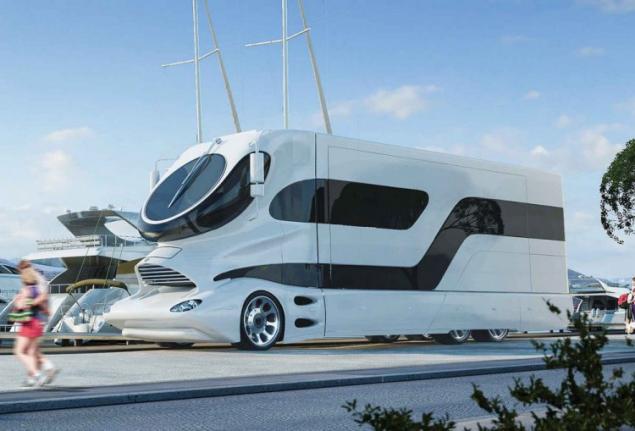 Homes eleMMent - it is rather a "palace on wheels". This trailer is not one, but two floors. In the van has its own bar and even a lounge area. However, and this is a mansion on wheels is not very cheap.
3. The Sealander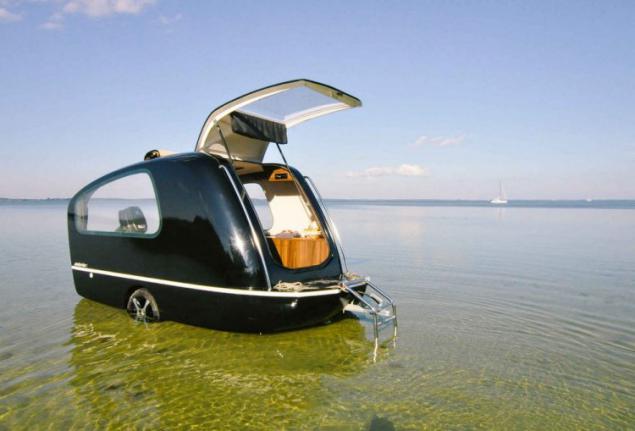 Why invest in a mobile home and own boat if you can combine them. That's how the creators of the reasoned The Sealander. The main feature of the German motor homes was the opportunity to swim.
4. Mercedes-Benz Marco Polo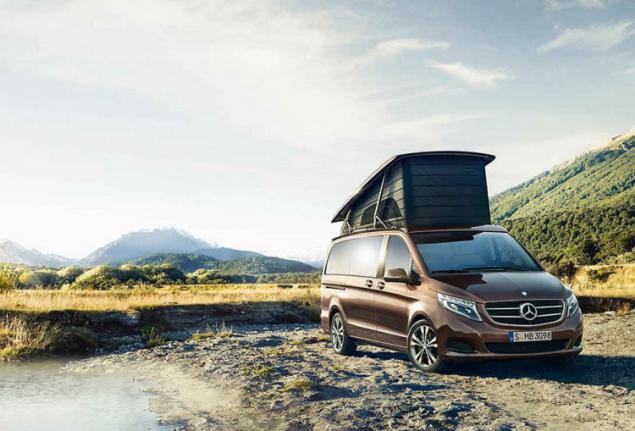 Mercedes-Benz Marco Polo - not the trailer, but also a house on wheels. It is primarily characterized by its adjustable roof. In the second half of the car has everything you need. Located convenience so comfortable and compact, that envy of any bulky trailer.
5. Moby1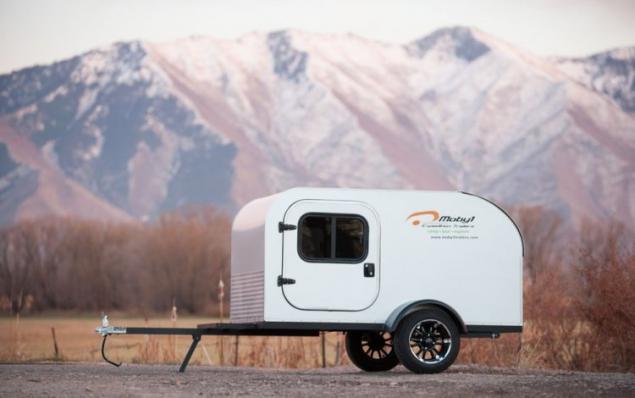 Here is the little house on wheels in the world - Moby1. Of course, because of the small size Moby1 can not compete with larger counterparts in the field of comfort and luxury. But this motorhome is so lightweight that it can be towed motorcycle.
6. MVP Aero Model 3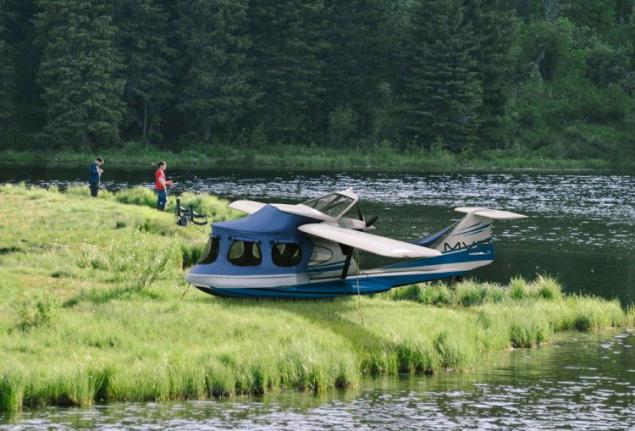 Perhaps one of the most unusual buildings "RV» - MVP Aero Model 3. More precisely, it was "on the wings of the house", as it's a plane. Needless to acquire such a miracle of technology can not everyone.
7. Opera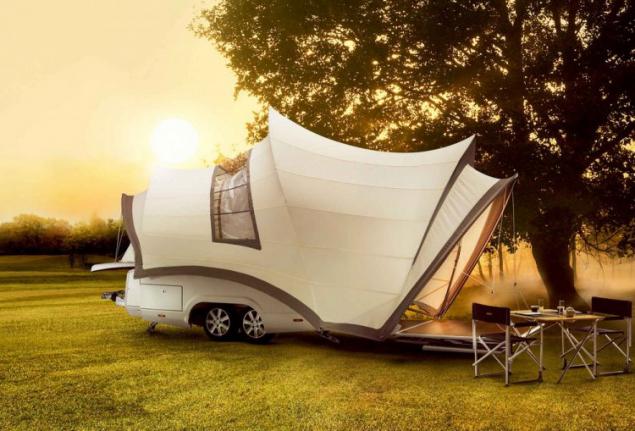 An unusual house on wheels, which in this case is a tent and reminds Sydney Opera House. Trailer Opera - is the trailer from which, if necessary, expanded tent harmonica. After installing Opera allows accommodation for two people, with all amenities including shower and toilet.
8. Conquerer UEV 440
One of the most brutal mobile homes - Conquerer UEV 440 was created for researchers of all stripes. The house is simple and functional. There is nothing superfluous, but there are all the necessary and useful. On top of that, he does not take a lot of space.
9. Global Caravan Technologies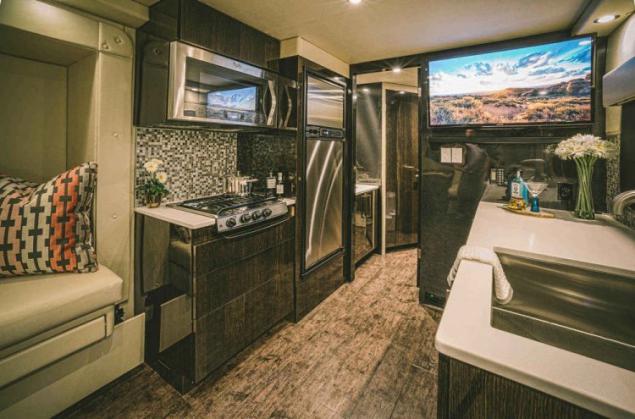 Conceptual house on wheels that allows you to organize in the wild apartment with all that is and should be in a normal city apartment, including a dishwasher! This Global Caravan Technologies RV is made mostly of composite materials and powered by solar panels.
10. Mercedes Zetros 6x6 Expedition Vehicle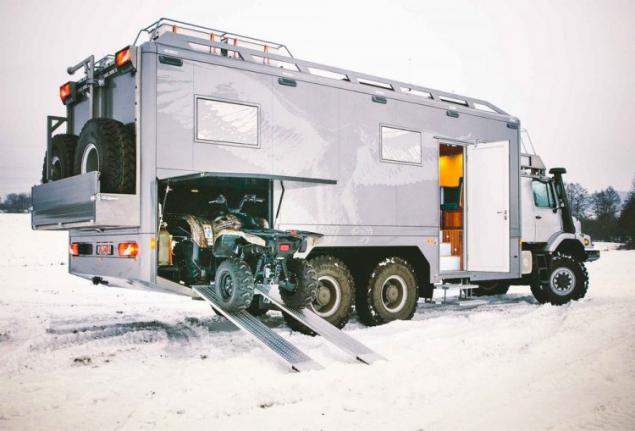 House Truck Mercedes Zetros 6x6 Expedition Vehicle for tourism in difficult conditions, for example in the far north. In addition to a set of amenities in the truck has a boot for ATV and outboard trunk for a motorcycle.