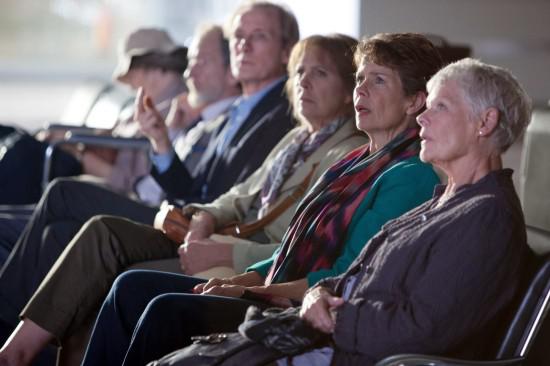 "Hotel" Marigold "Best Exotic" - it's a little sad, but very good and light comedy about British pensioners, India and the wonderful sunny exotic hotel, helped the heroes find themselves and a new sense of life. Movies can be viewed on Viaplay right now, and we will tell a few interesting facts about the movie.
1. The film "Hotel" Marigold "Best Exotic" - the film adaptation of the book "These foolish things" British writer Deborah Moggak. In one scene of the film heroine Penelope Wilton reading a novel "Tulip Fever» («Tulip Fever»), who also wrote Deborah Moggak.

< 2. Hotel "Ravla Khempur", "play a role" at the "Marigold", he is a former royal palace, later adapted into a hotel for tourists.

3. The average age of leading men - 68 years.

4. The owner of the hotel "Ravla Khempur" does not change anything in the room after they have worked in Hollywood decorators. You can now catch the hotel in the same form as it appeared in the film.

5. Oriental Bazaar, which is visited by heroes, in fact - convincingly recreated copy. Filming "bazaar" occupied an entire street in Jaipur.

6. When the film came out, the book on which it was made, was republished under the same title in order to increase sales.

7. The film "Hotel" Marigold "Best Exotic" was warmly received by critics, describing it as "funny and good movie about eternal values».


tragicomedy "Hotel" Marigold "Best Exotic" you can watch online cinema Viaplay at any time and in excellent quality. The service works not only on computers but also on Apple devices and Android, so that the collection of new films, you can always carry with them!

blockquote>

via factroom.ru