It seems everyone who is interested in this topic, intuitively understand: the impressive SUV looks, the better it is adapted to drive. Many automakers are aware of the existence of this phenomenon and use it in full, endlessly playing with the concept consisting, in general, only four big wheels, high ground clearance and all-wheel drive.
The creators of the most daring off-road vehicles, drawing inspiration from the theme of survival in the wild, turning their cars in these heralds of the apocalypse that could infuse degrees of madness, even banal walk for bread. When it comes to major trips - these monsters must inspire the world that will survive even the end of the world. And of course, they are able to accommodate at least half of your property.
We found five craziest off-road vehicles that have appeared this year.
Brabus B63S-700 6 × 6
Monstrous kind and incredibly steep - an exclusive SUV Brabus B63S-700 6 × 6. In fact, a modified version of an SUV from the company's Mercedes-Benz, is significantly improved from Turretless tuners Brabus. 5, 5-liter V8 engine produces 700 horsepower, so triaxial giant is capable of accelerating from zero to a hundred in just 7 and 5 seconds.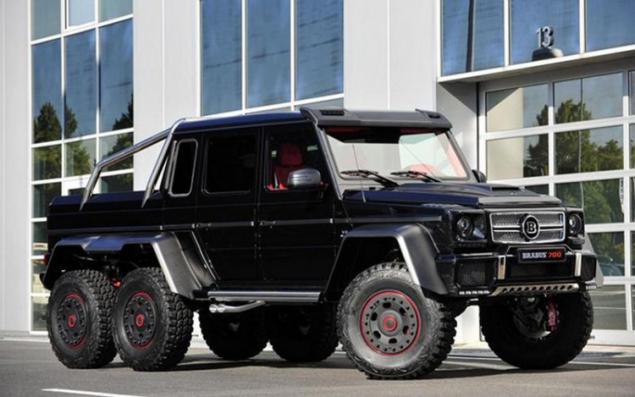 Kahn Flying Huntsman
British tuning studio Kahn Design has presented a modified three-axis version of the legendary Land Rover Defender. "Night Hunter" in comparison with the original model increased 1200 mm in length and has got a brand new 6, 2-liter engine V8, has an output of 550 horsepower. As a special option, the British company can equip armored SUV that can be very handy if you are seriously planning to survive the zombie apocalypse.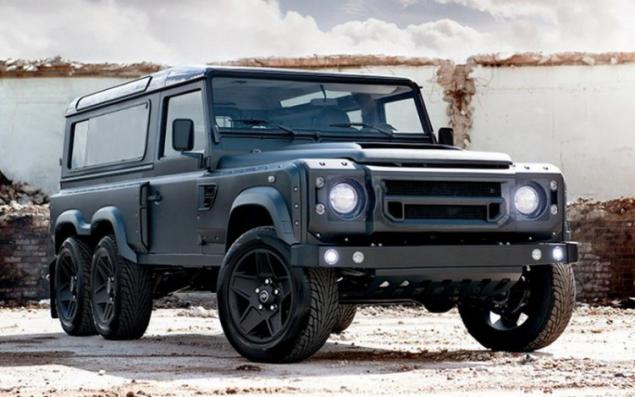 Jeep Chief
It's no secret that the inspiration for "The Jeep» Chief Cherokee is a classic 70-ies of the last century. Designers borrowed clearance chuck feed and disproportionately large side windows. For greater similarity to Cherokee designers bright blue SUV even disguised handle on the rear doors. Nevertheless, the "leader" is built on a completely modern platform Wrangler.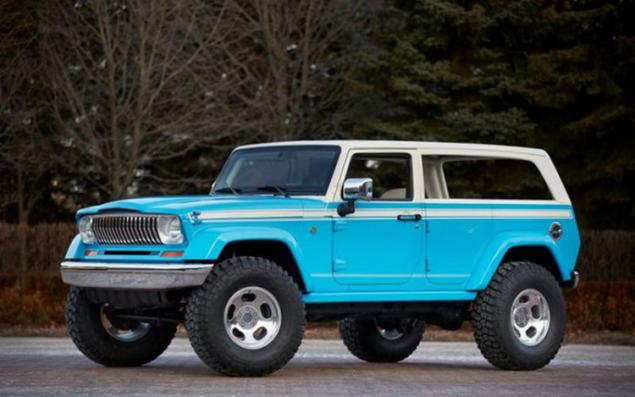 Filson Edition AEV Wrangler
A collaboration known firm Outdoor-equipment manufacturer Filson and legendary Jeep car became Filson Edition AEV Wrangler, which is the embodiment of ideas about how to look real American SUV. Jeep equipped with a 5, 7, 6, 4 liter (optional) diesel engines, off-road and easing burdens will assume DualSport SC suspension and 35-inch wheels wrapped in tires BFGoodrich Mud-Terrain KM2.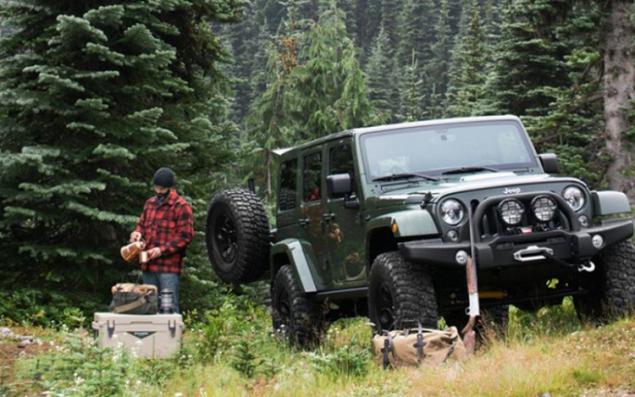 Hennessey VelociRaptor 600
Guess who the big yellow and eat tomorrow hatchbacks? Yes, it's a new pickup VelociRaptor 600 Supercharged from the American tuning studio Hennessey Performance. Based on the Ford F-150 FX4 SuperCrew received engine with over 600 horsepower, which allows to accelerate to hundreds of 5, 2 seconds and a top speed of 177 km / h. The pick-up will also be installed sports exhaust system, off-road suspension with adjustable shock absorbers and bumpers increased.