OmniProcessor produces clean water and electricity from human waste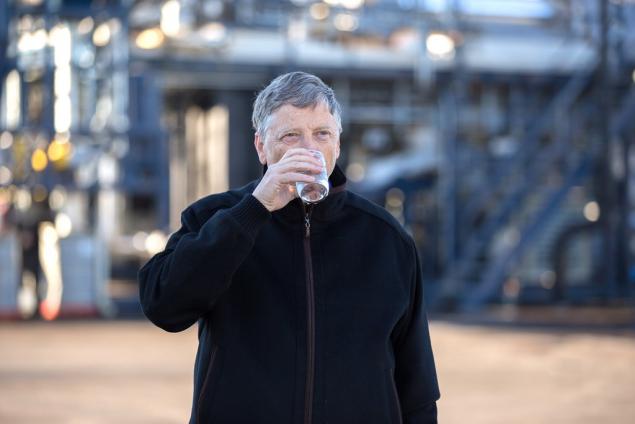 In the photo above
the richest man on this planet
drinking water, which is a few minutes before it was excrement. Thus he submits example, clearly showing that he is confident in the safety of the technology. The demonstration, however,
already caused a number of jokes
.
OmniProcessor shown in Sedro Woolley, WA. The device is developed by
Janicki Bioenergy
funded «
Фонда Bill and Melinda Gates
». Installing able to process up to 14 tons of waste per day, and output the clean water and electricity.
«This is the water!" - Exclaims Gates, making incredulous sip. Em>

Bill Gates is today no longer has such an impact on the world of software. Public much more known for his philanthropic efforts to help developing countries.

Statistics confirm that 40% of the population does not have access to adequate sewerage system, waste other 2, 1 billion urban residents are not processed properly. These problems only intensified economic condition, for example, in India sewer spend 54 billion a year, or 6, 4% of GDP.

Each year from contaminated food and water dies and a half million children. In developing countries, half of all patients in hospitals are there because of a variety of problems with water and sanitation.

This is what is dictated by the new initiative. Gates confident that OmniProcessor can help solve these problems, because the installation is more efficient than conventional processing plants. They take electricity from the network, the escaping vapor directly into the atmosphere, and often buy natural gas for combustion of liquid sludge.

OmniProcessor itself generates electricity. The creators of the station hoping that it can turn into a profitable business processing from an industry that just sucks money.

Supervises Janicki Bioenergy Peter Janicki. Its main company Janicki Industries manufactures parts for the aerospace and marine industry - among customers there Lockheed, NASA and General Electric. A subsidiary company is engaged in logging.

But recently Janicki started working in a new direction. To create a prototype processing plant water took two years and a small vacant lot behind the buildings his company.





OmniProcessor has a size of about two buses, set side by side. The device consists of three main components: steam power plants, incinerators and water filter. The first phase of development was associated with the account of all energy costs, it was necessary to reduce the loan with debit, but at the physical level.

On one side of the conveyor belt is suitable, through which the waste is loaded into the unit. Steam engine generates heat to dry them. The precipitate is then heated to separate the liquid and gas are burned to produce steam for the operation of the engine, which is paired with a generator produces electricity.

To separate any extraneous particles and substances steam obtained draining sludge centrifuge and passes through the filters. The vapor turns into water in the condenser water is passed through an activated carbon filter.

According to Gates, the water tastes great, and it's ready to drink it every day. Product compared to conventional brands of bottled water from supermarkets, and quality of water was not OmniProcessor below.

Installation produces not only water but also an additional electricity. A non-toxic solid residues contain phosphorus and potassium, so they can be used as fertilizer for the soil.

Work much more. Gates's visit and the associated account marked only the initial phase of the project. The following month, the staff will collect Janicki Bioenergy plant in the city of Dakar in Senegal for the first test in those countries for which it created.

The next generation of processing plant will be able to receive waste 100 thousand. People, producing 250 kilowatts of power and 86 tons of pure water per day.

"Bill & Melinda Gates Foundation," has long been interested in this field. It all started back in 2005, and in 2010 launched a program "Water, sanitation and hygiene." She became known for призыву create a new type of toilet that does not require electricity, sewer or water source, and costs less than 5 cents per user per day, while meeting the needs of people. At the moment, has been awarded 16 grants to various organizations around the world. In 2012, the Fund has signed a contract with Janicki.

By materilov блога Bill Gates and Wired.com .

Source: geektimes.ru/post/243933/