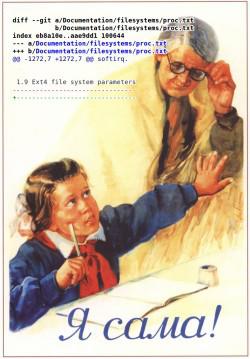 month ago
year-old boy passed the exam and received a certificate
Microsoft Certified Professional, becoming the youngest in the world certified professional Microsoft.
Now Linux-community have a decent answer this four-year Maissa Roponen (Maisa Roponen), which
прислала patch to make changes to the kernel Linux
. So among the kernel developers were very young children.
However, the commit is not so serious. Maissa offers only correct documentation for the virtual file system
  / proc  code>  pre>. 

  

In the текстовом documentation file  Maissa noticed a bug. 



"This letter [last s] looks sad because everyone else has things [=] the bottom, and it has no" - wrote Maissa mailing list for kernel developers. Sent a patch "fixes tragedy, so that all the letters will be happy again," added the letter your comment Tero Roponen (Tero Roponen). 



 



By the way, the site of The Linux Homefront Project now goes  vote for the title of "Man of the Year" in the community of Linux . Phenomenal Maissa Roponen until it occupies the second place with a slight lag from Lennart Poettering, the author of systemd. But the girl ahead of Linus Torvalds, Richard Stallman and other harsh men. 




Lennart Poettering - 27%, 401 votes Maissa Roponen - 24%, 353 votes Linus Torvalds - 14%, 205 Votes Richard Stallman - 7%, 100 votes Greg Kroa- Hartman - 6%, 86 votes Matthew Garrett - 6%, 81 votes Fabrice Bellard - 5%, 78 votes Sarah Sharp - 5%, 76 votes Mark Shuttleworth - 5%, 70 votes < / Bideyl Gharbi - 2%, 30 Votes Chris Mason - 2%, 28 Votes Ian Jackson - 2%, 25 Votes Total 1470 votes.

Source: geektimes.ru/post/243565/