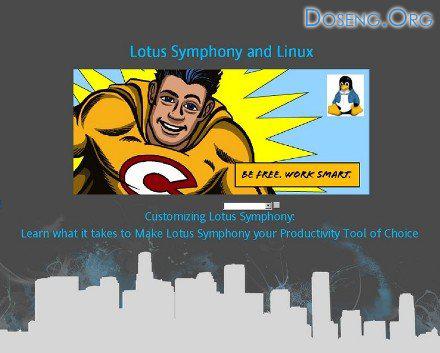 IBM and major Linux distributions manufacturers recently announced a partnership to create an alternative to Microsoft Office - Linux-based solutions and office products Lotus Notes and Lotus Symphony.
IBM has announced a partnership with leading manufacturers of distributions GNU / Linux - companies Canonical, Red Hat and Novell. The aim of cooperation will be the creation on the basis of these companies making distributions, including office products IBM - Lotus Notes and Lotus Symphony. It is expected that these decisions will be distributed in the form of pre-installed business partners, manufacturers distributions.
The result of cooperation must be to create an economical alternative to workstations on Windows and MS Office. It is expected that users will have a unified office environment based on products of Lotus, while preserving the freedom of choice of distribution.
As noted by Kevin Kavanagh (Kevin Cavanaugh), vice president of IBM Lotus Software, slow introduction of Windows Vista in a corporate environment conducive to the spread of Linux-based solutions, allowing customers the freedom to select a supplier and to achieve savings.
Recall that the South African company Canonical, with its headquarters in London, founded and supports Linux-distro Ubuntu, Red Hat makes a commercial Red Hat Enterprise Linux and free Fedora, and Novell products are known among the public and the commercial distribution OpenSuSE Novell Linux Desktop.
The software solution based on one of the Linux distributions will be equipped with a software package IBM Open Collaboration Client Solution (OCCS) and a set of software and services from local distributors. The final product will be manufactured under the brand name of the local distributor. The solution can be adapted to the needs of specific customers, in accordance with the specifics of their activities, including complemented by independent software vendors, which can be integrated with the basic package through technology Lotus Expeditor.
IBM's decision to partner with three manufacturers of Linux - a logical continuation of cooperation with local manufacturers. Previously, IBM has been a system of Open Referent based on Red Hat Enterprise Linux, including IBM OCCS. It spread to the Eastern European market, including in the Russian (in April this year announced the launch of its testing on the basis of Federal State Unitary Enterprise "Russian Post"). Potentially, it can achieve savings on desktops, while retaining the possibility of choice of supplier and distribution. At the same time there is an opportunity to create jobs, adapted to specific tasks while maintaining unification of the main components.
The grounds for criticism of the new project IBM is also evident. First, the dependence on the supplier and bind to a specific Linux-distributions are not replaced by less problematic linked to the Lotus, the developer sets the proprietary office software.
Second, the technological base components OCCS, in particular office suite Symphony, not very new: it is based on a rather old version of OpenOffice.org and clearly lags behind in a number of positions from the last version 2.4, and even more - from the upcoming version 3 .
Finally, the package system requirements do not suggest a significant resource saving PCs, at least in terms of application requirements.
However, the existence of such alternative solutions can be a significant factor that can positively influence the spread of Linux-based solutions.