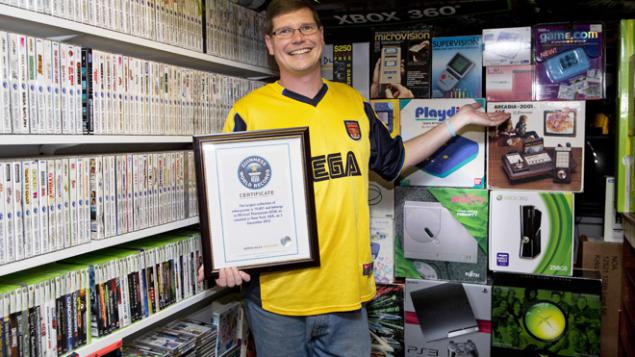 Week and a half ago Habré to publish news that on sale is the most complete collection of video games. The owner and author of the collection, Michael Thomasson, he decided that he had enough of, and priorities have changed.
Collection of games sold together with the certificate of Guinness World Records certifying that really the most complete collection in existence.
As mentioned earlier, in this collection of video games have toys not only popular now / earlier platforms, but also games for platforms that are not heard every fan of video games.
The collection - the complete collection of games for the platform 3DO, Action Max, AGP X-System, Atari 5200, Atari 7800, Atari Jaguar, Atari Jaguar CD, Atari Lynx, Buzztime, Captain Power, Game Boy Advance e-Reader, Neo-Geo Pocket Color, Nintendo Virtual Boy, NUON, Sega CD, Sega Saturn, Sega Dreamcast, Tapwave Zodiac, Tiger Game.Com, Turbo-Grafx-16 CD and Turbo-Grafx-16 Super CD.
Almost complete collection of games for platforms Bally Videocade, CougarBoy, Fairchild VES Channel F, Game Wave, Gizmondo, Halcyon Interactive, LaserActive, Magnavox Odyssey2, NEC PC-FX, N * Gage, Sega 32-X, SuperVision, Vectrex and XaviX. < br />
Well, a lot of games for platforms such as the Amiga CD-32, Amstrad CPC, APF MP1000, Arcadia 2001, Atari 2600, Atari XE / XL, Bandai / Apple Pippin, Bandai Playdia, BBC Micro, Casio Loopy, Colecovision, Commodore 64 , Commodore 64/128, Commodore Vic-20, Dragon 32, DVD Interactive, Epoch Cassette Vision, Epoch Super Cassette Vision, FM Towns, FM Towns Marty, Hyperscan, LaserDisc Interactive, Leap Frog Leapster, Leap Frog Didj, Mattel Intellivision, Mattel Aquarius, Microsoft X-Box, Microsoft X-Box 360, Microvision, MSX, NEC TurboGrafx-16, Neo-Geo AES, Neo-Geo CD, Nintendo Entertainment System (NES), Nintendo Family Computer Disk System, Nintendo GameBoy, Nintendo GameBoy Color, Nintendo GameBoy Advance, Super Nintendo, Nintendo 64, Nintendo 64 DD, Nintendo GameCube, Nintendo DS, Nintendo 3DS, Nintendo Wii, Philips CD-I, Radio Shack TRS-80, RCA Studio II, Sega SG-1000, Sega Master System, Sega Game Gear, Sega Genesis, Sega 32x CD, Sega Pico, Sinclair ZX Spectrum, Sony Playstation, Sony Playstation 2, Sony Playstation 3, Sony PSP, Sony Vita, TI-99 / 4a, Tiger R-Zone, Timex Sinclair , Tomy Tutor, V.Flash, V.Smile, Wonderswan and Wonderswan Color.
In the end, it all
was sold for 750 thousand dollars
buyer who wished to remain anonymous. It seems that both the buyer and seller are satisfied with the transaction.
By the way, it would be interesting to know how much it has cost this collection to original owner.
Source:
habrahabr.ru/post/226723/