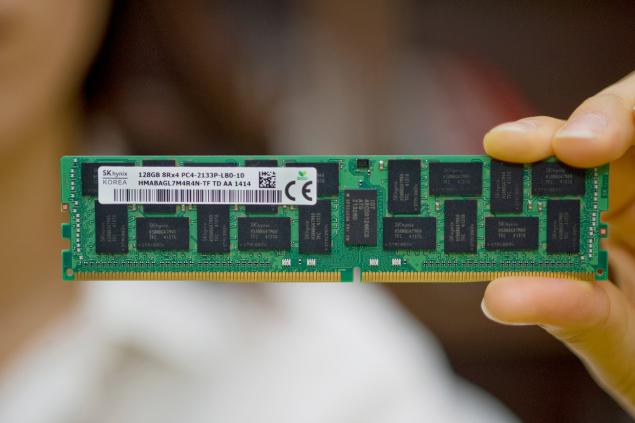 Korean SK Hynix today announced the launch of the world's first module DDR4 RAM 128 GB, double the previously reported samples of products. The new module is also a module with the densest in the world deployment of components. It is based on 8 gigabit chips DDR3, created on 20-nanometer process.
The new module has a bandwidth of 17 Gbit / s and operates at a frequency of 2133 MHz 64-bit I / O interface. In addition, it consumes only 1, 2 W, 1 against, 35 watts for the current modules DDR3.
It is obvious that the new development SK Hynix, when you are in the market (and the manufacturer has not specified a date) will be very expensive and niche product for professionals who require very large amounts of RAM with high speed access - it's in-memory products, solutions for editing large amounts graphics and video, and so forth. It is also evident that even a long period of time will be the mainstream of 8, 16 and 32 GB modules. Now on the market do not even have motherboards that support 128 GB of memory per slot.
In SK Hynix said that the new memory module is mainly server oriented and is intended for placement of ultra servers that have to meet strict requirements for performance and economy.
Sources at Intel said that chipmaker will provide long-term support for DDR4 memory format in autumn 2014. The new format DDR4 has been in development for about five years, it offers a higher data rate at reduced power consumption. Also, the output of this format on the market is a gradual write-off format RAM DDR3, which is now considered mainstream.
The adoption of DDR4 manufacturers of processors, memory modules and motherboards - this is the first step towards the practical development of this format in the market. Intel has said that will provide support for DDR4 first in a new generation of chips Xeon Grantley, which will be based on Haswell microarchitecture and will be released by the third quarter of this year.
At the same time, sources in the corporation said that until such time as DDR4 will become the de facto standard in PCs and laptops will take another year and a half. In Lenovo today also said he was ready to release servers based on the Xeon Grantley in the third quarter of 2014.
Recall that the first DDR4 modules with gaming motherboards were shown at Intel Developer Forum in September 2013, while Intel said that in the future, the company is required to gamer processors will support DDR4, although the exact date of this yet. The company also said that support for DDR4 laptops promise last for a longer time on battery. According to the standards, DDR4 provides 50% more data bandwidth by 35% and is more economical in energy consumption compared with DDR3.
Source:
habrahabr.ru/post/218673/