In Miami, great! There is great as far as such a characterization is expected for the famous American resort. In these photos, the author tried to show exactly what impressed him the place.
Ocean with clean and warm water, wide beach line, separated from the city of palm trees and other vegetation south.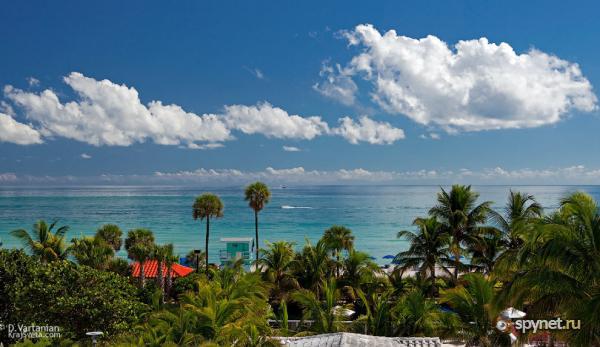 Miami Beach resort area of ​​Miami, located on the islands along the east coast of Florida. In the central streets parallel Ocean (Washington Ave, Collins Ave and absolutely embankment Ocean Drive) are bars, restaurants, nightclubs and hotels, executed in a very characteristic manner of state architectural - Art Deco.
This Lincoln Road - something like a big mall, shopping areas which are located on both sides of the street two and three-storey buildings: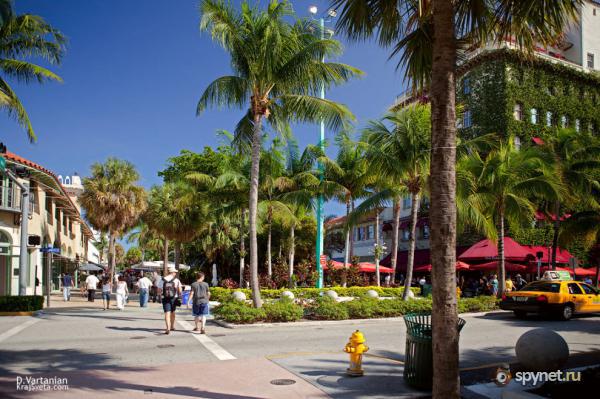 Above the beaches are fighting for "beautiful views" high-rise hotels and apartment buildings, more than half of the apartments in which leased the manner of hotel rooms. It turns out a lot cheaper and more spacious than a hotel: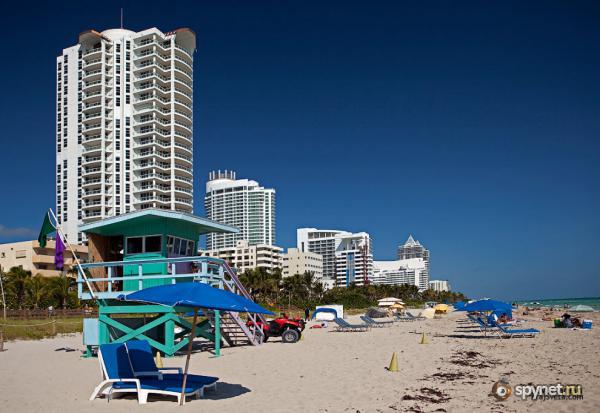 Public beaches, beds paid, with a mixture of sand algae nothing. Beer drinking is not on the beach - only Pepsi bottle Coln.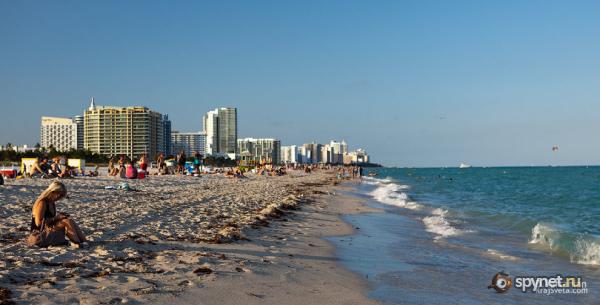 A lot of blacks and Mexicans. Ladies on the streets more than enough to leave Miami on positive memories: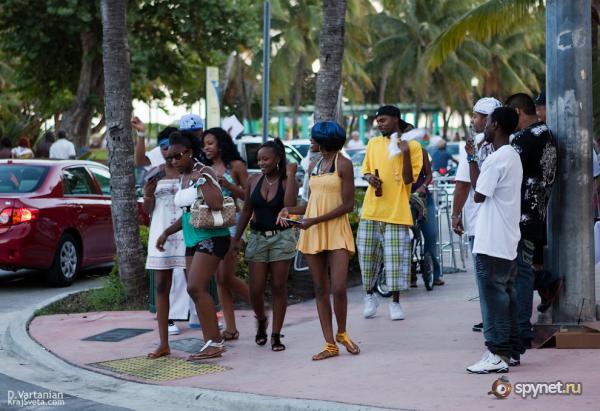 Many expensive cars. This old Lambo just struck me as funny: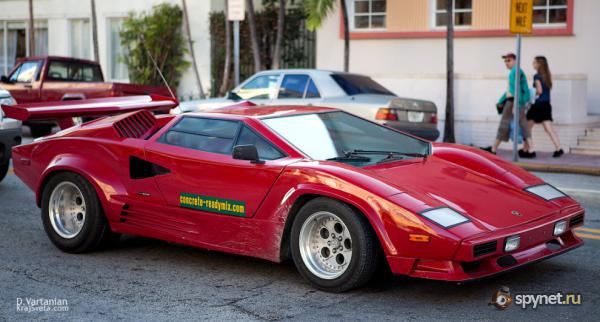 Espanola Way corner of Washington Ave - here is the perfect place to eat while in the heart of the movement: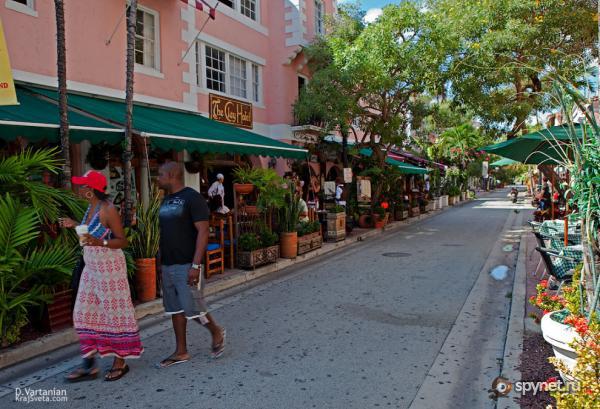 Including because here is the most famous nightclub - Cameo. If you want to get there, I recommend not to linger after dinner. By 22 o'clock on the old American tradition is built at the entrance to a huge queue, which can be avoided in two ways - either you know (I do not), or you pay the so-called Bottle Service. In contrast to New York, where a similar service costs $ 300 per liter on all Jack Daniels, here the cost is $ 250 per ... too much, given that the streets around and so looks like a nightclub.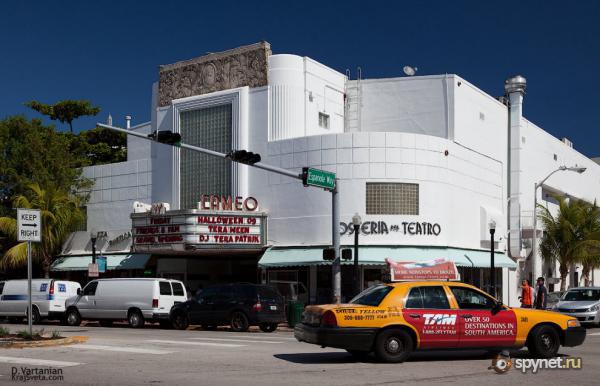 15 minutes by car across the bridge and you will find yourself in the city of Miami, consisting of skyscrapers, bridges, road junctions and lights. There is a lot like New York, only warmer: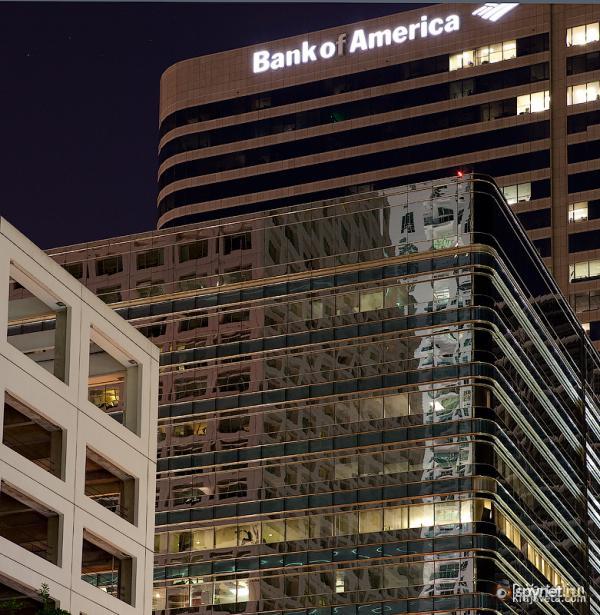 Before setting out to explore the city, we decided to eat steaks and compare them with the reference of Odessa SteykHauza. Accidentally found this place: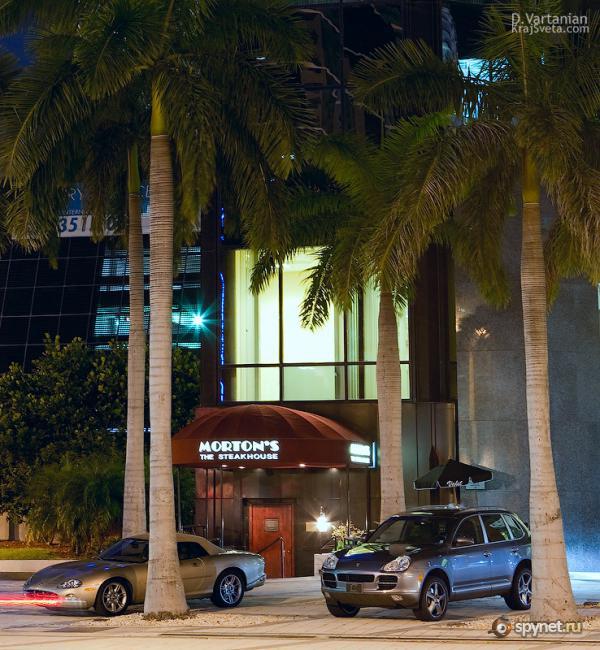 We were shown the meat, brought wine and, at our request, bathrobe cook. And like heat (preferably in the street). Waiter-Slovak knew a few words in Russian, was moderately polite and did not argue with the fact that you need to replace fried potatoes.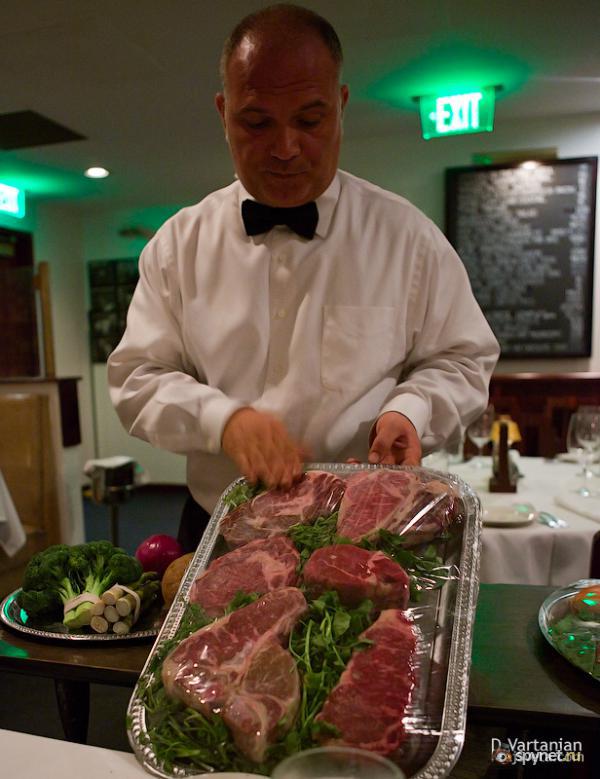 Whiskey, a bottle of wine for under three meat and whiskey again for me is 0, 8 ppm - allowed rate for driving. Limitation of the city 25 miles / hour provides just such a state. And we went circling the city: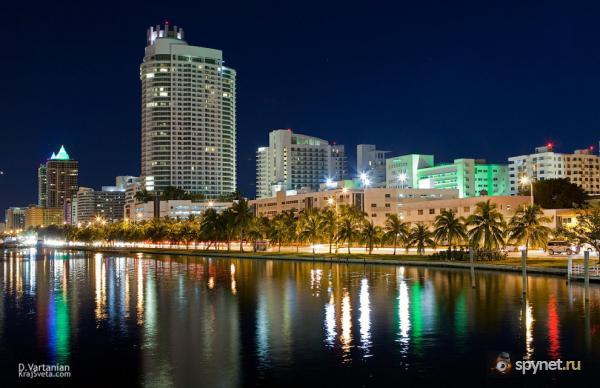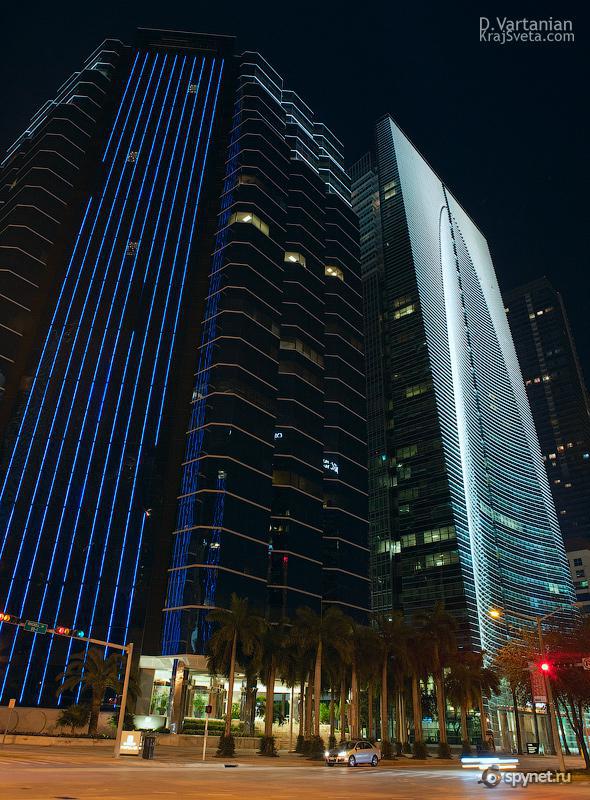 Very beautifully illuminated bridge. I wanted to do it with a few photos, but it was blocked by a night patrol cars. Foot I was not allowed police suspicious glance at my tripod and a backpack with fotobarahlom.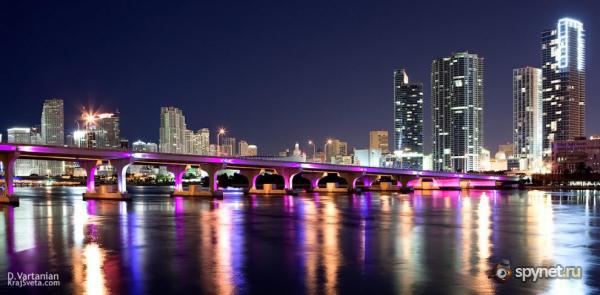 Were restricted to a side view: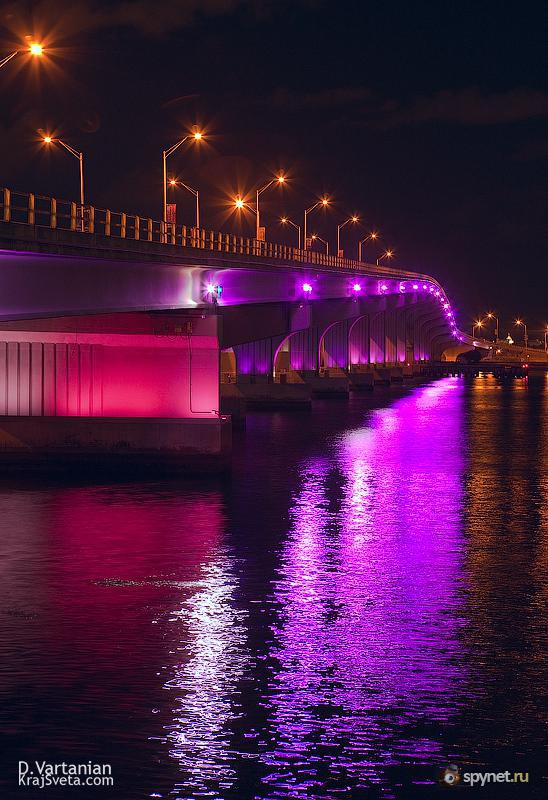 And this is another bridge. View from one side: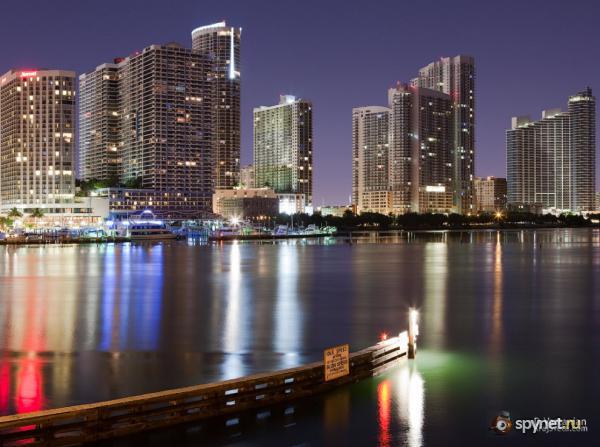 And on the other: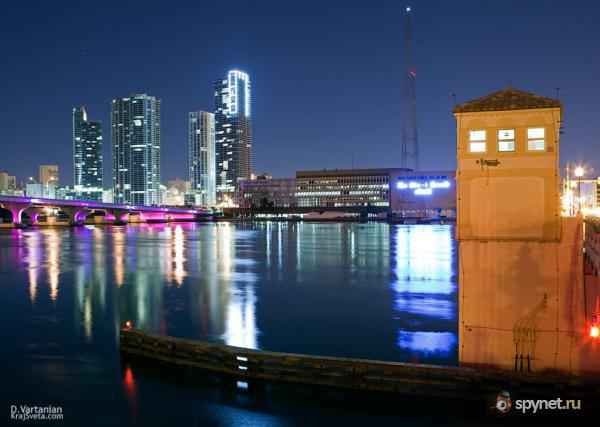 I liked the building, and I went to look closer angles: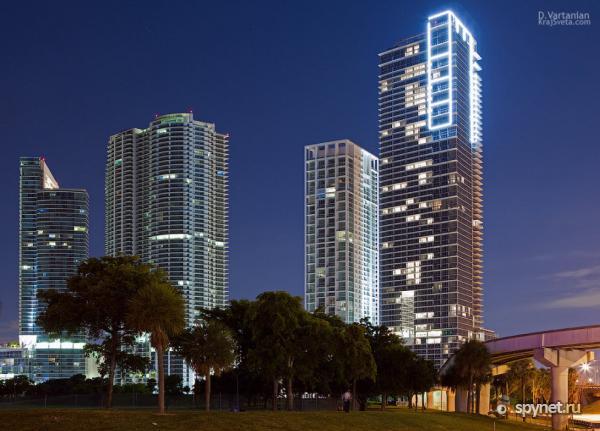 There's also situated near the port and some of the piece of iron monument: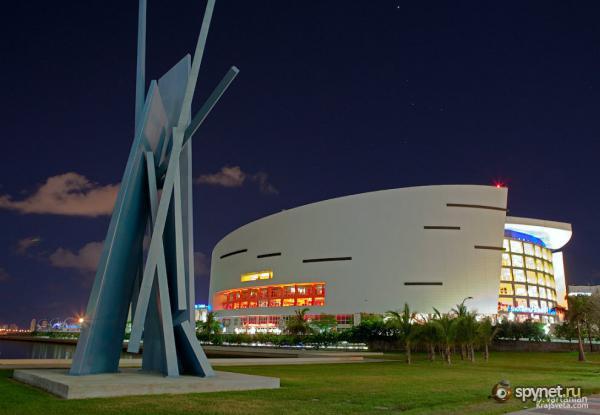 Fun building, I do not know what it is: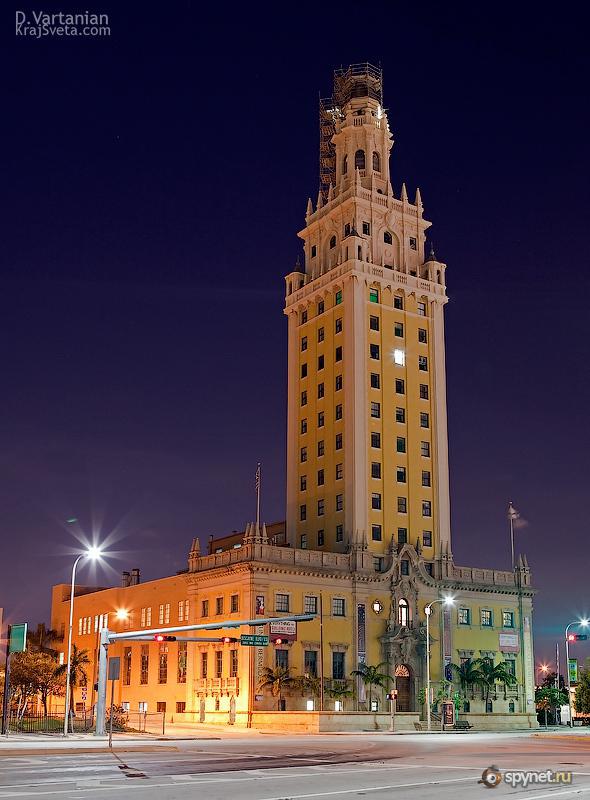 Next to the purple bridge are shopping facilities, marina and restaurants. It was about 3 o'clock in the morning, when I go his way, so people were missing. After 10 minutes, shooting I found the security guard and asked to leave: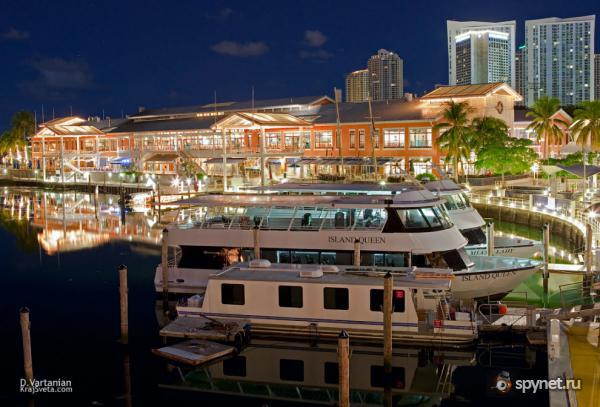 Still, I managed to make the necessary personnel: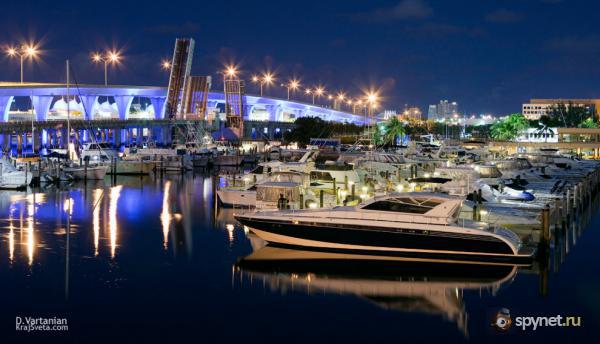 In Miami perfectly!