Doctors helped a blind man to see his wife for the first time, using the fabric of his own teeth. Fang Martin Jones was removed from the gums, and then by attaching to it a tiny optical lens, implanted a tooth in the eye socket.
42-year-old Martin has completely lost sight twelve years ago, in an accident at work, as a result of the explosion of the tub with molten aluminum. Later, going through rehab, he fell in love with a nurse Jill. They married and settled in the town of Rotherham in South Yorkshire. Of course, Martin never dreamed of seeing his beloved.
Source: ufo.ck.ua
Details under the cut later, he heard about the amazing recovery operations of which are conducted by a team of doctors led by Christopher Louis in Brighton, East Sussex County. Of course, the first person Martin wanted to see how it will be removed only with the bandages, was his wife Jill.
Preparation for the operation, during which the tooth had to build tissue and blood vessels, took three months. In fact, to Martin's vision was restored, it took two weeks after surgery. According to Martin Jones, initially surrounding objects and people seemed blurred, as if he looked at them through the water.
When Martin tells friends that he sees with the help of a tooth, they do not believe, but it's worth it just to remove his glasses and show your eyes, doubts vanish immediately.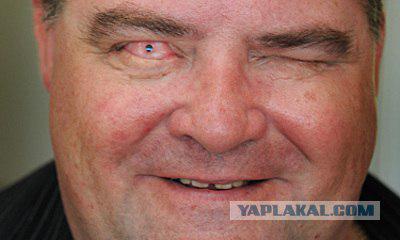 Source: