The only place on earth where you can watch just outside the three colored lakes, is - the top of the volcano Kelimutu in Indonesia.
These three lakes have different names, the locals believed that the lake is the resting place of their ancestors.
A change in color of the lake depends on the mood of the spirits.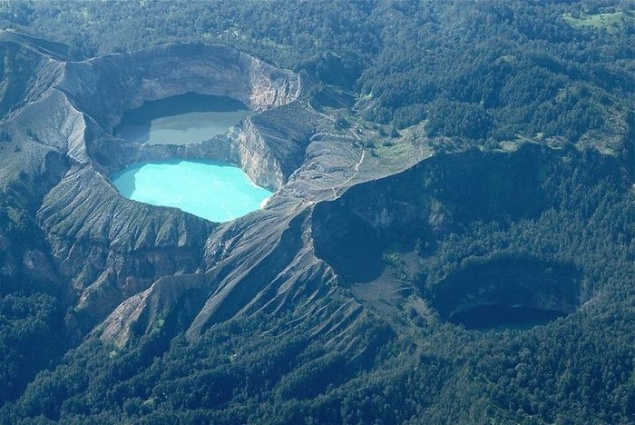 Lake elderly (Tiwu Ata Mbupu) on the westernmost point of the volcano, usually blue. According to the local, in this lake rest are old and wise spirits of the earth
Near the other two lakes, which are separated by a wall of the crater. Lake boys and girls (Tiwu Nuwa Muri Koo Fai) has a characteristic green color. And the third is called "Enchanted Lake» (Tiwu Ata Polo), it often has a blood-red hue, but when shooting becomes olive shade.
Water samples nobody took, but more likely an unusual color, lakes obliged gases and steam, which produces the volcano. The gas contains sulfur dioxide, hydrogen chloride and sulfides, and carbon dioxide.
Mount Kelimutu is located in the eponymous national park on the island of Flores. The island has a total of 350 kilometers in length, and the nearest town 60 kilometers. Nearby is the village of Moli, who is also the base camp for tourists.
There is no guarantee that you will see the water because of a certain color it is constantly changing depending on the weather and the number of ejected gas. The most striking photos are made mostly at dawn or dusk, during the day the water in the lakes noticeably cloudy.
Lakes are considered dangerous, they've taken a few souls tourists.
For example, in 1995 a Dutch tourist fell from the steep slope. They searched for him for fifteen days, but his body was never found. From that day along the trail was built a fence that tourists do not dare move.