Political instability, the element and the inability of the authorities to resist the economic and natural problems inevitably makes us think about buying a tank. Well, or APCs. Or, in extreme cases, BRDM. Especially because such machines are not that expensive. But is it possible for them to ride on the roads, and you need to do?
Fashion or necessity
In recent years, the demand for military special equipment increased significantly. And now, as shown by a survey sellers APCs and tanks BRDMov Ukrainians want to get heavy armored vehicles. What for? The question is rhetorical. Mainly, the reason for this is the desire to drive everywhere - hunting, fishing. And in the winter ... in Kiev roads.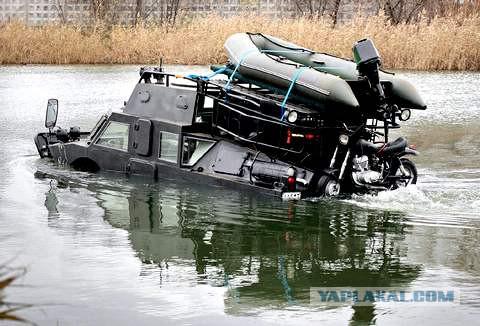 The vast majority of these customers buy the military equipment as donors for tuning. After spending 8 to 50 thousand dollars they invest tens of thousands of dollars on renovations, transforming the military machine ATVs comfortable cabin, with comfortable sofas and even a home theater. So, one of the capital firms dedicated to reworking of military equipment, said AvtoPortalu that are very demanding customers. And also great originals. For example, one of Kiev businessmen wanted to be equipped with armored personnel carriers massage chairs, mini-bar, a refrigerator and a ceiling made the "starry sky". And he did not care how much it will cost, and how difficult to achieve.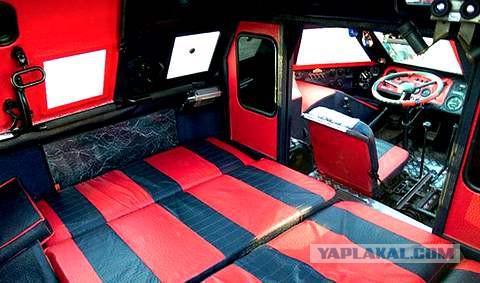 Very often, customers are asked to make a noise isolation, "cut through" the door further and increase the roof - to the head did not pressed. In this case, every whim for your money.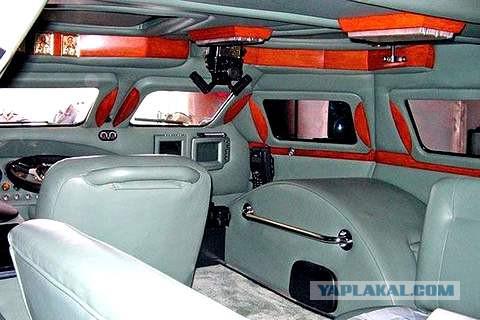 In Ukraine, the ads a lot of military equipment, and most sellers are doing it seriously. In particular, many of them offer more than one instance, but several.
On the purchase of military units through
Many of those who sell military equipment are directly related to their military units, through which sells the so-called "nadlishkovogo lane." With one of these vendors were able to talk AvtoPortalu.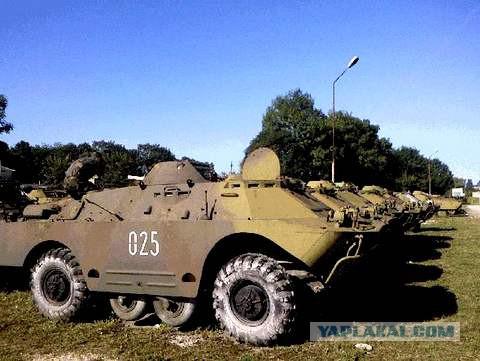 Nothing to hide, he said that such a sale is absolutely legitimate, but it is costly in time. Besides, as it turned out, for the very equipment the customer must pay in advance - until the machine. This fact discouraged many potential buyers as well as that from the moment of payment until the equipment can take 2-3 months. For this reason, the majority of Ukrainians are taking away with armored vehicles - choosing from those that are available and registered.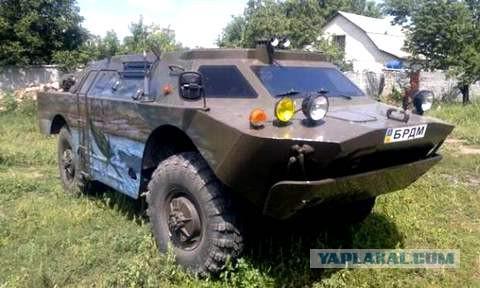 If we take over a military unit as the source told us, you can choose from the available machines. The price depends on the state. More specifically, the category. For example, the machine category 2 - good condition, the third category - on the go, category 4 - not on the go. At the site you can see them, and even experience in action, and only then decide on the purchase of a particular instance. Why is the issue of the machine through it take so long? Paperwork.
Need to get signatures demilitarization chief, chief of surplus property, and even the commander of the Minister of Defense! It's clear that the latter is not much time to sign these papers, and that delayed the process for a long time. But when buying through a part of compulsory military service on the spot you can spend THAT - there is such a service ...
Can I ride on a tank in the city?
There is a myth that on public roads you can ride even on the tank, only to cannon and tracks it was not. In fact it's not. Not so.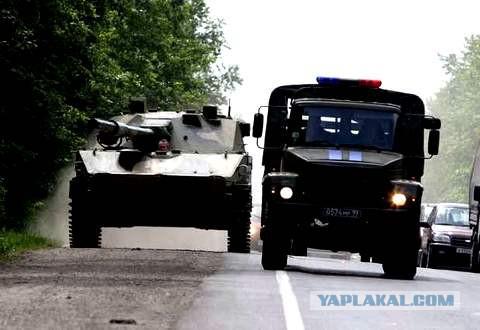 In GAI we were told that if the width of the vehicle is greater than 2, 55 m, move it on public roads is prohibited (without permission and / or maintenance). In addition, weight. The tanks do not meet any of the standards for on-road use. But most importantly, it is oversized equipment, and therefore, all its movement (even on a trailer) should be coordinated with the traffic police to obtain a permit. However, you can not drive and an APC. Almost all have a width of armored personnel carriers, which also exceeds the permitted values ​​for driving on public roads. This register and get a number - can be.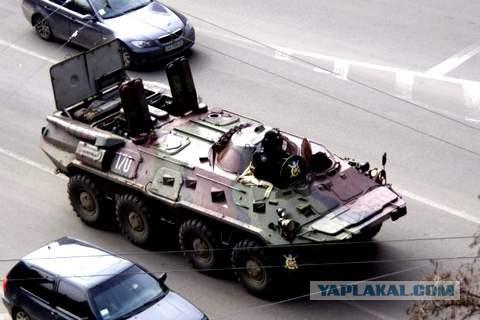 The most popular version of armored vehicles - BRDM (armored reconnaissance and patrol vehicle). Most of them fit into the allowable standards, so they can move around the city. However, in the traffic police were told that not only tanks, but other buses, including BRDM not have the right to move on public roads. Even for a single movement of such equipment traffic conditions and the route you need to negotiate and obtain a permit.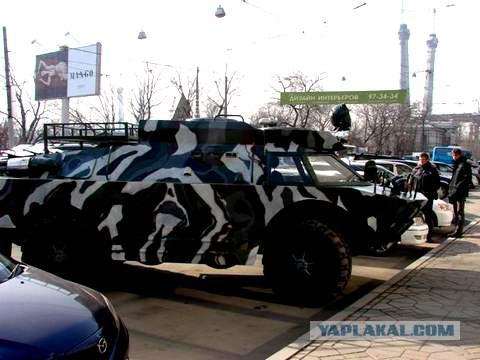 Owners BRDMov deny this, they say, with the inspectors never had no problems. The main thing - to set the turn signals and foot, and not to go where it is forbidden truck traffic. If hanging a ban on the transportation of freight transport, or have other restrictions on the signs - owner BRDM forbidden to go there. The rest - Skate on health, according to the documents because it is actually a tractor.
How to register the tank / APC / BRDM
To legitimize the war machine for personal use, you must contact the Gostekhnadzor (in Kiev - st. Komandarma Kamenev, 6). The list of documents is the same as that required for the registration of any other vehicle.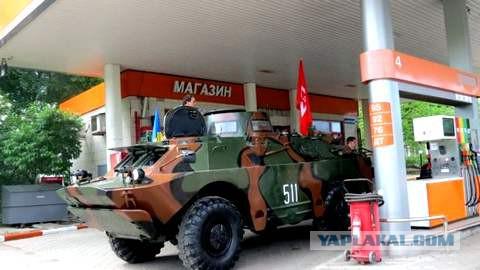 It is important to note that the technique should be demilitarized. It involves the removal of the special military equipment. Its list depends on the type and modification of the specific machine. Often sold in Ukraine copies already deprived of "the good war", but many sellers are subtly hinted, they say, does not matter, we can give a complete set of (radio, water cannon, and so on.) Only operate the machine with the outfit will not succeed. Is that in the woods or in the fields - that no one has seen.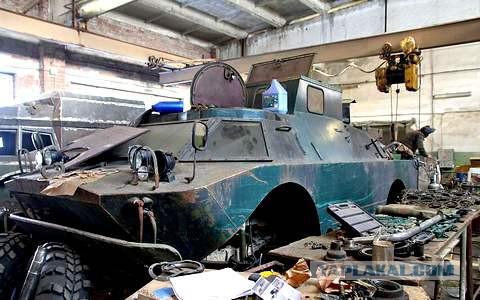 In theory, you can register and tank, but demilitarization cost is not only expensive, but also turn it into a pitiful semblance of such. Therefore, the seller told AvtoPortalu tank, it is not only pointless idea, but also a blasphemy.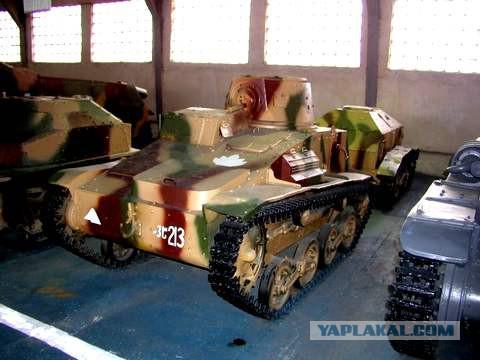 Another thing BRDM and BTR. And then, and another vehicle can be registered as a special equipment (or agricultural equipment). That fits into the log? Depending on the type of machinery, it may appear "tractor", "sіlska tehnіchna machine" or even "bronovik". According to sellers, the registration can take anywhere from one to two days to several weeks. Do not hide, they confessed that all depends on the links and possible "compensation", which may require the staff of registration authorities. If you're lucky, you can invest in the 800-1000 hryvnia.
If you buy in a military unit, will provide all the necessary documents, as well as give the act of demilitarization. Also, as told to us one of the sellers, more recently, have to pay the hryvnia and 2500 in some Odessa Institute (exact name could not figure out), which gives permission to register.
However, in this case of the first register. And, according to our interlocutor, for this you need to fax documents to a particular machine and transfer to the account of "strange company" (literally) called earlier amount. Will have to spend on the driving license - you need to take courses to obtain driving license category «D». In general, this is all you need for registration and management. Speaking of the license plate number is attached to the stern - the front is not necessary.
How much is going and how
Armored cars are in good condition, as measured by our merchants ring up, disperse almost like hotcakes. Moreover, many rush to make a purchase until they become more expensive. And it's not in the introduction of special duties, which increase the cost of cars in Ukraine, and in the moratorium. As is the case with land OSG, on military hardware is used, the moratorium on the sale canceled. But as you know, in our country, the moratorium is not a complete ban.
Most so - selective. There are those who manage to implement a similar technique, even when it is prohibited. But in any case, it affects the cost of a moratorium (even if you take away with), so a month ago BRDM 2 in perfect condition were available for 8-10 thousand dollars, whereas today one can hardly find over 12 thousand. This is when it comes to machines donor that are not finalized. In the case of BRDMami tune, and the cost can be 50 thousand dollars. It all depends on the condition and level of completions.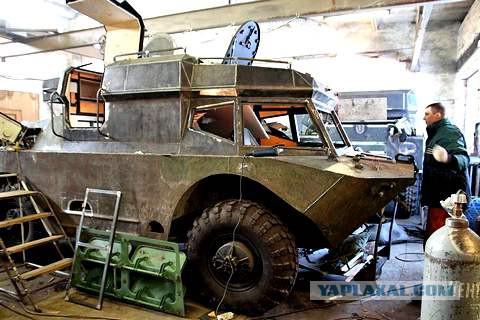 The biggest demand is BRDM-2. But, of course, there are many different versions, which makes no sense to list (leave it on May 9). This 7-ton armored defaults gasoline engine GAZ-41 140 hp Maximum speed - 90 km / h when moving through the water - 8-10 km / h. Factory data on fuel consumption is not, but if you believe the owners - about 30-40 liters. Some of them change their own motor on diesel Iveco - it enhances the dynamic performance and reduces fuel costs. There are those who put ... HBO!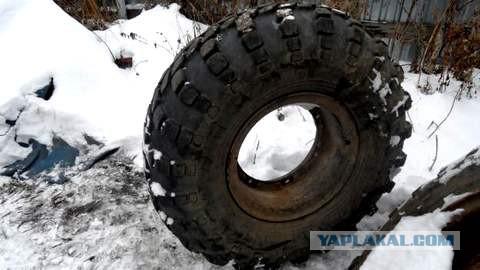 BRDM crew consists of four people. As for armor, this machine has a low sheltered, armor protects against small arms bullets and splinters. Because operating costs are worth mentioning rubber. Basically, it is not at its best, so buyers have to change it. One wheel of the average costs 2000 USD.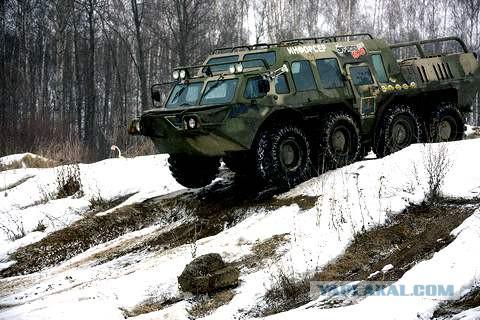 Talking in detail about the APC is not much point. Armored personnel carriers take mainly those who do not think and go on the road, well, or is the chairman of the village council, which are not touched in his native village. The reason for the low popularity is the inability to use on roads and initially high cost, which is not justified (APCs worth 10 to 80 thousand dollars - depending on the version). After all, BRDM can travel where rarely gone before. In most cases, buying armored personnel carriers in full combat readiness - with a gun and so on. Where are they then stored and how to use, a lot of options.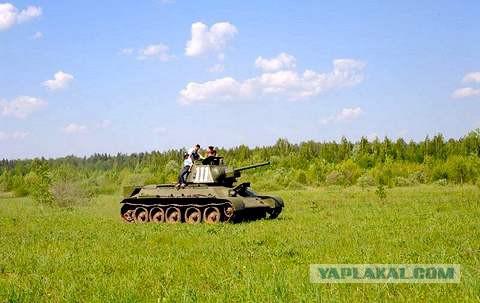 Some rich people are buying them just to have fun with business partners, who already have such equipment. In secret, our source at the military unit near Kiev said that at times approached to the fighting "pokatushki" hold civilians in combat units. There are specialized firms providing similar services - from the possibility of shooting from combat weapons (machine guns, machine guns) to drive on military equipment. Simply put, moneybags rent staging ground for fighting and ride on the "state" or personal equipment. In general, the play "voynushki". The most popular ride on the tanks - a few hours Ukrainians can spend up to 10 thousand dollars for the organization of such activities.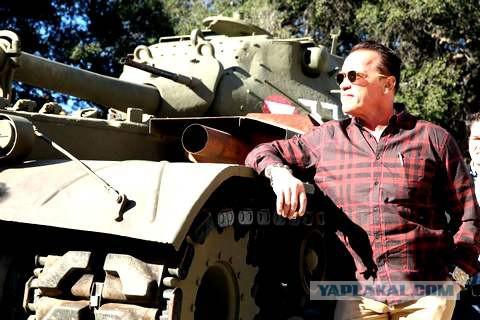 As for the tanks, this product is specific, but it has a buyer. When commercially often quickly buy them, but with the proviso that a particular instance can move itself. Yes, and military accessories matter - no collector (and any) does not take the tank if it is demilitarized. The cost depends on the condition of the tanks, and modifications and ranges of 30-200 thousand dollars. By the way, according to rumors, an ardent collector tank was Viktor Chernomyrdin, Russia's ambassador to Ukraine.
He loves tanks and "Iron Arnie" (aka Arnold Schwarzenegger). He has eight of them.
Posted in [mergetime] 1367926591 [/ mergetime]
From the military exotic, available in Ukraine, it is worth mentioning BAZ- 6944. It is a unique vehicle, because it is designed for 54 people and is able to swim. Chassis - from raketovoza. Maximum speed - 65 km / h on land and 8-10 km / h on the water. As we found out, in Ukraine there were only 4 of these floating machines. The two went to the cutting of two remained in the museum (Cherkasy region). One of them recently put up for sale. Cost - 50 thousand dollars.
Do I have to?
Any military equipment, first of all, an expensive toy. This is especially true demilitarized copies. Also, do not think that these machines do not break down and can run forever. One of our interviewees admitted that even after preserving many instances require replacement of various parts. And they cost money, and the service will also require financial outlay. Conclusion: if a lot of money, and you can indulge yourself. If there is a desire, say, riding a BRDM to and from work - you need to be prepared for the increased attention on the part of the traffic police, and carefully choose the route
everything from here: http: //cripo.com.ua/? sect_id = 7 & aid = 154975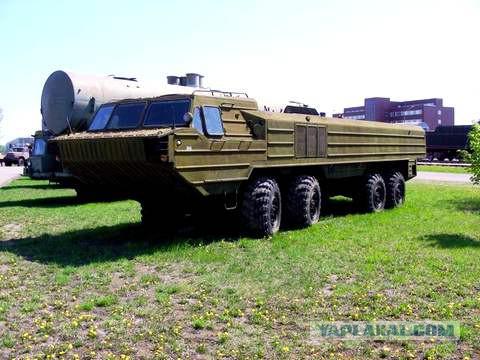 Source: