In prodozhenie threads about storms Factory:
As I said in the previous story, all in the same area of ​​the Maritime experimental range have another interesting, but I have not the necessary scientific object - a rock instrument, or as it is called rock 'Nauchka ».
It is a small natural rock in the sea not far from the coast, which in the 30s of the last century turned into a kind of stone probe, which have built research instruments for observing the Black Sea and the atmospheric phenomena.
I can imagine how it was a pleasure to work here. I think any scientist was only too happy trip to the landfill Gidrofiza in Katsiveli.
Imagine - every morning down the beautiful park of the laboratory building of the sea, to see the birth of the day over the water and take the readings ... then I bathed and went to his workplace to process the data ...
But it was in the distant Soviet times ... Now no instruments, no research, no bridge to the rock. His long-storm broke.
And indeed the territory of the Marine pilot test site more comes into disrepair.
25 photos via Sergei Anashkevich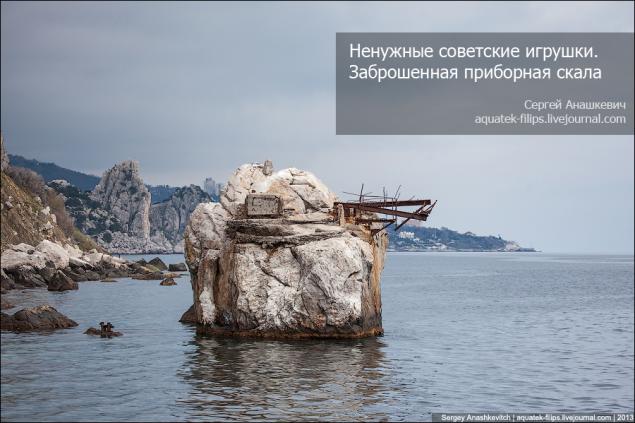 2. deserted rocky shore. No campers or pensions, or oligarchs with their palaces. Nothing extra. Live and work ...
On the platform, which is seen in the distance, in a nutshell, I already told a few years ago
3. The descent to rock instrumentation.
Once, of course, it was a neat staircase that led to two concrete bunkers closed. They have various equipment, and here are some measurements were taken. From the bunker was a bridge that connected the cliff to the shore.
The instrument rock was actually the first object, which began to study the physics of the sea at this test site. This iconic rock that was in it lays the foundation of a new scientific direction - physics of the sea. This was back in the early 30-ies.
Initially the staff consisted of three people: the director of a member of the Academy of Sciences of the USSR VV Shuleikin, hydrometeorology observer MG Volobuev and student intern Y. Yazvitskii.
On the cliff thermometers were installed to record water temperature at various depths and the air above the water. The rocks were mounted staples for their service. The concrete bunkers were recorders, recording the change in temperature of water and air.
That was the beginning of experimental studies of natural phenomena. Soon came from Moscow seismologist GA Gamburtsev and student-intern LG Lebedkina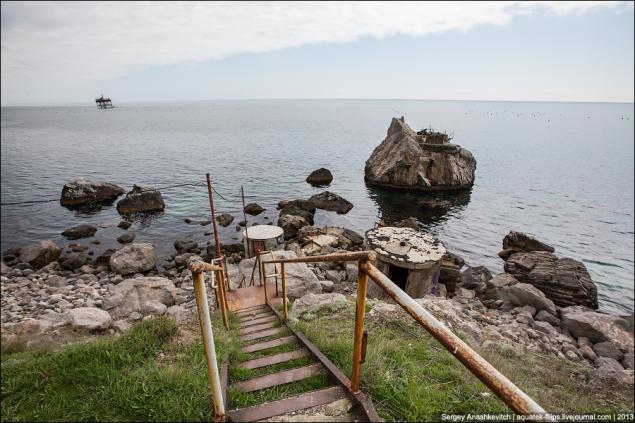 4. With the collapse of the Soviet Union funding many research projects and objects beginning to experience upheavals, fever, and often crash.
Ukrainian science lacked the money no matter what. As a result, many facilities throughout the country began to die ...
Today there is no longer a trace of the devices and joining rock and beach stairs ...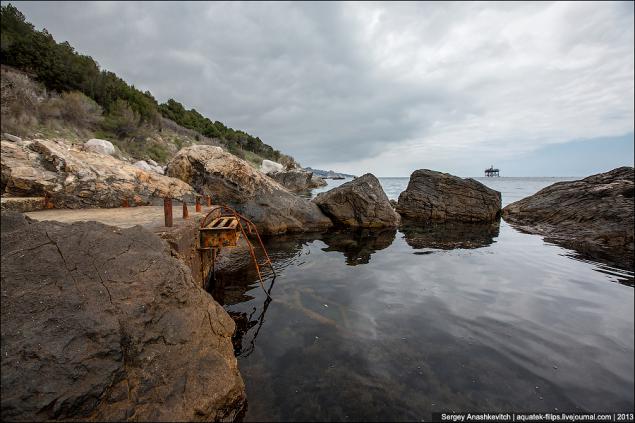 5. Remains supports ladder