Star Internet Tajik Jimmy married peterburzhenke
Champagne and flowers for meeting he bought the latest money
Star of the Internet and the most famous guest workers from Tajikistan Baimurat Allaberiyev - happy man. About five years ago he came to Russia to work without a penny in his pocket. Now Tajik Jimmy (as it is known in the world of show business, although he Uzbek nationality) amassed the musical group and even married .... His choice was peterburzhenka Ludmila - charming intelligent woman with higher education. In an interview with "MK" in St. Petersburg, "the couple told how they are trying to reconcile St. Petersburg and migrants.
source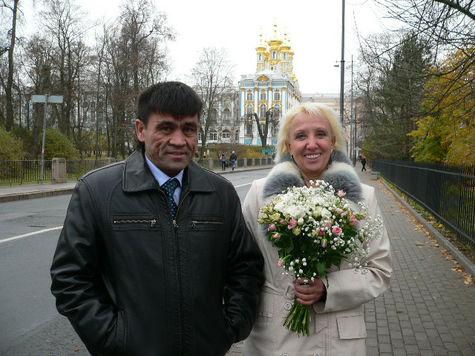 Freaks of fate
Life Baimuratov more like an adventure movie. In his native Tajikistan, he starved, tending sheep and lambs received a salary. Then the country's civil war broke out, and Baimuratov got worse. From troubled starving Tajikistan he fled to Moscow. In the capital Baymurat few years moonlighting as a loader in the warehouse, and at lunchtime desperately Tajik sang folk songs and drumming on a bucket. Guard filmed this "show" on a mobile phone and posted an entry in the Internet.
A few days later Baymurat has an army of fans, then spoke in a club in Moscow and St. Petersburg ... to conquer. However, the Northern capital met Uzbek unfriendly. Baimuratov only occasionally invited to speak at a modest birthdays and corporate parties. The rest of the Tajik Jimmy moonlighted cloakroom. Free evenings he spent alone in his tiny 5-meter rented room, banging on drums and singing sad songs eastern.
- I want to get married ... - sadly confessed then Tajik Jimmy correspondent "MK" in St. Petersburg. " - I am looking for a bride on the streets of St. Petersburg. The girls recognize me, ask for an autograph, and then somehow go ...
Cherished dream come true migrant recently: October 19 Baymurat played a noisy wedding. With his chosen, he met in the Palace Square back in 2011. It was spring, May 1. Tajik Jimmy was walking near the Hermitage, humming songs, smiled passing girls.
- Together with friends we went to the May Day demonstration - says Lyudmila, who became his wife Baimuratov. - Look at the Palace Square walks a man, and with it all the pictures. And then a friend of mine says, "Lyudochka, yes the same migrant workers from Uzbekistan, the star of the Internet! Let us also take pictures with him as a souvenir! "At first I refused, but then I was persuaded girls. That's how they were introduced. Baymurat with us went for a walk along the Nevsky. And in the evening we went with him alone in a cafe. Exchanged phone ...
Marriage extreme
Arriving home, Lyudmila immediately rushed to the computer: the Internet, she read the story Baimuratov and even listen to his "golden hits" - the song "Jimmy, Jimmy, Acha, Acha" from the movie "Disco Dancer».
- I find and photograph ... - says Lyudmila. - The pictures he was so poor, worn, thin ... Now he has become a completely different man! About two years Baymurat tenderly cared for Lyudmila. On the last of his money to buy flowers, champagne, drove in the movie. And then St. Petersburg dank autumn wandering the streets in the old autumn boots and coat lightly worn.
- Oh, how gorgeous he was courting, you can not imagine! .. - Says Lyudmila. - He carried me in his arms through the park on Krestovsky. And I remember, it was spring, blooming apple trees ... He held his hand a branch and sing me his song. And I sat next to on the grass, drinking wine and listening to him. You have this ever happen? Yes, this man I have something to remember.
Baymurat fascinated not only Lyudmila, but her friends. He and they sang songs, sometimes even on the phone.
About a year Tajik Jimmy persuaded Lyudmila to marry him. The woman at first refused, offered to do without official registration, but Baymurat was adamant.
- It was not an easy decision for me, - says Lyudmila. - Still, we do not advertise our relationship ... You know, I still was not used to his new family situation, it is a real extreme in my life. I understand many migrants looking for a Russian wife to cling to our country to stay. And in this case, there is certainly no love. We are all different. And Baymurat, by the way, wants nothing: no apartment, no registration. He just wants a good family. I understand people, still ten years in the personnel department, "water utility" worked ...
Now the couple live in a small apartment in Kupchino Lyudmila. Family life with Baimuratov was easy and pleasant. Tajik Jimmy does not smoke, alcohol can not stand, the house all the work is done implicitly. At the plate he is a king and a god and even taught my wife how to cook pilaf. Girlfriends Ludmila look at this man and wonder.
- Houses in Uzbek men wife team - recognized Lyudmila. - It is only on the street Oriental husbands pretend that they are the main.
Happy family life itself Tajik Jimmy:
- I feel so good! I am very happy! Russian women are the most beautiful. And my best. She is still an athlete. Ski rides and shoots. What's it called? Oh, right, biathlon ... Houses we have a lot of medals hanging letters. I am proud of my wife. And she was proud of me, oh how proud! This year we had go to my home to get acquainted with my dad. He was my old, the wedding could not come.
Jimmy paused, and then added with anticipation:
- In Tajikistan, the ram will cut!
"Do not beat people ...»
Lyudmila was for Baimuratov not only his wife: she is also to shoulder responsibilities producer.
- Baymurat very kind. That's his problem ... - says her husband. - He will give the last, if asked. Can not refuse anyone. A world of show business is quite hard, because there can not be. It is necessary and financial issues to address, in which Baymurat little understood, and tour schedule to plan and engage in their own image. For all this I say now.
In the evenings, Ludmila teaches Russian language Baimuratov. The couple engaged in almost every evening.
- He says bad words ending, I'm working on it - says Lyudmila. - We used to rehearse the songs together, so he sings Russian words correctly.
With his wife, producer Jimmy Tajiks career took off. He gathered a band, is now set to release their first album.
Perhaps the only thing that breaks this idyll - ethnic conflicts that occur periodically in Russian cities. After the riots in late Biryulyovo Baymurat afraid to walk around the city.
- I have more than five years in Russia live, sing songs, - says Tajik Jimmy. - I register in the order in Russia, I legitimately. But despite this, I'm afraid. I hear people hitting the streets, because they are not Russian. I do not understand it ... I'm respectful attitude towards people like human beings. It is not necessary to beat.
- I Baimuratov always say do not go one evening, quickly go home, do not come into conflict - adds Lyudmila. - And you will see a dark head and blows. Do not look that you're a musician, a star.
But Baymurat not lose hope to make friends migrants and St. Petersburg. He even wrote two songs about the plight of immigrants.
- I sing about how they are working hard, send money home - says Baymurat. - So far, the only song in Uzbek and Tajik languages. But my wife and I are looking for someone who will translate them into Russian. Maybe people will hear these songs and be respectful, tolerant of each other ...
PS have been married for three years, Baimurat Allaberiyev get Russian citizenship. And then celebrate his last dream. Everything else - popular in Russia, a loving wife - he already has.
Source: