Russian schools can be described with the words: boring brown and old-fashioned. I appreciated the 7 Vietnamese schools to tell how there with them in Asia. Certainly, in the villages are worse, but the metropolitan schools I liked. I reviewed the facades of buildings, architecture, furniture, books and young Vietnamese themselves.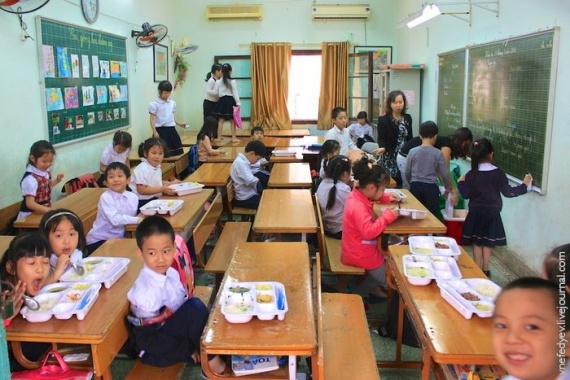 Appearance schools
1. I visited six Vietnamese schools located in the capital Hanoi with a population of 6, 5 mln. People. The general impression - all yellow. We paint in brown, and they have chosen a more vivid color.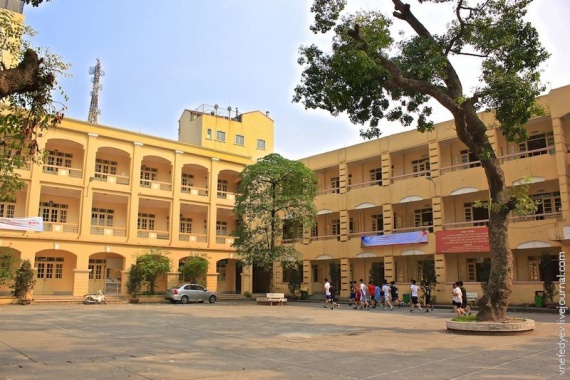 2. The second thing you notice after the color (yellow and green), this tree: huge branches closed from the sun the entire inner area. In Vietnam, a lot of vegetation in the city.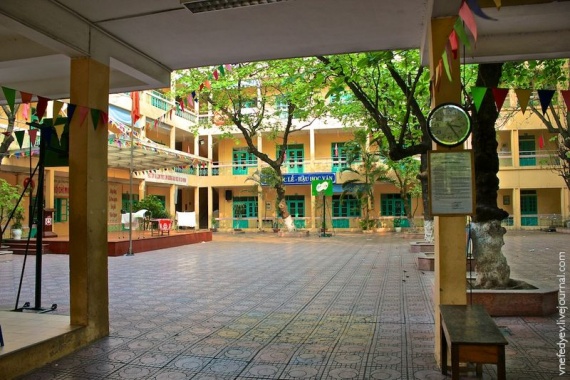 3. Then tile. Usually red or yellow, so as not to get bored.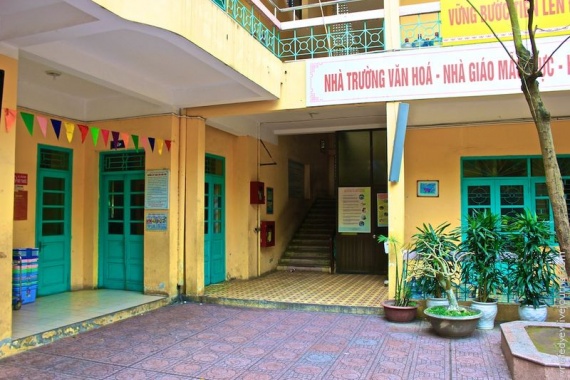 4. slogans. Almost all red with yellow letters - the colors of the flag, which is also love to exhibit. In most buildings do not have windows - windows have shutters is, and no glasses. In April, pretty hot (+30 ... + 35 all day). All classes are equipped with fans or, in the best case, air conditioning.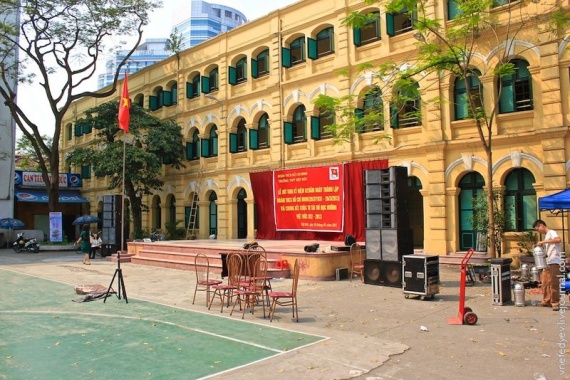 5. Hanoi them built by the French, when it was a colony. Hence, beautiful architecture, and open space, and form schools in the form of the letter "P". Modern have narrow passages, small windows, and, in general, very reminiscent of Soviet architecture in the region. I think the Vietnamese should be happy that the French have created such a cute town. Now almost everything is ruined, except for government buildings.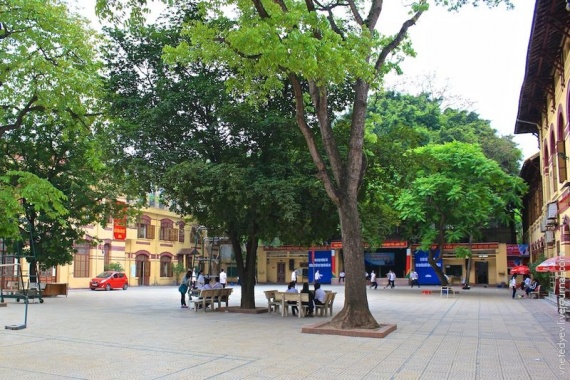 6. If you clear the whole communist trash and wash the walls, it will be shown some of the most beautiful schools that I have seen.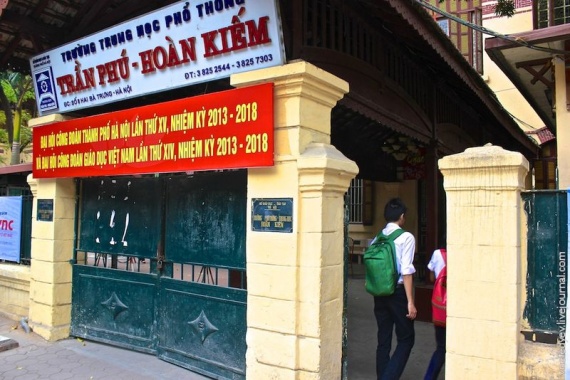 7. The main difference from Russian schools - there are other things to do at recess. Everywhere there are benches, tables. You can play football, basketball, sit on the floor and rage. In principle, you can lie down and relax in the shade of a tree.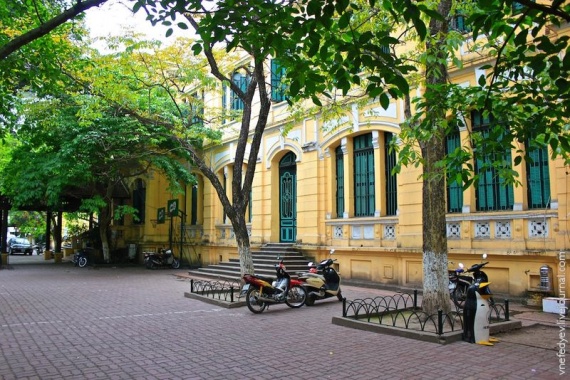 8. The communist buildings - the exact opposite French. Corridors meter wide, windows small (but glazed), and upstairs I did not find the stairs.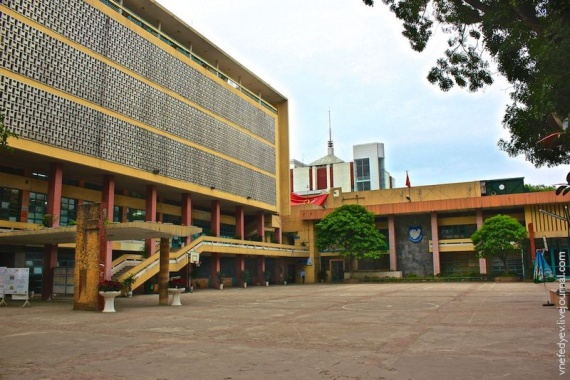 9. Floating school in the village of Halong Bay, about which I wrote. There is one class of seven students. All fairly modern, local often travel to the mainland.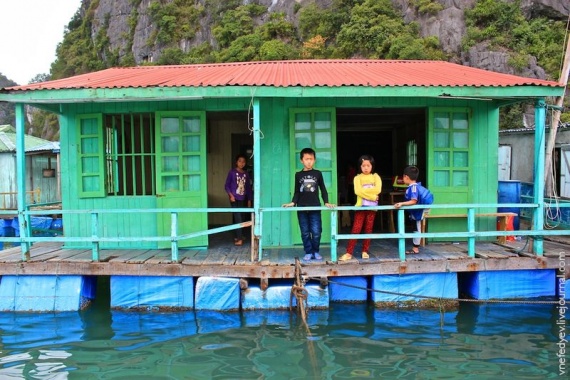 Making classes
10. All we like: the party "under the tree" green board with chalk portrait of a national leader. Only on the floor is always a tile, and fans blowing.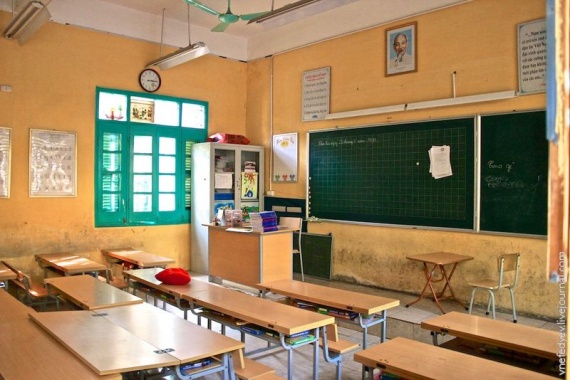 11. In the old school still lies French tile with a complex pattern.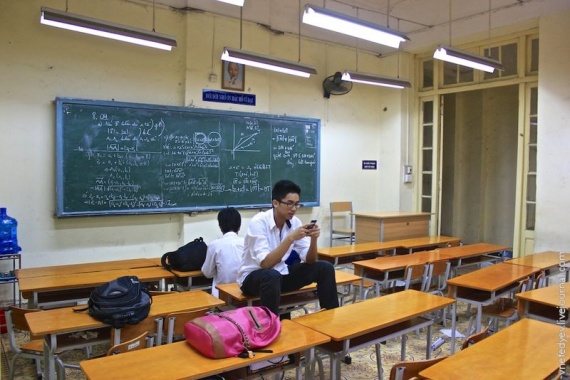 12. In the junior classes at the blackboard stands stool to get to the top.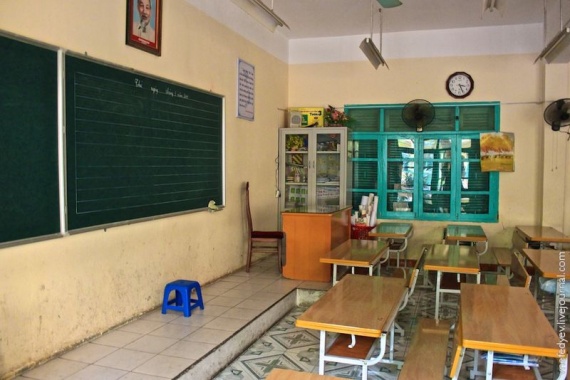 13. Mathematical classes favor of the bill.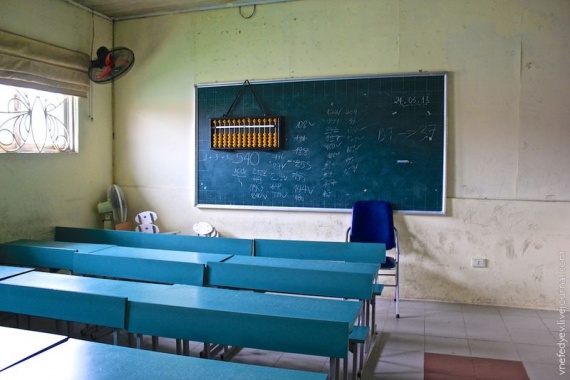 14. Communist schools classrooms already painted as they want.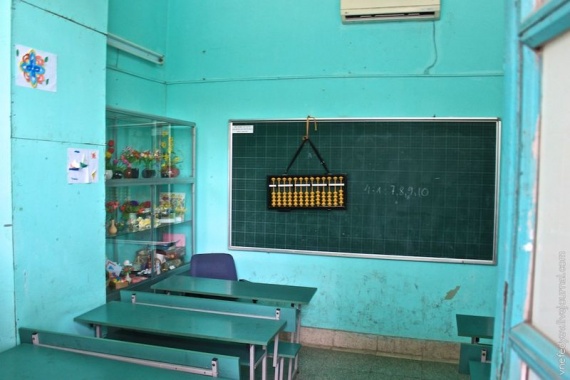 17. Assembly Hall. Dominate all the same national colors.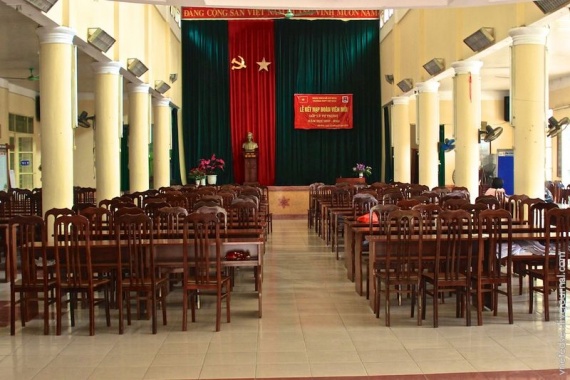 18. Teacher. In English, some understand. But an English teacher, I did not find in any school. By the way, teachers have themselves clean and wash floors class.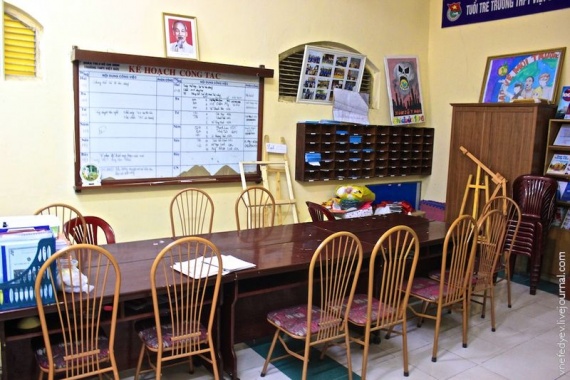 19. prepare for lessons in a teacher's decent.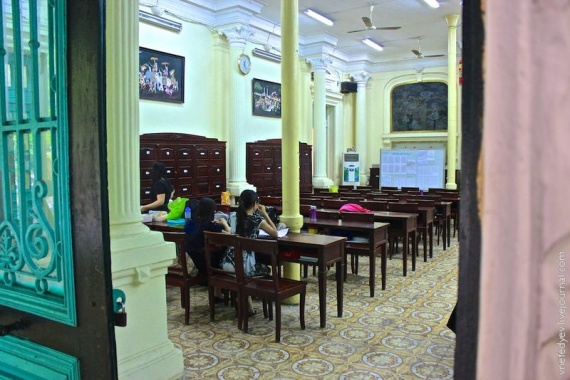 Corridors
20. Just look at the doors, windows and tiles. If all the wash, the corridor will look like a museum. For details of the Vietnamese no attention. Plaster falling off, paint peeled dust.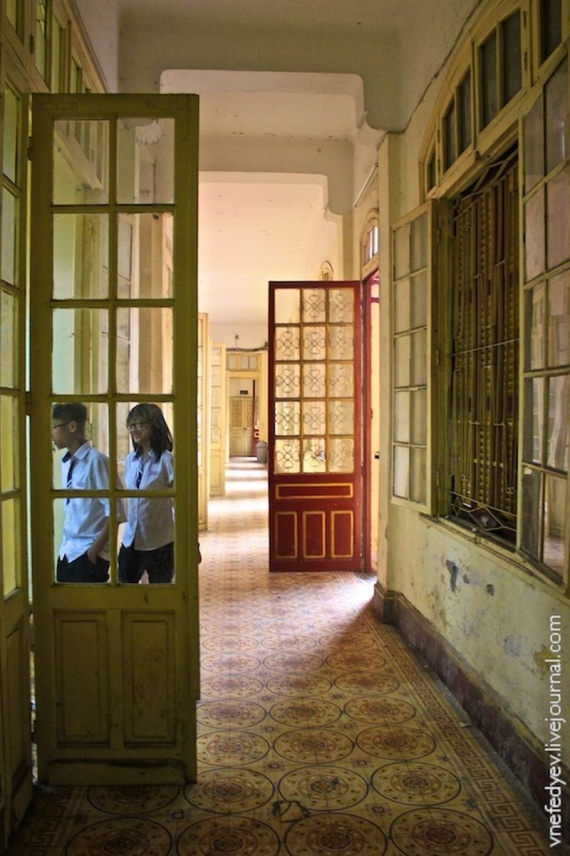 21. Poster on environmental issues.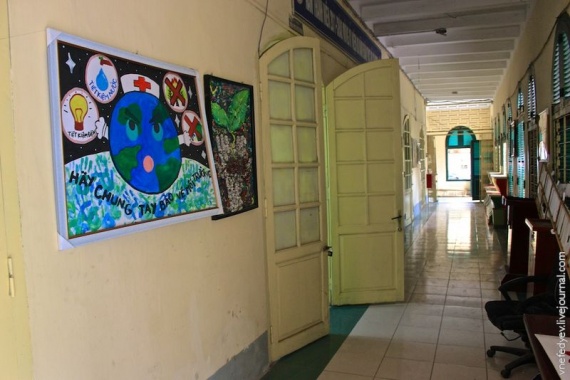 22. Communist corridor. Feel the difference is called.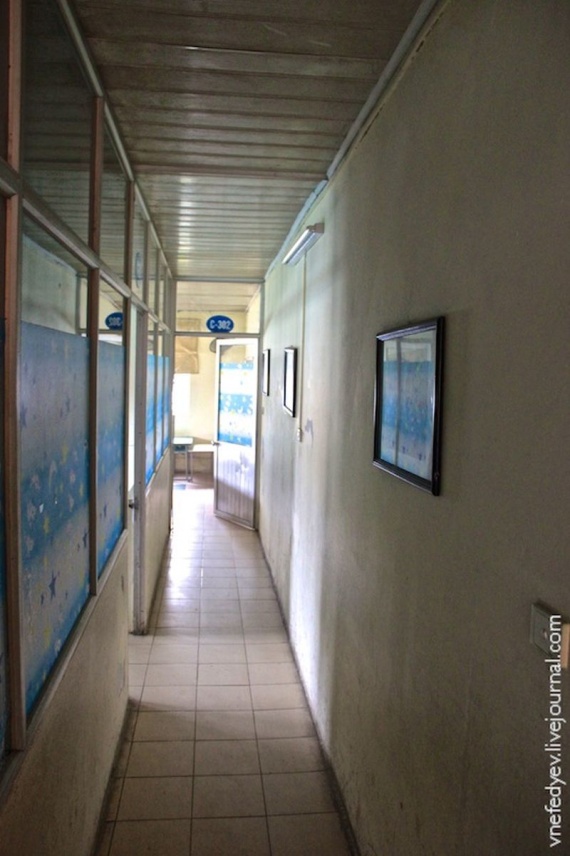 23. And most a cool - is that you can sit on the floor. On the street clean and warm, so no prejudices and problems.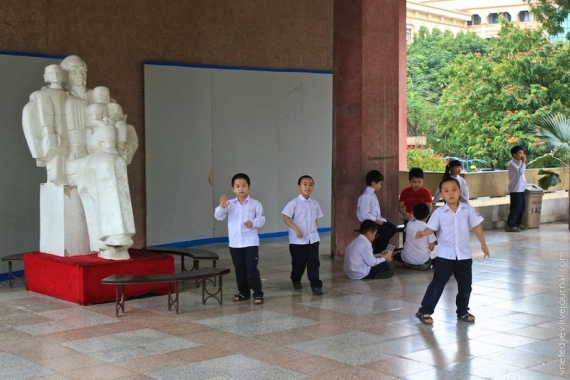 School uniforms
24. In the capital's schools required form. Most often it is white shirts / blouses and pants / skirts. On the sleeve or chest stripe have school. This "base" then you can wear trendy jackets or accessories.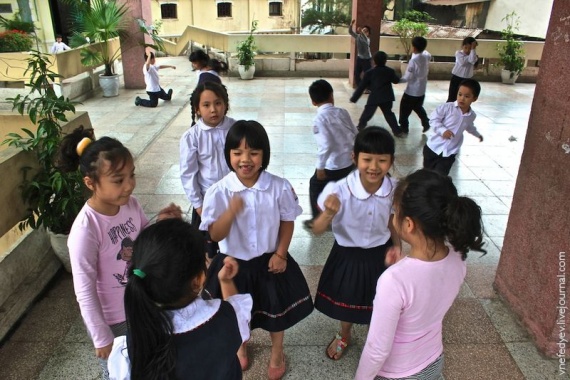 25. Even among the Vietnamese, there are different types of faces.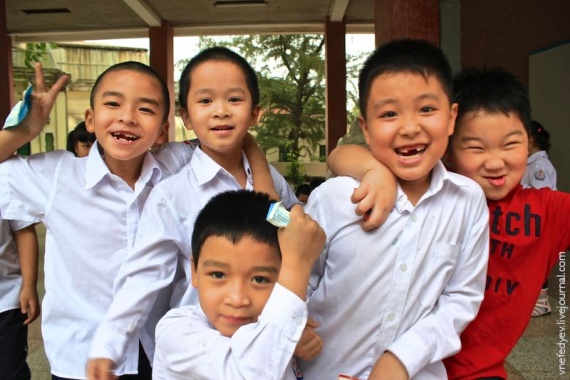 26. During the breaks the kids paint, run, fight and bugged white guests, like me. The only thing I heard from them in English is «What's your name?» And «How old are you?» By the end of training, almost everyone will know the language at a conversational level, because without him even to get a job as a security guard. Once I walked into the office, and ran up to me a boy of about 10 with a cry «You can not enter this area!» I am so touched accent that turned around and left, as requested.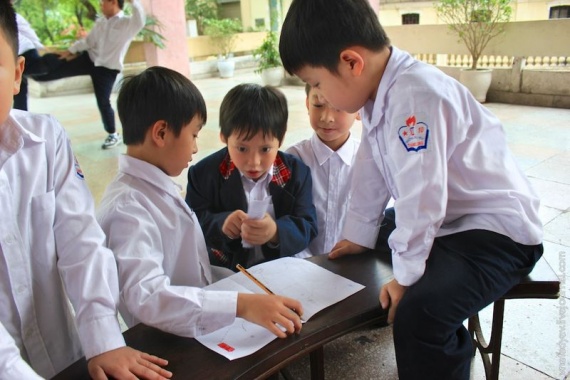 27. The shirt is not seasoned and high school students.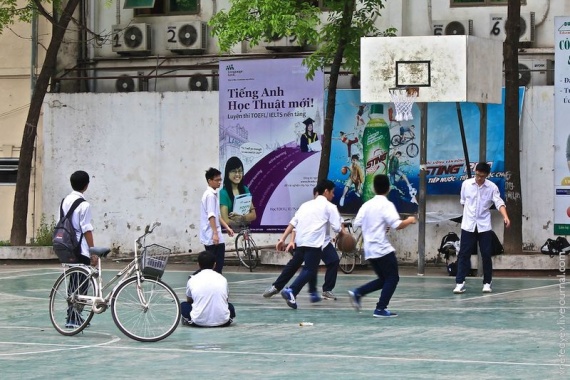 28. Children are pioneer ties.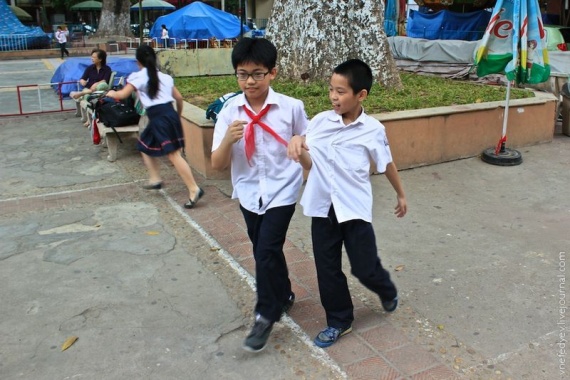 29. Any Vietnamese teenager dreams of marrying a European. At the sight of white guys girls squeal, photographed and confused, although they continue to haunt you to the exit.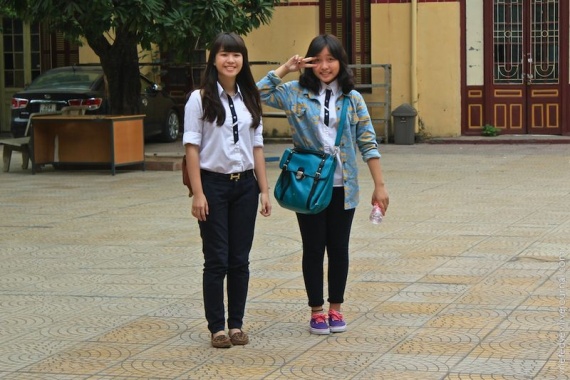 30. Somewhere wear polo in the United States. Color, however, terrible.
31.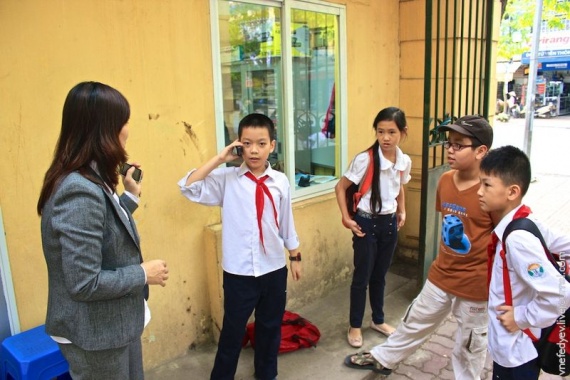 32. The special relation to neckties do not experience.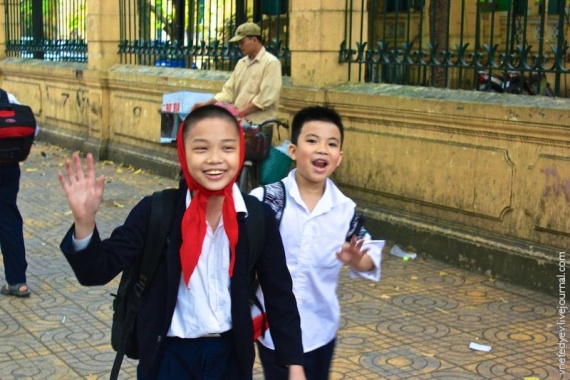 33. Normally, after school before the doors of the school and the students accumulate goodbye until tomorrow.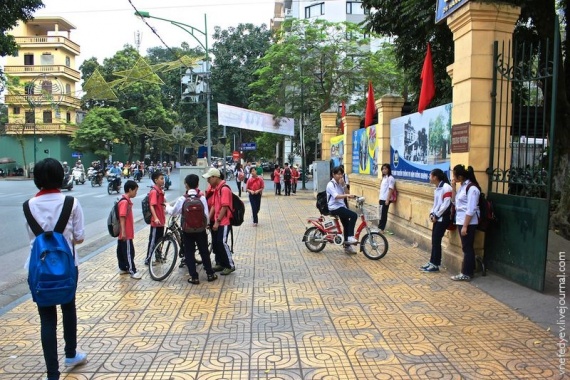 34.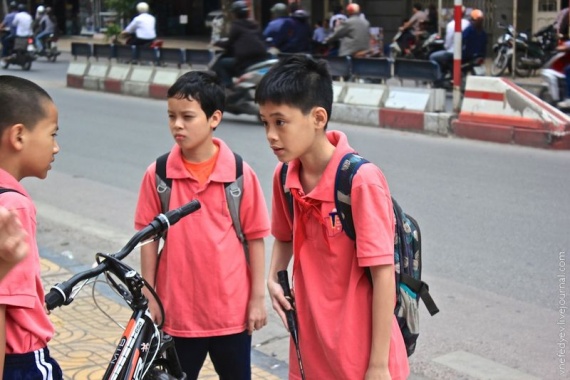 35. By the way, you can play cards. Girls (very funky white man) "cut" in uno, popular British game.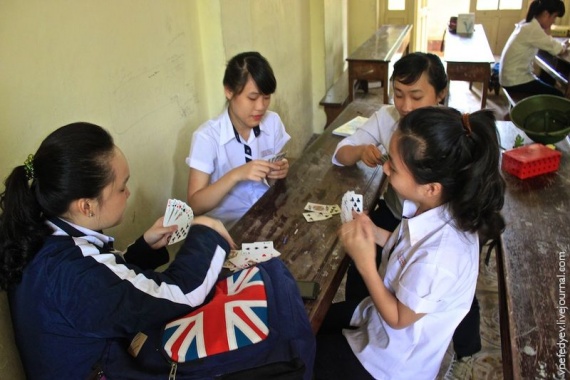 Power
36. Dining in the usual Russian understanding I have not met. Snacks, drinks and hot sold in kiosks at the school. A bottle of water costs 7 rubles (with the price in 20-40 rubles). The usefulness of health and no one thinks. For all time did not see any sink with soap and water. And the children are fed traditional noodles and meat, all in vinegar.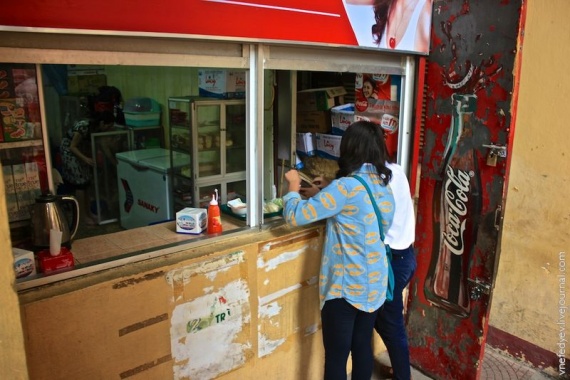 37. Looks: Pepsi bottles away. "That's cool, I'll try," - I thought. Showing grandmother-seller on the stake. I got out of the fridge a bottle of old worn not know what model year. With amazement I look and try to squeeze out: "Sorry." She smiles, if realized, and took out from under the table a plastic cup, and then rakes in hand ice. Here I am in shock and leaving 10 rubles a bottle. "Well, - thinking - the same local drink and do not die. Mom with me, if that. " Poisoned, fortunately. But the ice I still throw away from sin.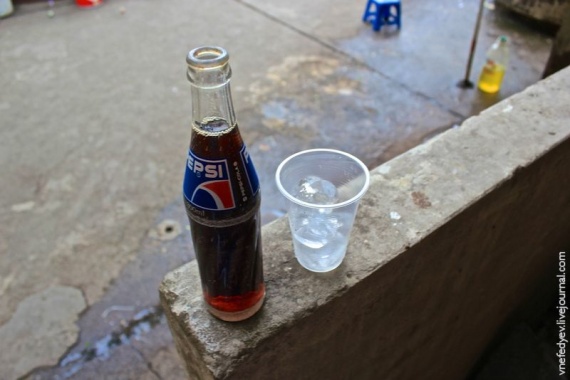 38. Communist school clubs all registered.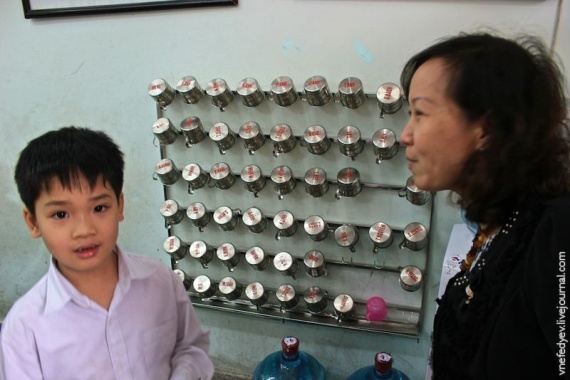 39. And here the whole school drinking from two, as in Russia.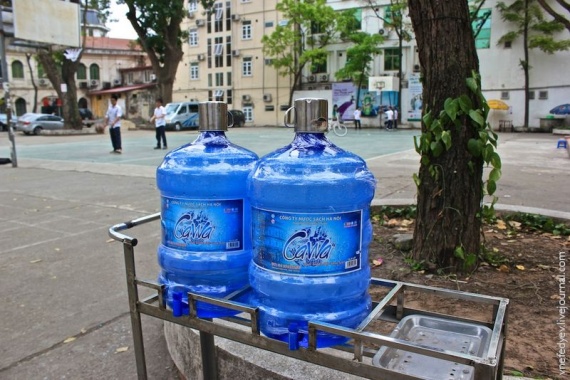 Books and notebooks
40. Tenth grade. I do not know how to solve it.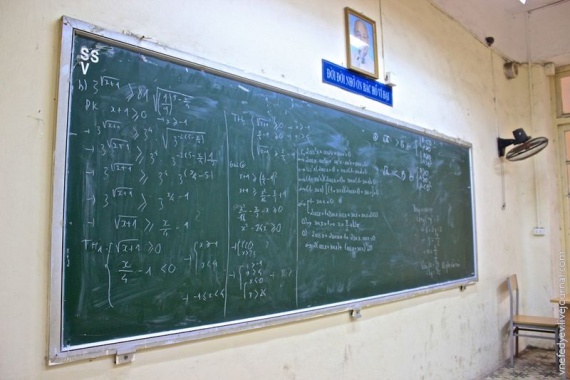 41. Textbook of English. At the elementary school textbooks almost there.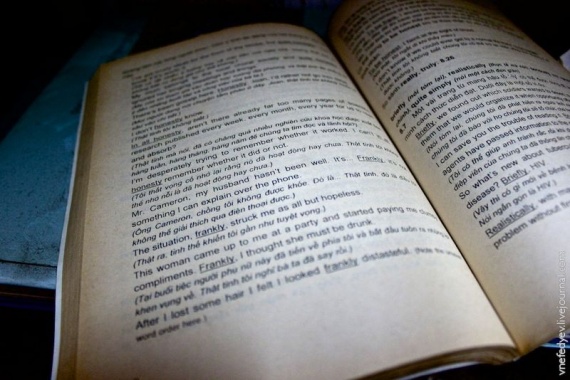 42. Book on Vietnam first-grader.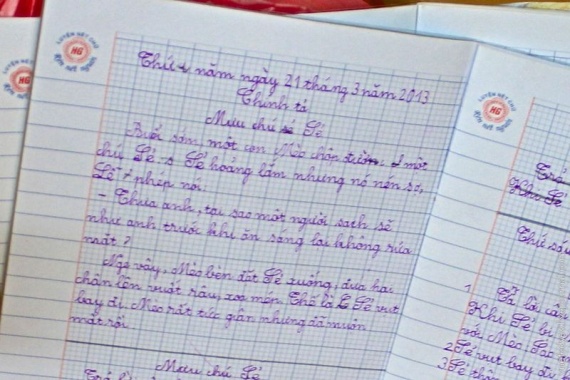 43. Eight rubles for a notebook (or a set?).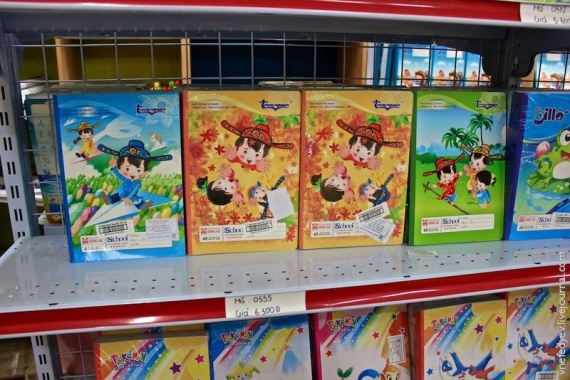 44. Library.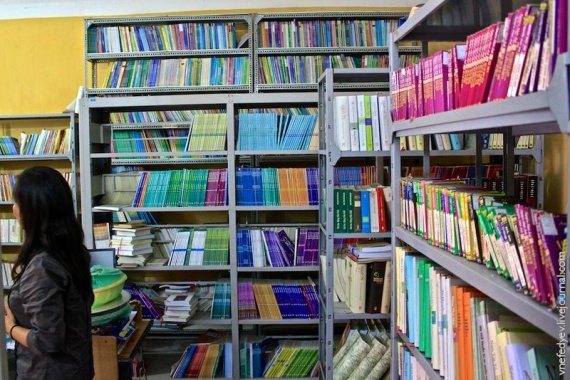 Bicycles
45. In Vietnam, they are very popular: warm, dry, smooth and qualitative road.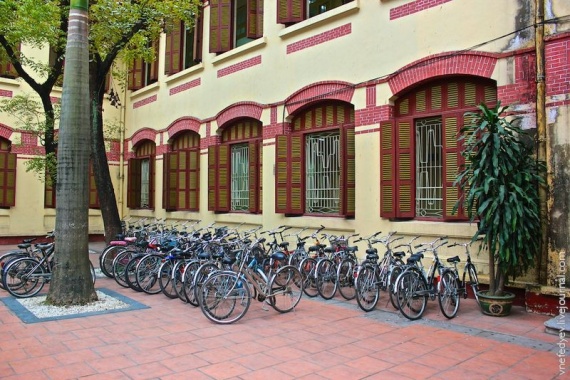 46. ​​Teens are switching to scooters, which Vietnam is world famous.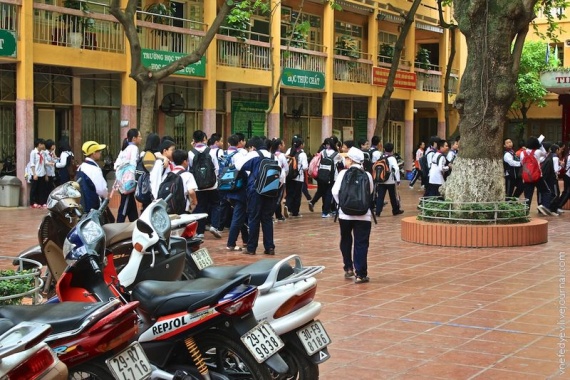 47. Those who are richer, buy electric bikes.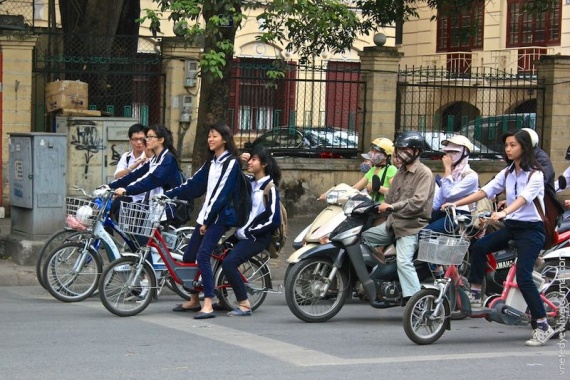 48. Dear children feel confident.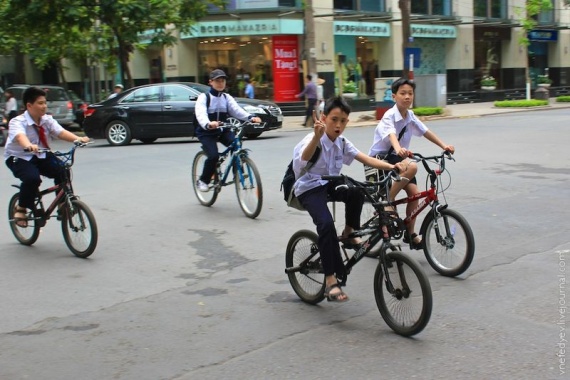 49.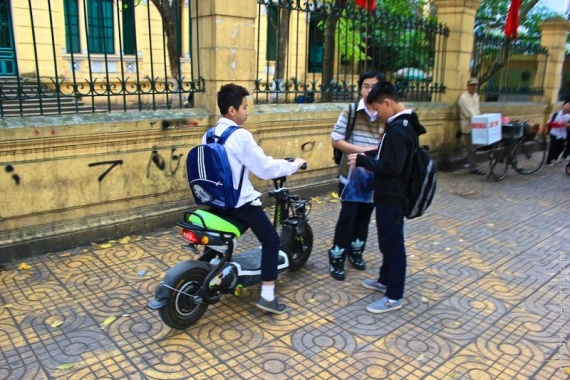 50. Parents meet children after school.
51. You can have a meal and on the street. For all local two to three times cheaper.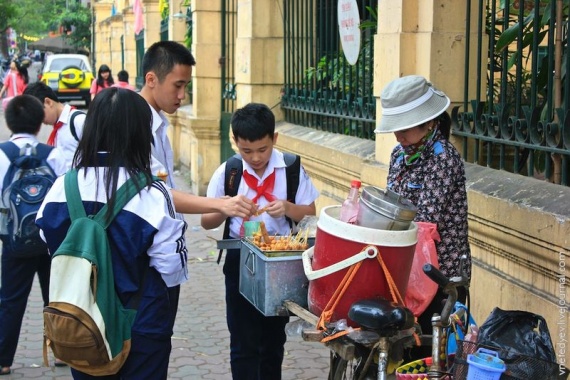 How to get to school?
In Vietnam, for white people are open all the doors. I quietly went to schools, offices. I will do a straight face and go. When the protection is better camera does not stick out. Then I approached the teacher and said that I was a journalist and do reports on schools in the world. In the two places I was not allowed, but the three I walked around the building, went to classes, talked (tried) to local. Seniors play basketball, I come, I beg ball. Right hand put the ball in the basket, and they are "Whoa." It's funny to look black sheep. Just imagine will come to our school and start photographing American.
Source: pora-valit.livejournal.com