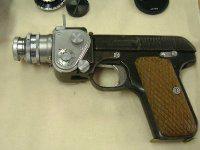 There are many unusual cameras and camcorders, but this camera is undoubtedly occupies a special place among them. Its design is unique - it is made in the form of a pistol.
Fotopistolet DORYU 2-16 - a 16-mm camera, it has the same object with-mount, as well as a 16-millimeter camera. In addition, it is possible to put a 25-millimeter lens F1.4. As a result, we have an excellent camera with a unique design.
The only problem - fotopistolet not available for general sale. You may want to buy a collector's version, however, according to the site CollectBlend, its price varies from $ 500 8100-13.
Now fotochki ...