May 8, 1976 there was a real revolution in the world of roller coasters. In the amusement park Six Flags Magic Mountain in California opened the world's first steel roller coaster with a noose. In our time loop - this is not the worst thing that the creators are willing to offer rides to fans of adrenaline, lining up around the world to tickle your nerves. We offer you a virtual ride on the ten most feared roller coaster in the world!
Nervous, those who fear heights and people with weak vestibular system is better not to look further!
1. Silver Star, Europa Park, Rust (Baden), Germany
"Silver Star" - the highest roller coaster in Europe, the German steel tickle nerves since 2002.
Using a system of chain hoists, slowly at first, they will lift you to a height of 73 meters, and then will drop and circling at speeds up to 130 km / h.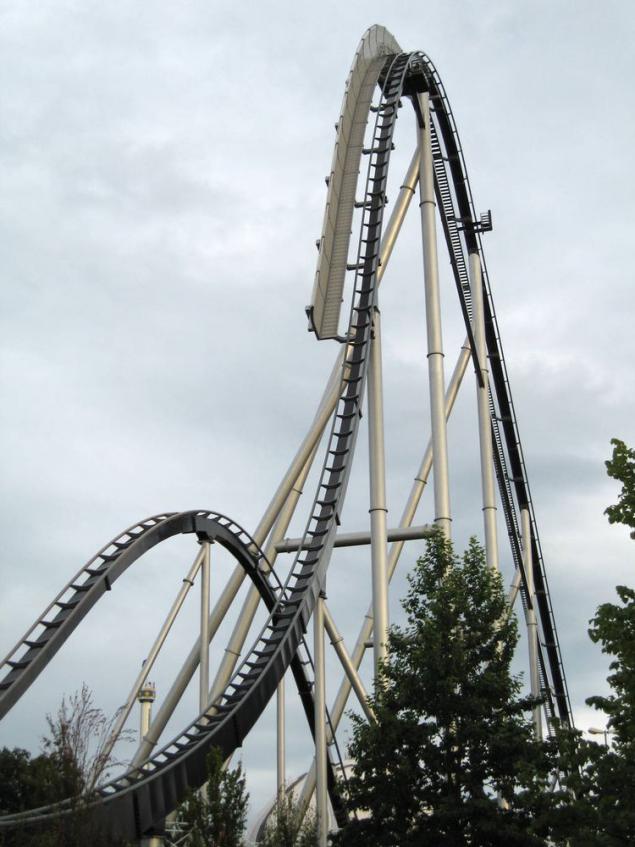 2. Tower of Terror II, Dreamworld, Queensland, Australia
The first "Tower of terror", opened in 1997, managed to scare more than 8 million Australians, and in 2010 was launched again and became even worse. Skiers go out of the tunnel and 7 seconds get to the top of the vertical tower with a maximum speed of 161 km / h. On top of the 35-meter tower they hang for a moment, and then fall down in horror.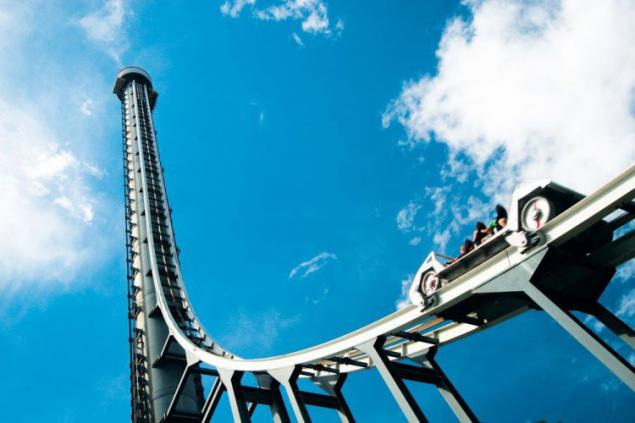 3. Steel Dragon 2000, Nagashima Spa Land, Kuwana, Mie Prefecture, Japan
"Steel Dragon" already is neither the fastest nor the highest hills, but still remains the longest. And also the most expensive ever created, thanks to the amount of steel used in construction, it is necessary to make the slides are resistant to earthquakes. But even if we do not take into account the earthquake, this monster definitely earned its place in our top ten.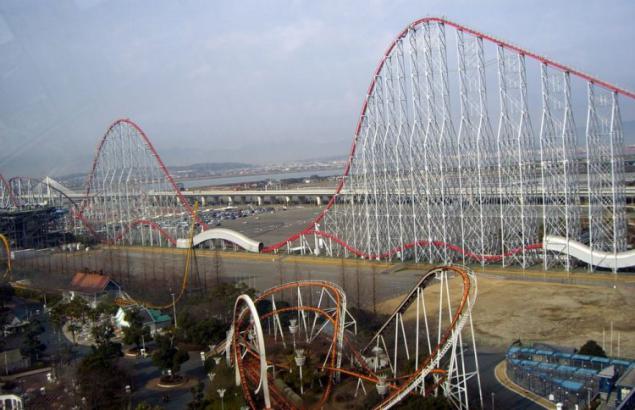 4. Kingda Ka, Six Flags Great Adventure, New Jersey, USA
Kingda Ka - survivor in the world of roller coasters, but to this day remains the highest hills in the world with a dizzying record of 139 meters. However, because of its history in the attraction there are many problems. In 2005, the roller coaster comprehend a variety of mechanical damage affected the starter motor and the cable system. Fortunately, the problem has been completely eliminated, but in 2009, Kingda Ka was struck by lightning, causing new damage. Now that's really scary ...
5. Intimidator 305, Kings Dominion, Virginia, United States
A relative newcomer to the world of roller coasters, "Zapugivatel 305" (already getting scared by one name ...) in 2010, won the award "Golden Ticket" as the best new roller coaster.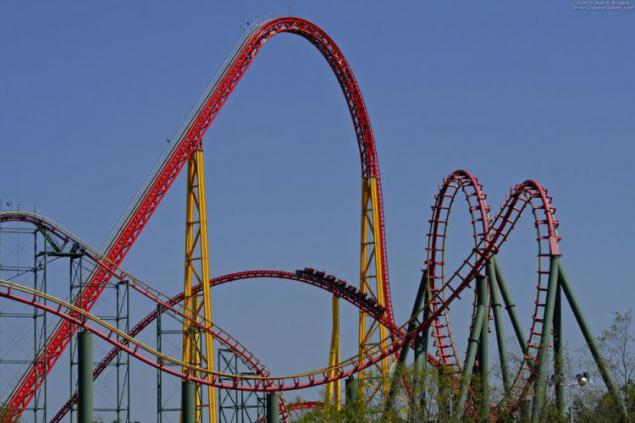 6. Dodonpa, Fuji-Q Highland, Fujiyoshida, Yamanashi Prefecture, Japan.
What may surprise coaster thrill-seekers, if they are not the fastest, high or long? Doponda knows the answer - the largest acceleration! Knocking skiers confuse not the most high-spirited beginning, Doponda suddenly accelerates to 172 km / h for attention ... ... 1, 8 seconds! And then throws you up and down the almost vertical loop.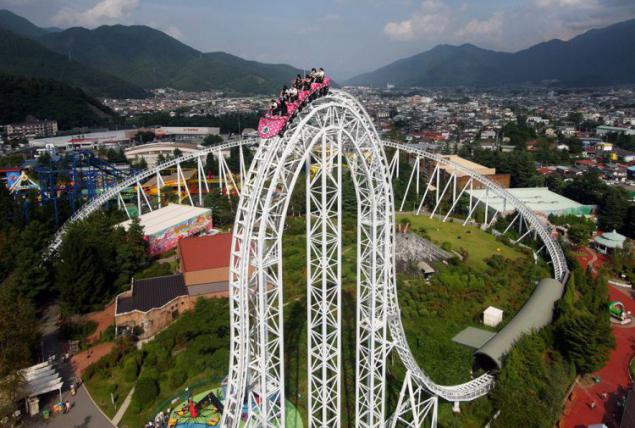 7. Superman: Escape from Krypton, Six Flags Magic Mountain, California, United States
Until 2011, "Superman: Escape from Krypton" was known simply as "Superman: The Escape". But after a new coat of paint and adding moving backwards trucks, was born a new super-hero world attractions. Developing speed up to 160 km / h and rising to a height of 126 5 meters, an updated "Superman" knows exactly how to get you a shot of adrenaline.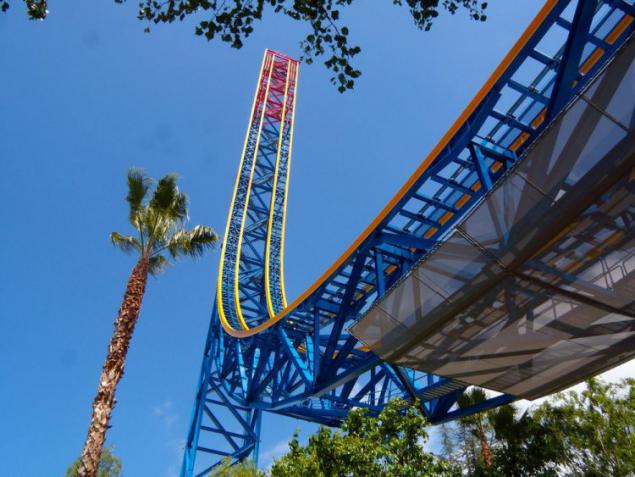 8. Thunder Dolphin, Tokyo Dome City, Tokyo, Japan
"Thunder dolphin" is quite modest in terms of speed, altitude and acceleration with respect to other members of the list, but it does have its own unique "trick", which gives it it turned out. Path "Dolphin" passes through the concrete ring and goes around the most current building on tickling the nerves away.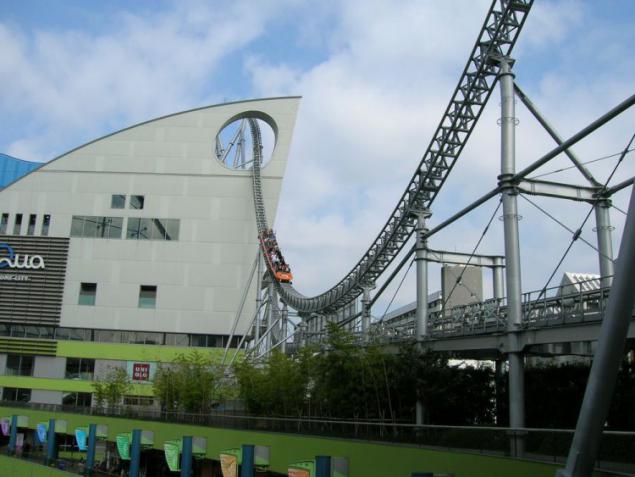 9. Formula Rossa, Ferrari World, Abu Dhabi, United Arab Emirates
Formula Rossa - currently the fastest roller coaster in the world. Accelerates to 240 km / h in less than 5 seconds. The speed is so high that sitting in the front row have to wear special goggles to prevent eye injury.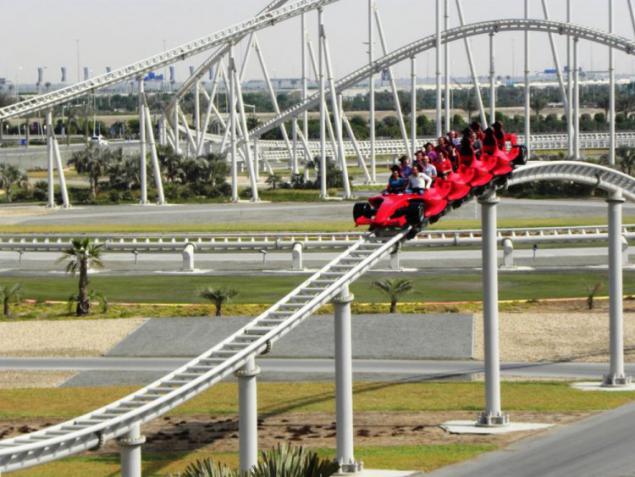 10. Eejanaika, Fuji-Q Highland, Fujiyoshida, Yamanashi Prefecture, Japan
One more slides from the same park, but they are worth it. These slides - with "twists", and in the truest sense of the word. Eejanaika - the so-called slides 4D, which really means that in addition to the usual ups, downs and loops at the same time you get ... 360-degree rotating seat! Can rides become even worse?