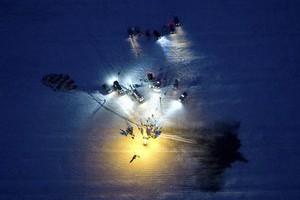 The capsule of the Soyuz TMA-06M with three astronauts landed in Kazakhstan on Saturday morning.  
ISS crew arrived on Earth / AP
Rescue Service reported that the landing site there is a thick fog, which makes it difficult to discern the position of the device.
The crew moved the landing normally, said MCC commentator referring to the officer's search and rescue service. Landing lander Union provided three aircraft, 14 Mi-8 helicopters and seven search and recovery vehicles Rosaviation.
Russian cosmonauts Oleg Novitsky and Yevgeny Tarelkin and American Kevin Ford left the International Space Station (ISS) last night.
Back on Earth the crew was on the ISS since October 2012 and spent 143 days.
Currently, the station remain Russian Roman Romanenko, American Thomas Mashbern and Canadian Chris Hadfield, who became the captain of the ISS crew.