After graduating from college, Jacqueline Bouvier had to start working career. She had an excellent education in the humanities, a perfect master of French and Spanish, which gave her the opportunity to get a newspaper reporter in The Washington Times. But despite this, Jacqueline received only 50 dollars a week. Sometimes her father helped with money, but the young girl was already clear that in such a situation, the luxurious life she would have only dreamed of. The only way to secure a comfortable existence - a good marriage - in the end decided to Jacqueline and resolutely set about fulfilling his dream.
And in 1952, at a party for the US high society she does everything to attract attention, and then inspire charming and future Senator John F. Kennedy, already known for its reputation Lovelace. Yet young people really fall in love with each other. Their love story has developed rapidly and quickly: in police reports of Virginia even have evidence of a policeman at the time, who found the senator and his Jacqueline for "distasteful" in the car ...
Nothing to do but to propose to her. And witnesses claim that John made it over the phone. June 25, 1953 was officially announced the engagement between Senator John F. Kennedy and Jacqueline Bouvier, and their wedding was held on September 12 and was named journalist of "the most significant event of the year».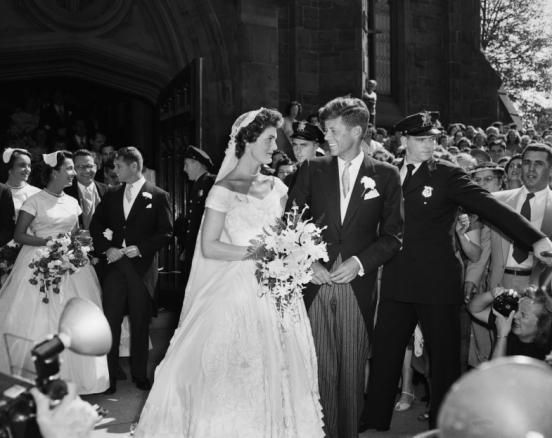 Jacqueline marriage took place in her own home - on the estate Ochinklossov - Hammersmith Farm, which is located in Newport, Rhode Island.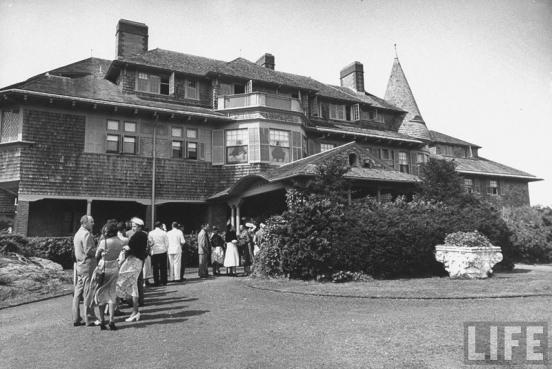 Invited to the wedding nearly 1,200 guests. As a result, only one view of all newlyweds take as much as 3:00.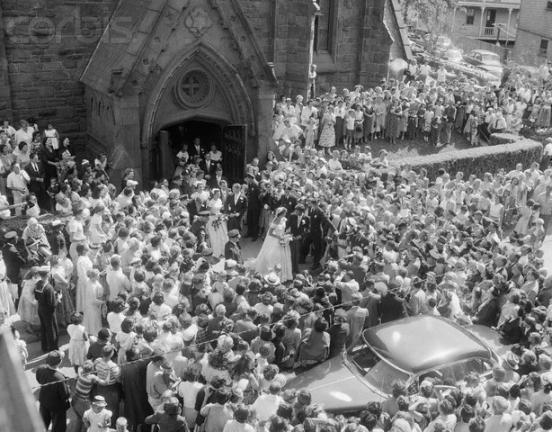 Joyful day marred only that Mr. Bouvier, Jacqueline's father, was not able to accompany his daughter down the aisle. John Bouvier once again summed up his long-standing passion for distilled spirits. But the situation is saved by the father of the Kennedy family - Joseph Patrick Kennedy. He gave his daughter-beauty amazing set of diamond earrings and a great pleasure escorted her down the aisle. Since then, Jackie will always runneth respect and gratitude to his father-in.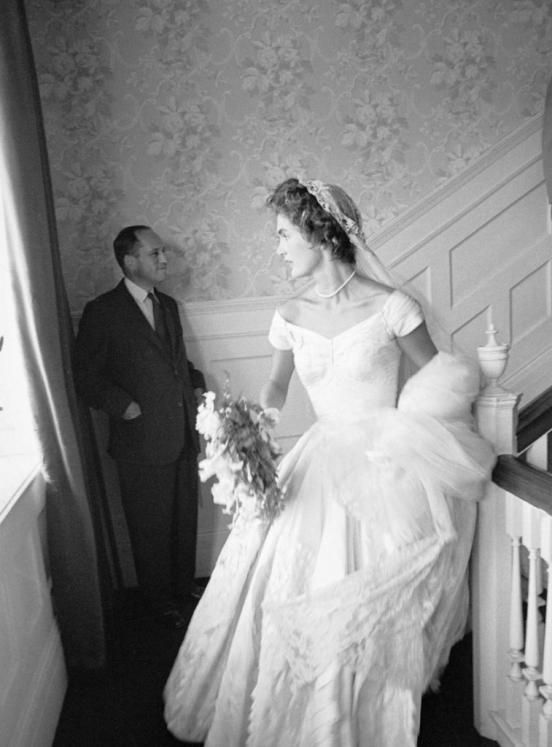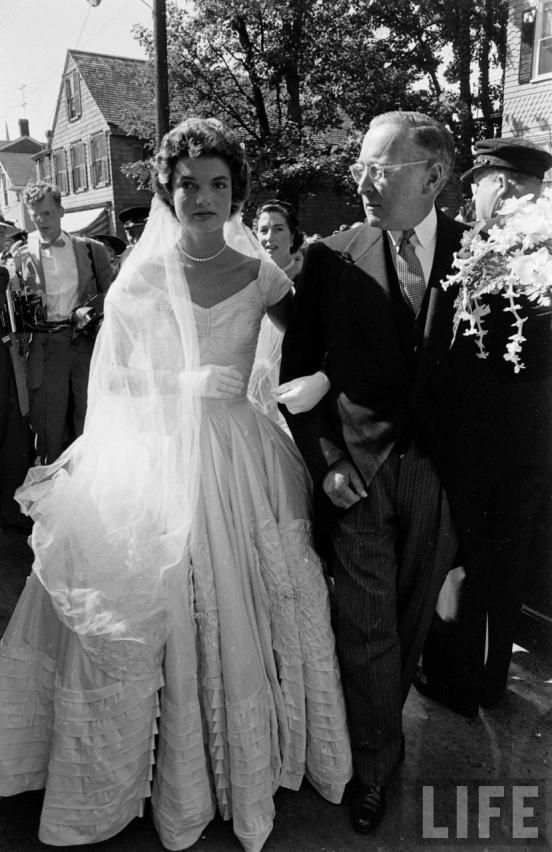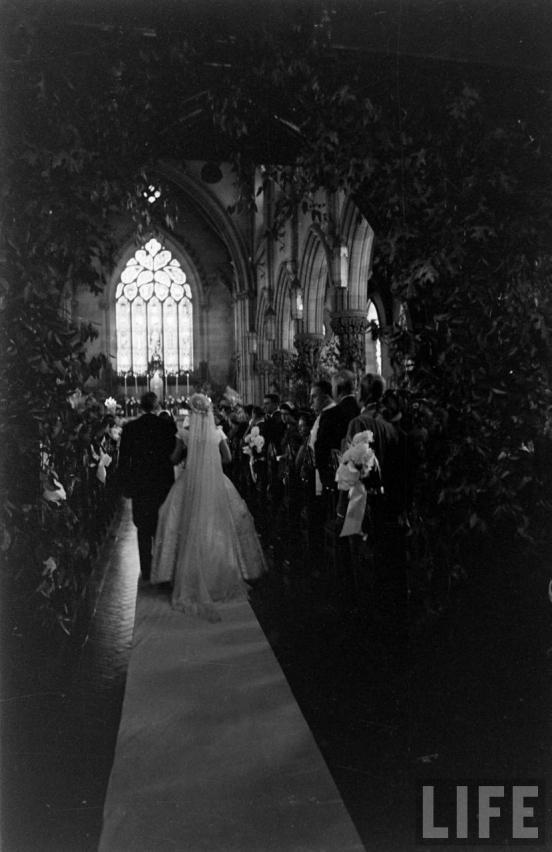 The wedding was held in the church of St. Mary in Newport.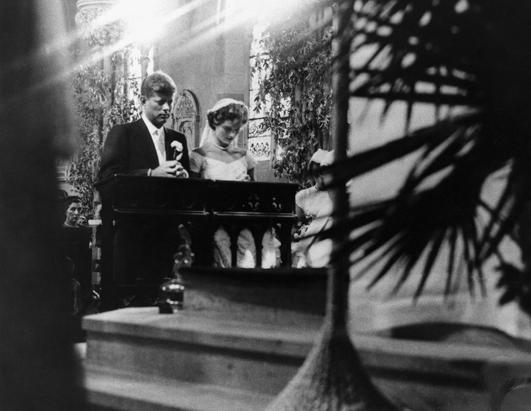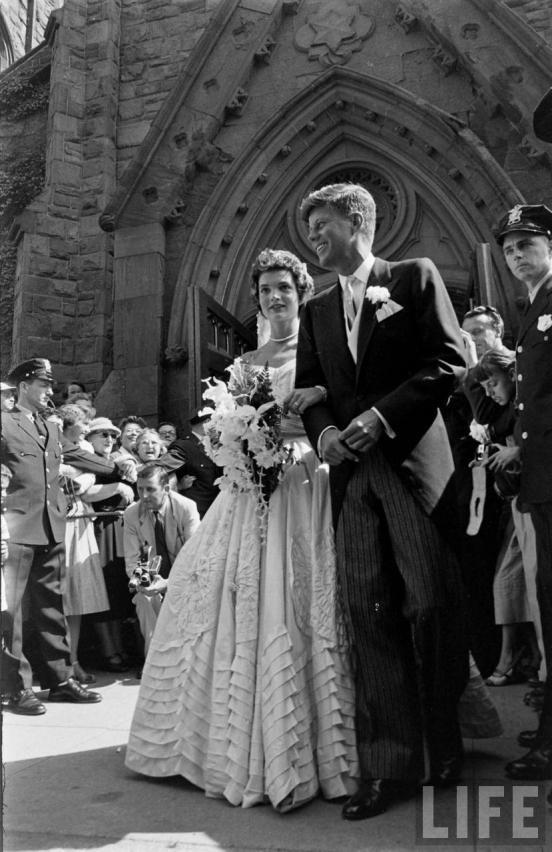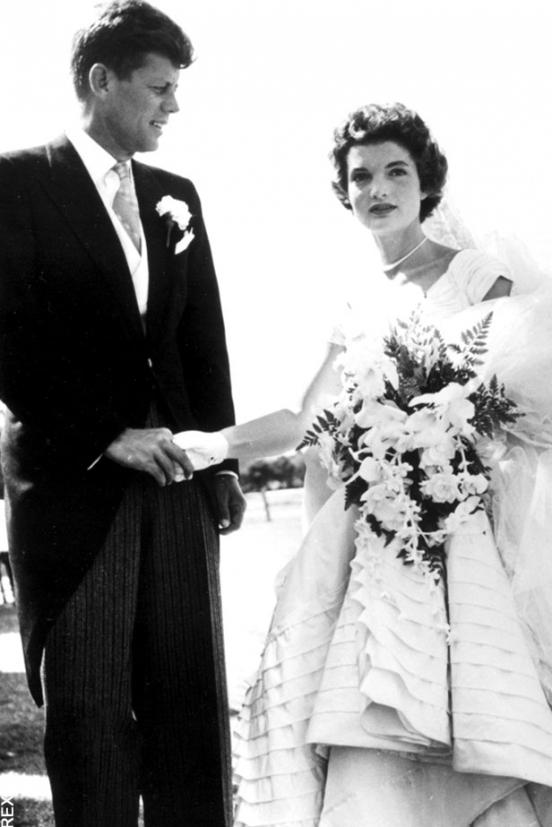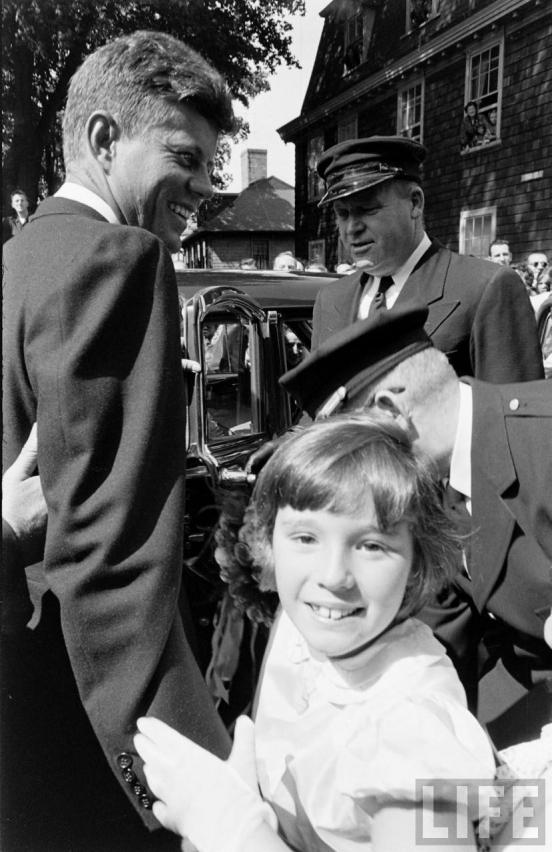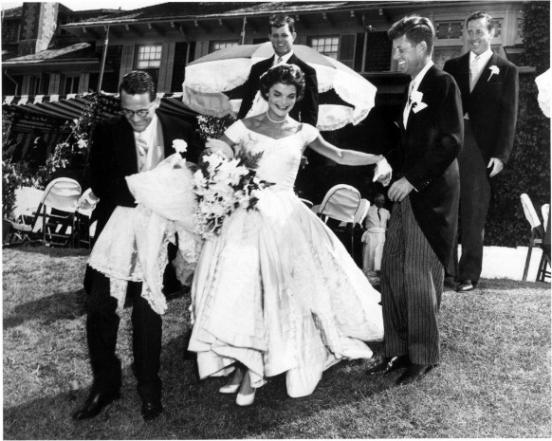 Celebratory feast was held in the house, without much ado. All guests as newlyweds, feel and behave accordingly at ease and relaxed.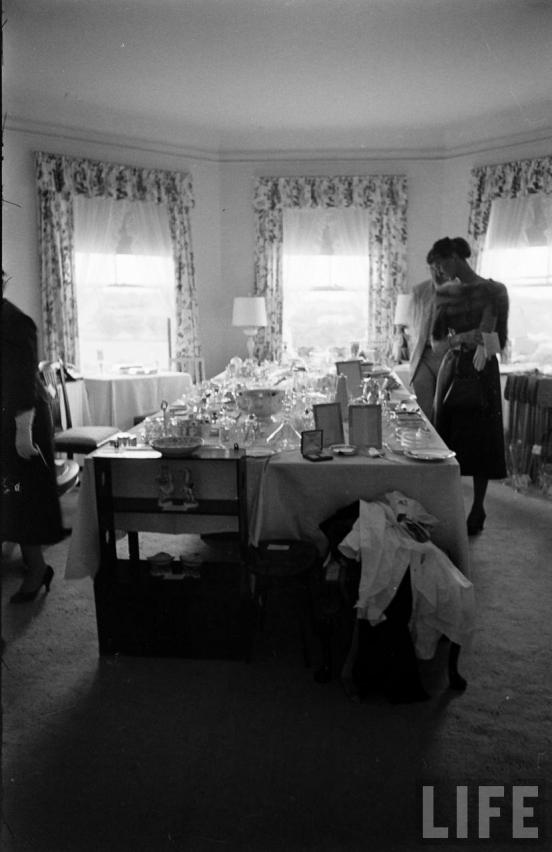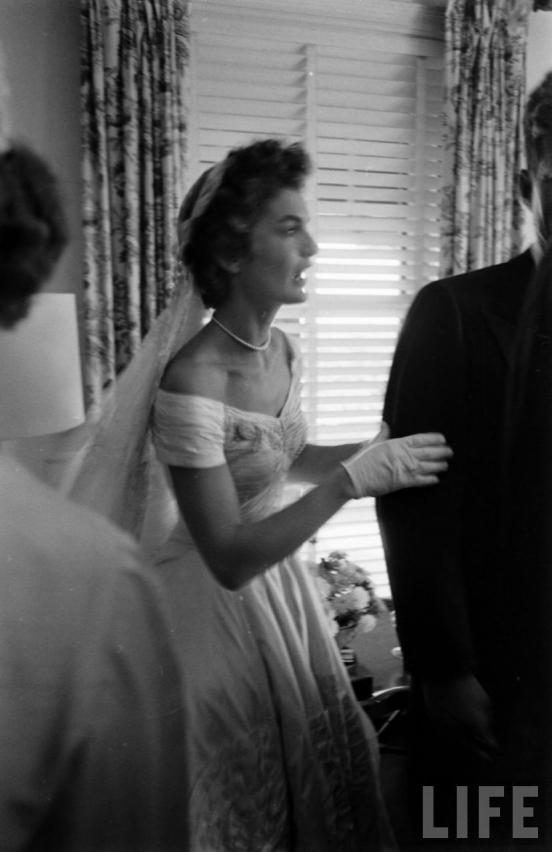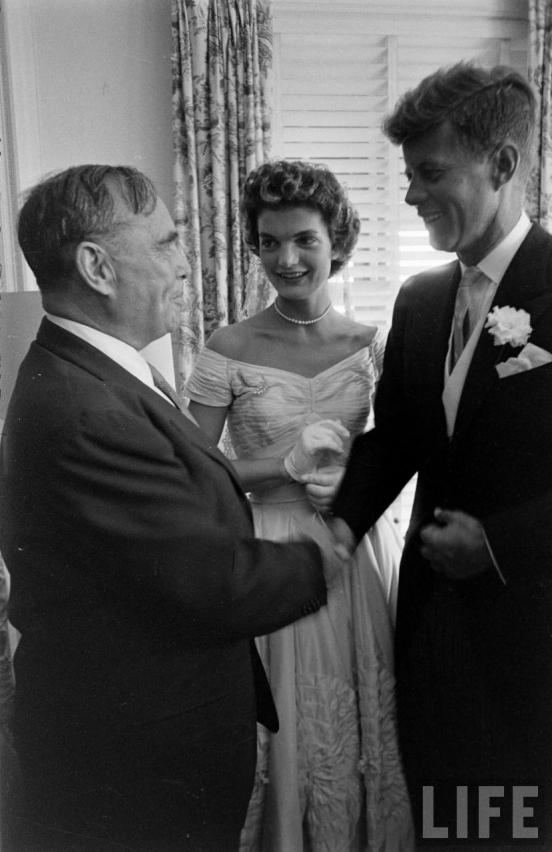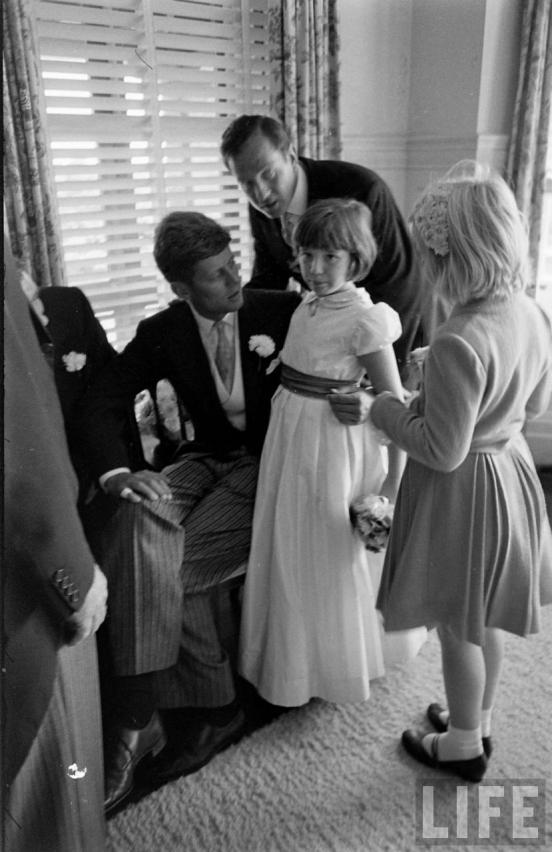 The weather was warm and pleasant, so guests and the couple did not stay long in the house.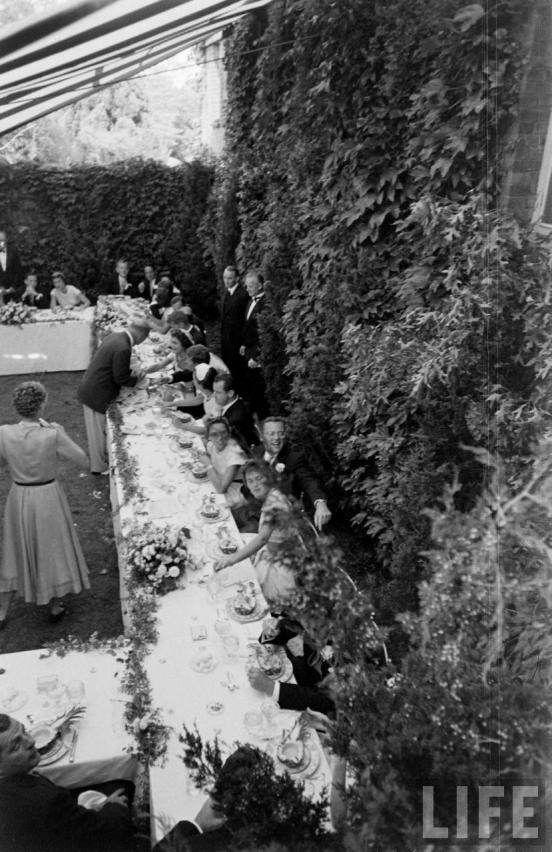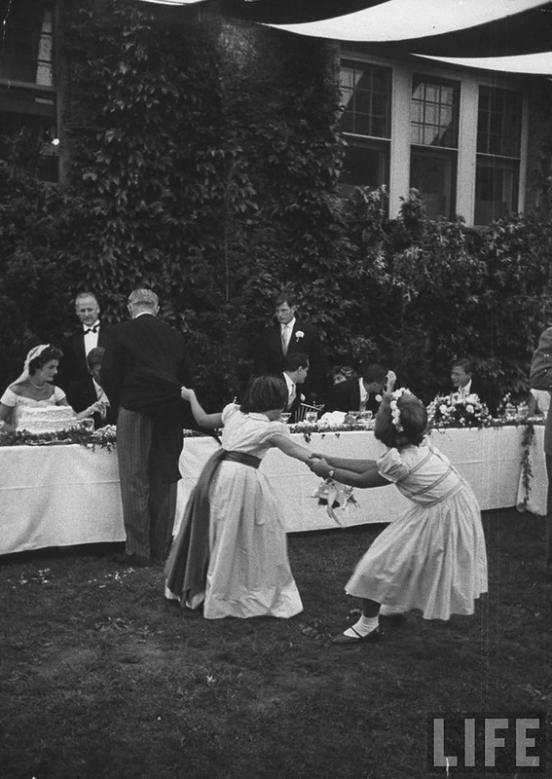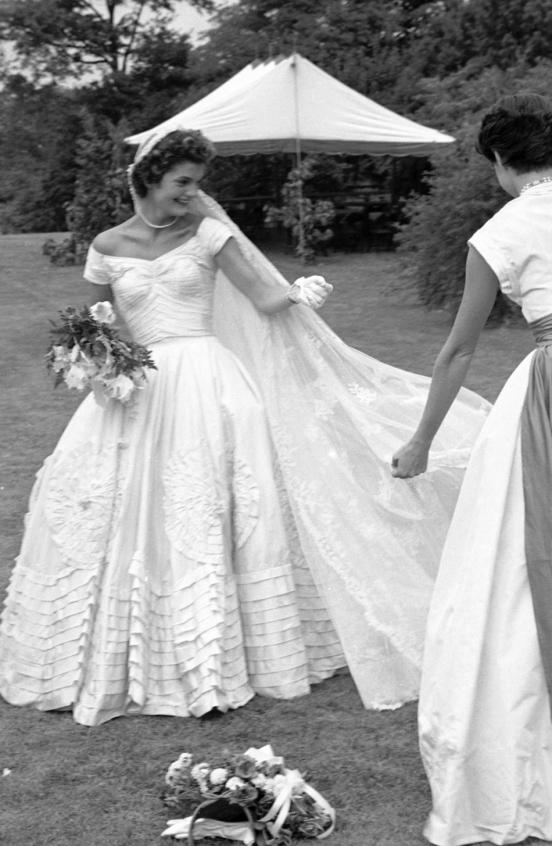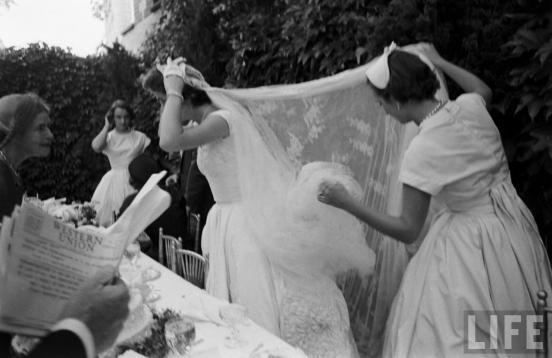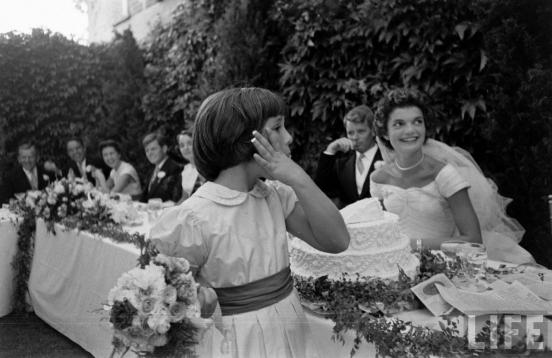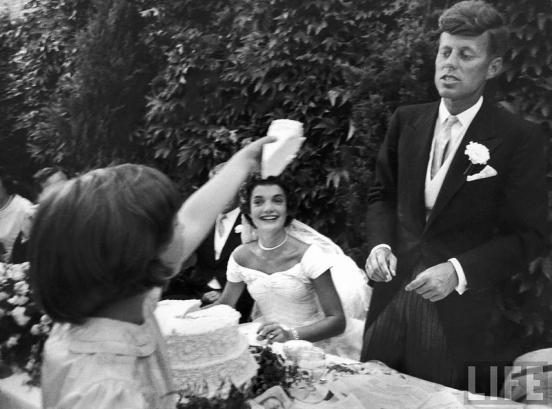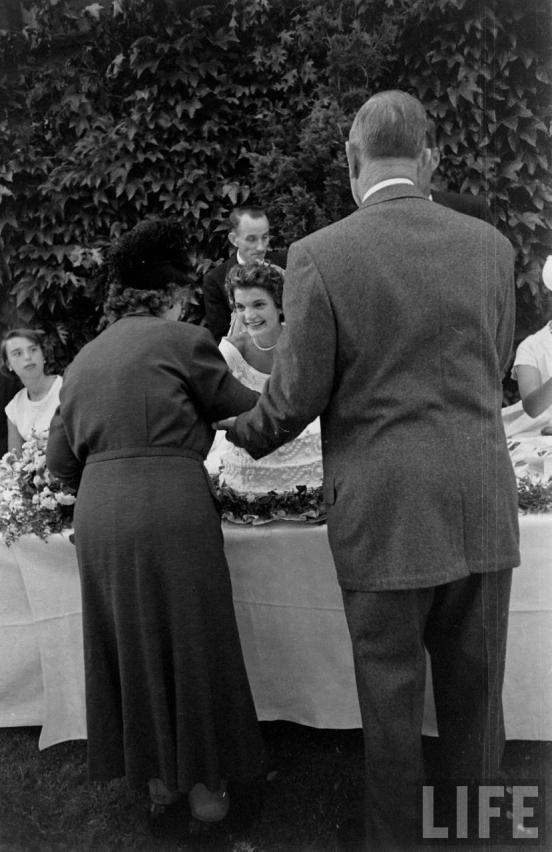 A gift for the wedding - a delicious five-tier Wedding Cake cooked bakery Plourde from Fall River Massachusetts.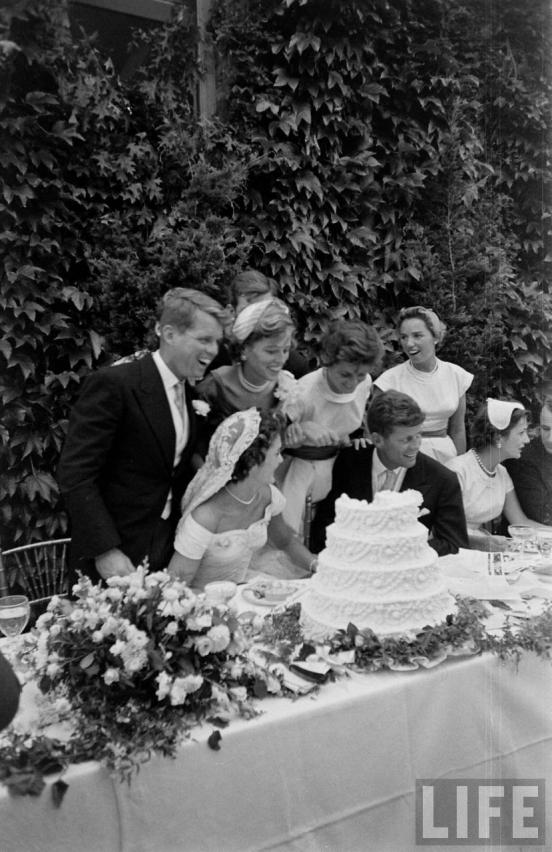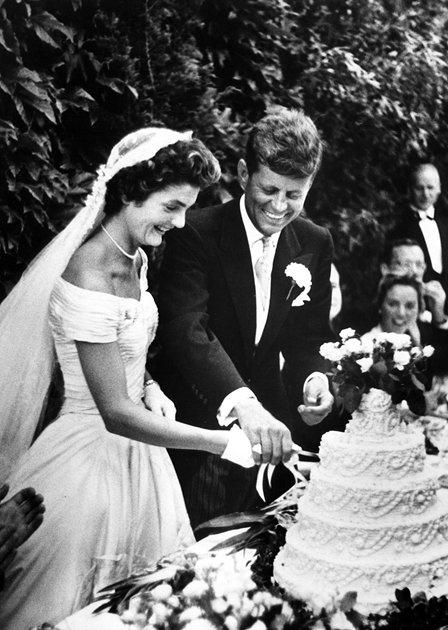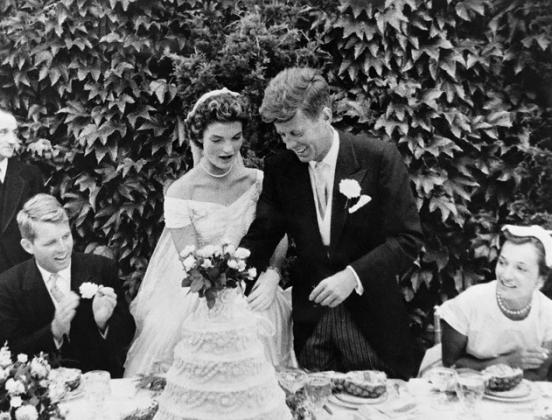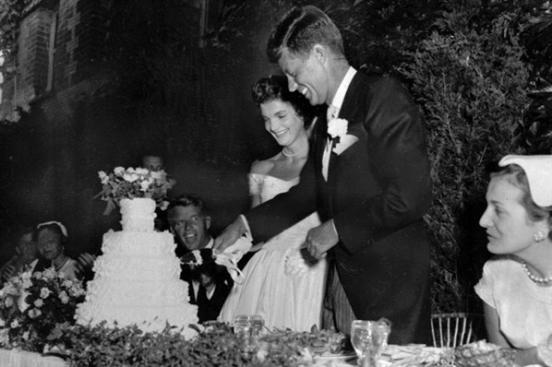 John Asked by journalists to describe his bride in a word said briefly:
Fairy!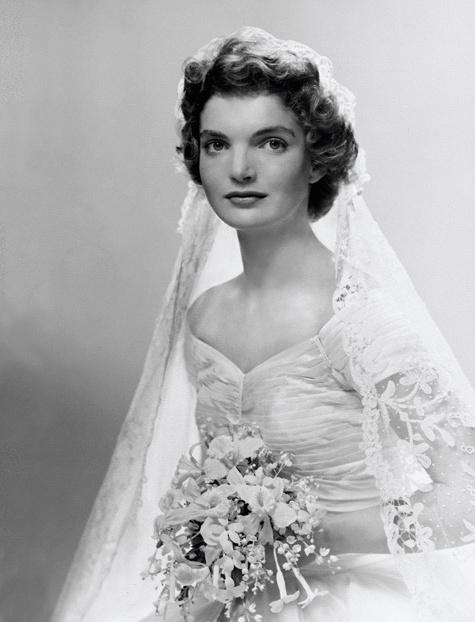 Wedding dress for Jacqueline established African-American designer Ann Lowe. Jackie has been a client of her since the beginning of the 50s. For the wedding she ordered from the designer not only wedding dress, but 10 dresses for the bridesmaids. Ordering was very difficult, and ten days before the wedding ceremony Ann in the studio burst water pipe that spoiled the dress. As a result, designers are working day and night long to repair outfits and not to let Jacqueline.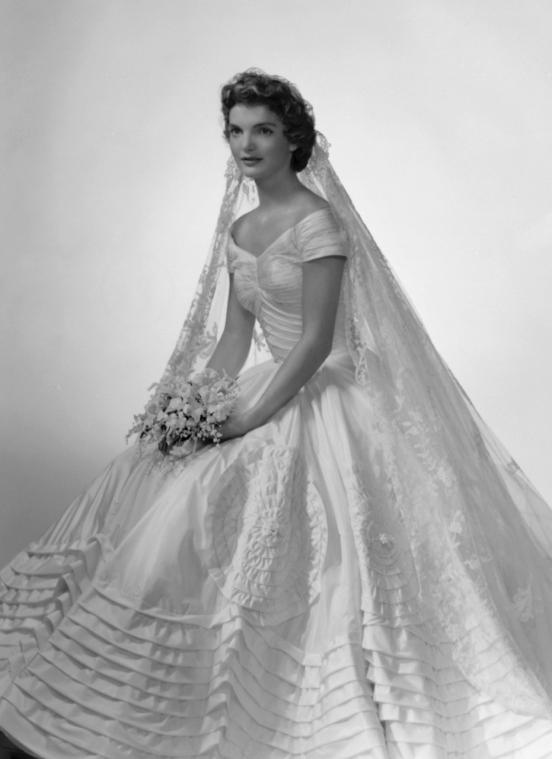 Dress Jackie was sewn in the fashion 50s of ivory silk, with a deep neckline, fitted bodice and full skirt, which was decorated with flounces. There are opinions that this particular design has insisted the mother Jacqueline. This outfit the bride took 45 meters of fabric.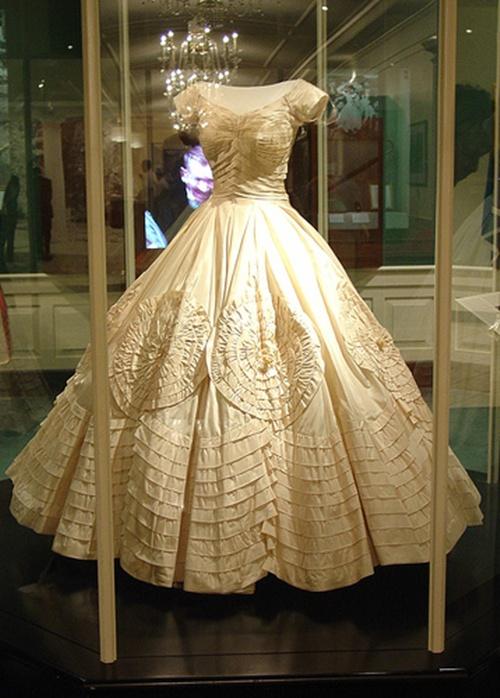 Now it is kept in the museum of John F. Kennedy.
Jacqueline hair adorned tiara of orange blossom, and it was attached to a beautiful lace veil, still owned by his grandmother Jackie.
From jewelry to the bride was a diamond bracelet (gift to the groom) and a pearl necklace. Bridal bouquet was of white orchids and roses and gardenias. At her bridesmaids dresses were also adorable and sewn pink taffeta.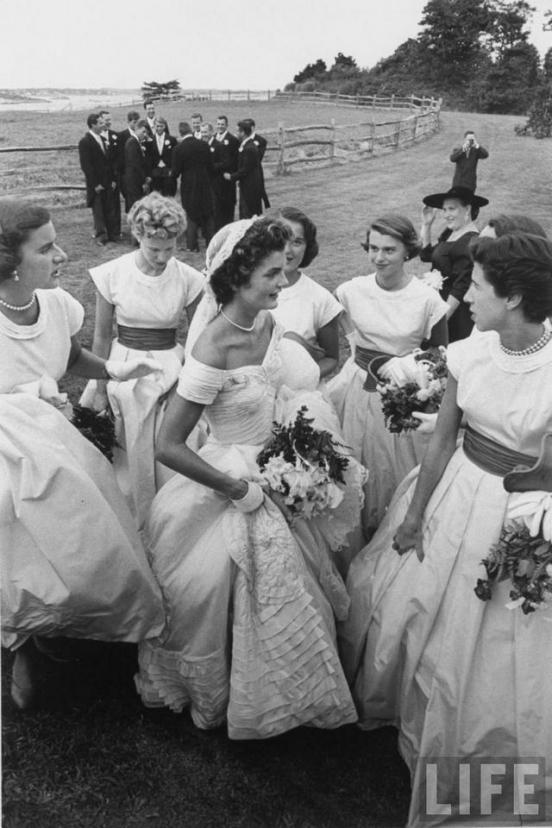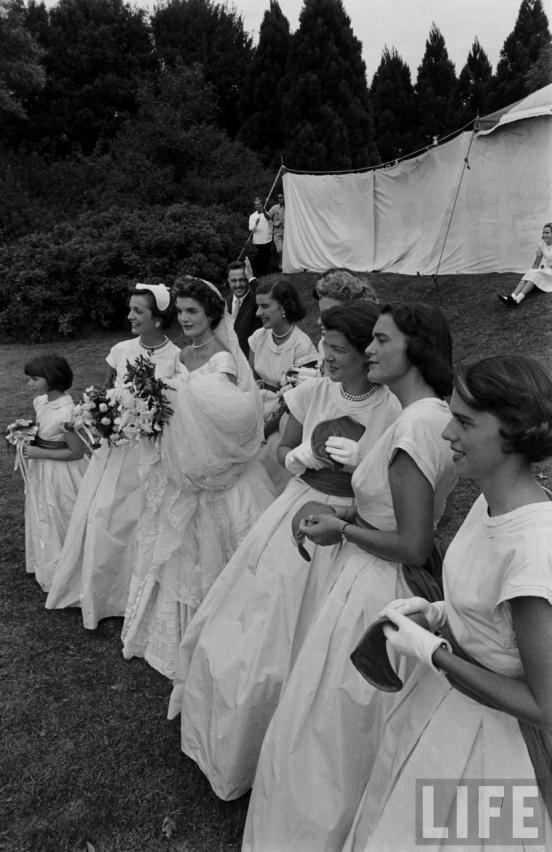 At this wedding was all: young people, dance, children, laughter, joy, fun. No officialdom and pomposity. A true celebration of young and beautiful people who have a bright future and expect him to just wish fulfillment.